Today, September 15, is my dog Mishka's birthday. He's 7,  but you'd never know he's middle aged because he has the energy of a puppy.
Just like I used the Paleo diet to heal my sensitive digestive system, I also used it to heal him. Mishka came from the breeder with a recurrent yeast infection in his ear. The commercial kibble he was fed there didn't agree with him.
The vet prescribed ear drop medication but the infection always returned. But when I started breaking probiotic capsules into his grain-free food his infection went away.
Digestive issues and allergies are on the rise in humans. And according to my vet, they're just as prevalent in dogs. Dog allergies manifest as skin irritations, hair loss, hot spots, paw chewing, digestive upset or constant scratching.
Since Mishka was a puppy, I've fed him Paleo-style, but I've also fed him raw meat. Dogs have a shorter digestive tract than humans and are able to harmlessly process pathogenic bacteria that would make humans sick.
My favorite raw food brand is Stella & Chewy's Freeze Dried Dog Food because they use grass-fed, pastured meat. But I've also started making my own food.
It's pretty easy since I already make bone broth and I don't have to cook his food. Just mix bone broth, veggies, eggs and raw meat together and freeze in large ice cube trays.
I'm not a trained expert on dog nutrition, but I've learned a ton through experience and by doing nutritional consultations for the dogs of neighbors and friends. Food does heal.
Just like in humans, healing a dog's digestive system is key to stopping many symptoms.  Bone broth is extremely healing for both humans and dogs.
There are exceptions to feeding raw food. For extremely sick animals with compromised immune systems, start with cooked food. As they gain strength, raw food can be slowly introduced.
Be careful about changing your dog's diet too abruptly. Sudden changes will cause stomach upset. Replace your current food with small quantities of raw food a little each day until they are eating 100 percent raw.
As a treat, only give raw bones or bones that have been slow cooked and softened for 24 hours. Regular cooked bones can splinter and cause choking.
Also, supplementing dog food with organ meats like raw, grass-fed liver or tripe (cow stomach) is a great way to add nutrition. Organ meat (also called offal) is cheaper than muscle meat and can help save costs.
My dog is 9 pounds so feeding him this way is not prohibitive. If you have a large dog, mix raw food with high quality, grain-free kibble like Instinct Dog Food.
Does it really make a difference?
I had the same breed of dog as a child and we fed him commercial kibble and scraps from the table. From a young age he had health issues like infections and joint pain and had to be heavily medicated when he was old.
Mishka never goes to the vet and has never been on medication. His body doesn't hurt.
Food has made a huge difference in my life, why shouldn't it in my dogs?
How to make bone broth
Bone broth is the only unusual ingredient in my dog food recipe. This is not a crucial ingredient but it will add healing and health protective power.
If you've never made bone broth, you should start. It's a super food that's good for your gut, skin, bones, teeth, immune system and mood. There's a good reason people eat chicken soup when they are sick. It makes you feel so much better.
I teach you how to make bone broth here.
You can also use this recipe for your cat, just remove the veggies as cats don't need them.
At the bottom of this blog post, I'll also make suggestions for natural flea control and picky eaters, etc.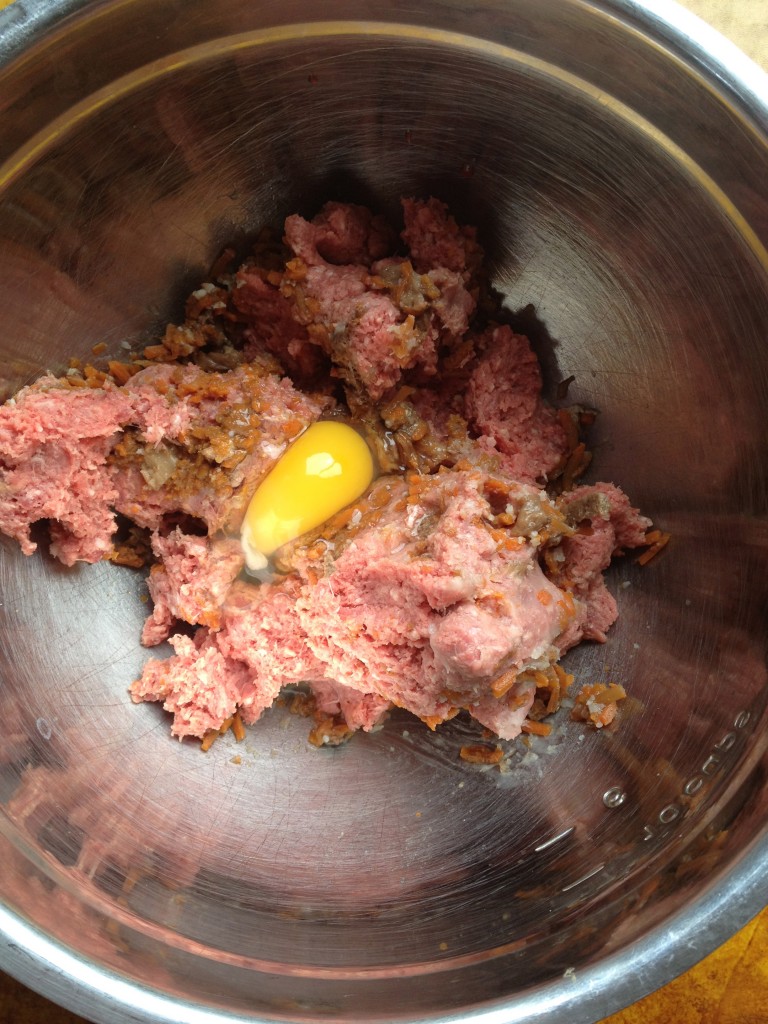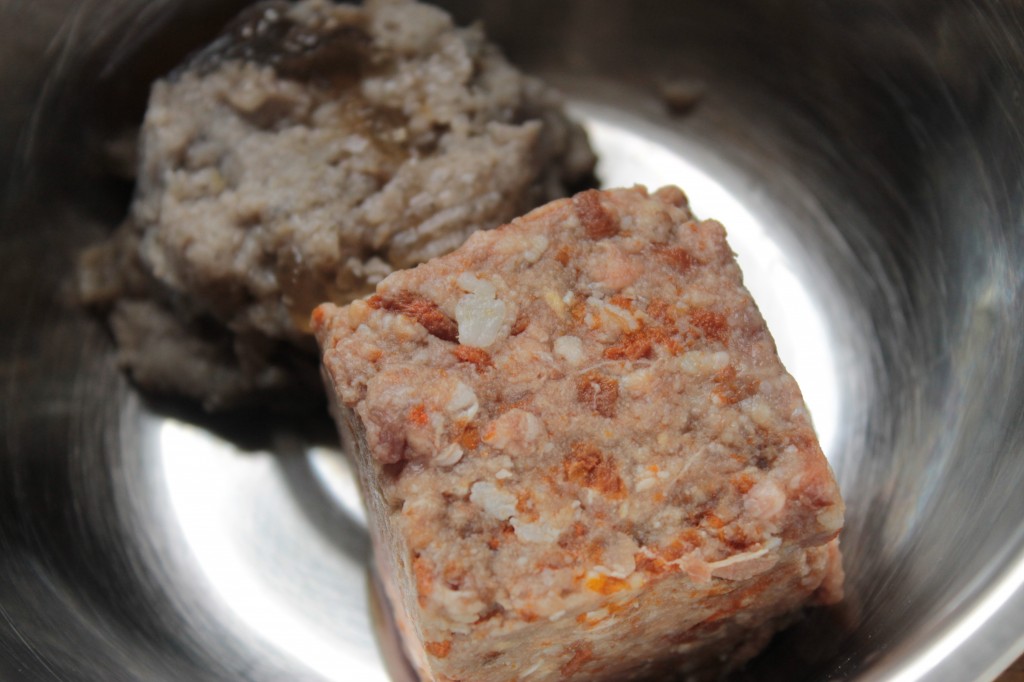 Ingredients
1 pound of grass fed or pastured meat, raw and ground (beef, lamb or bison is best)
1/2 cup of shredded carrots or other veggies stewed in bone broth for at least 12 hours
1/4 cup of home made bone broth, ok to include fat and bone
1/2 cup of ground, grass fed or pastured liver
1 pastured egg
optional: 2 probiotic capsules that you can break in half
Note: This recipe lasts my 9 pound dog for a week and a half. Quadruple for larger dogs. To save money, buy whole meat and grind it yourself.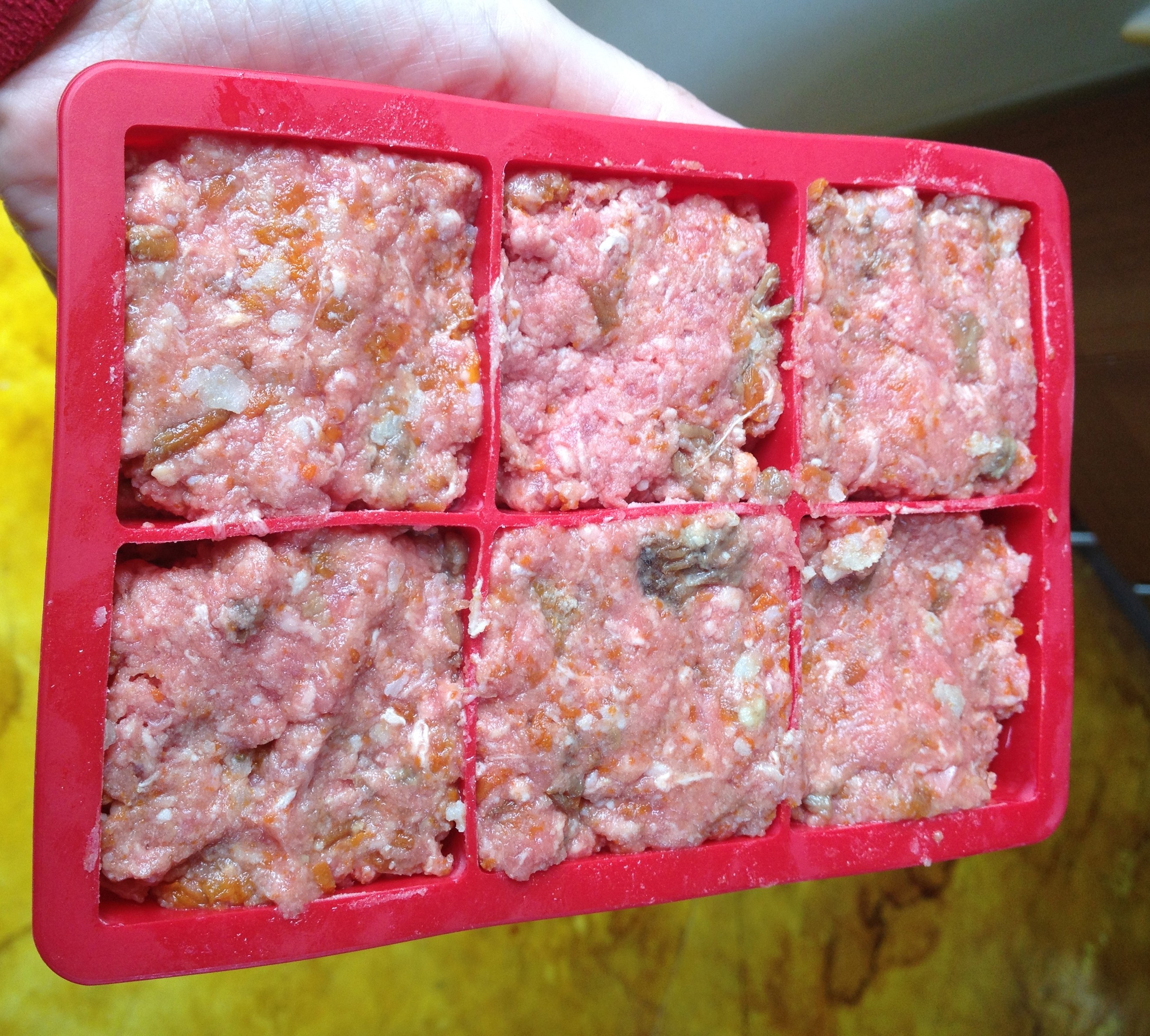 How to
Make bone broth in a crock pot by adding 1-2 pounds of bones for 1.5 gallons of water and 2 tablespoons of apple cider vinegar. Add carrots or other veggies. Stew on low for 24 hours.
Scoop some broth and veggies out of the pot, use the rest for soup, more dog food or freeze it for later.
Optional: To add extra calcium, scoop out some softened bones and run through the food processor then mix into the meat, veggie and broth.
Run the raw liver through the food processor until you get a smooth, soupy consistency.
Combine raw meat, raw egg, raw liver, optional probiotic capsules, bone broth and veggies  in a bowl and stir well. I use my hands to mix it.
Place into large ice cube trays and freeze for a couple of hours. Remove frozen meat cubes and store in a plastic freezer bag. You may have to do this in several shifts to get all the food frozen.
To use, take some cubes out of the bag and defrost overnight in the fridge. I defrost 2 days worth of food at a time.
Helpful tips
Picky eaters
Cold food doesn't smell as enticing to a dog. Pour a little bit of boiling water or hot bone broth over the cold food to warm it up and make it more appetizing.
Meat choice
Some dogs tolerate chicken well, but it is also the most common food allergen for dogs. If you suspect your dog has food allergies, lamb is often the best choice.
Natural flea control
Some dogs are allergic to flea bites. To lower the chance of flea bites, add brewers yeast to your dog's food. Also add 10 drops of cedar essential oil to a 32-ounce water bottle and spray your dog's fur . Note: Don't use brewers yeast if your dog has yeast issues or a candida infection.
No human food
There are of course exceptions, but most table food is bad for your pet. Spices and additives can irritate a dog's system. Fed in excess, garlic, onions, grapes and chocolate can be toxic to dogs.
Fish oil for added omegas
Salmon oil is a popular anti-inflammatory supplement for humans and works well for dogs too. If you pet has issues with inflammation, add a teaspoon to their food and work up to a tablespoon if they tolerate it well. It's great for their joints, hearts and brains! And most dogs enjoy the taste.
Of course, in humans and dogs alike, good health goes beyond food. Love, exercise and attention are the best supplements to a healthy diet.
I raise a steaming cup of bone broth and drink to Mishka's health and to the health of your pup too! That's why I'm spreading word of my successes and experience with dog nutrition!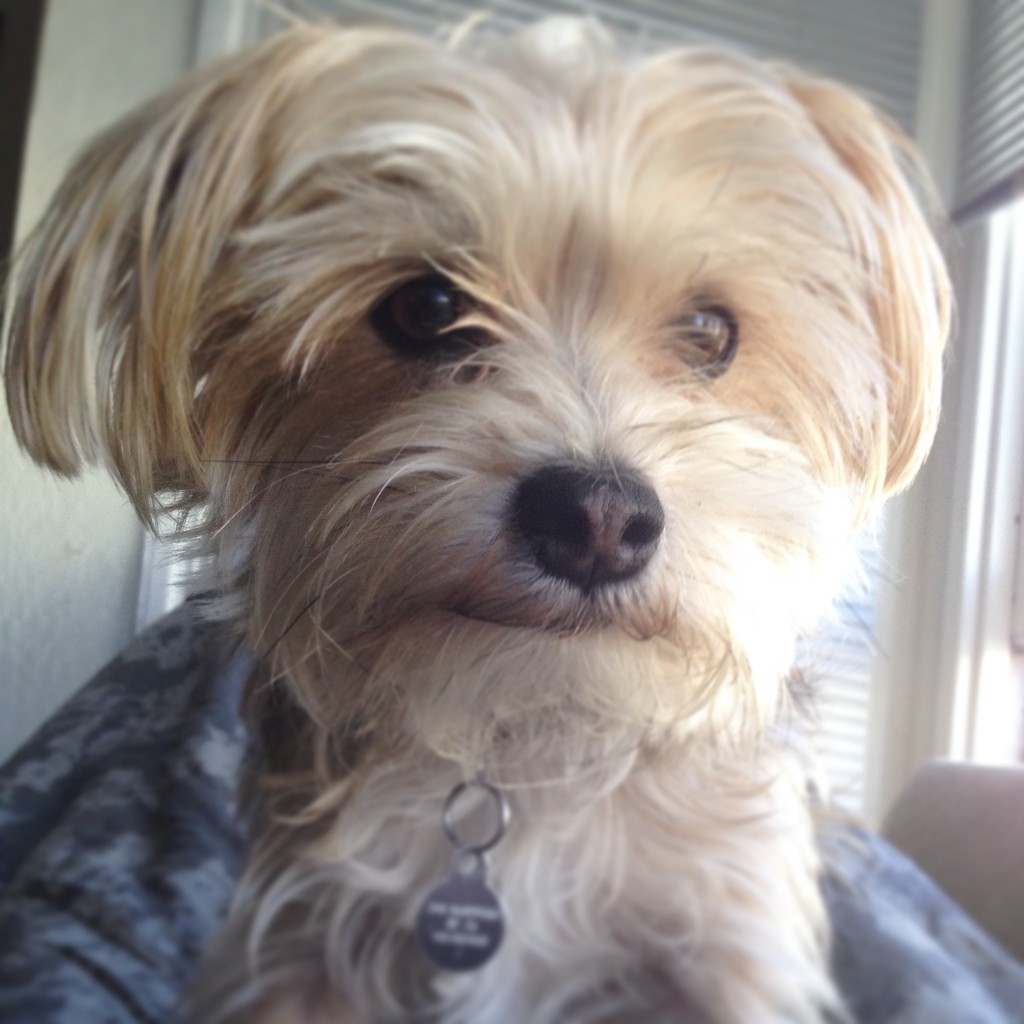 DISCLOSURE OF MATERIAL CONNECTION: Some of the links in my blog are "affiliate links." This means if you click on the link and purchase the item, I will receive an affiliate commission. Regardless, I only recommend products or services I use personally and believe will add value to my readers. I am disclosing this in accordance with the Federal Trade Commission's 16 CFR, Part 255: "Guides Concerning the Use of Endorsements and Testimonials in Advertising." PAID ENDORSEMENT DISCLOSURE: In order for me to support my blogging activities, I may receive monetary compensation or other types of remuneration for my endorsement, recommendation, testimonial and/or link to any products or services from this blog. I only endorse products that align with the ideals of Healy Eats Real and that I believe would be of value to my readers. FDA DISCLOSURE: Information and statements regarding health claims on this blog have not been evaluated by the Food and Drug Administration and are not intended to diagnose, treat, cure, or prevent any disease.
Tags:
diy dog food
,
grain free dog food
,
home made dog food
,
paleo dog food
,
raw dog food recipe