Yes you read that right. You can pretty much make muffins out of anything.
These are savory muffins, packed with the power of green veggies, which are great for cleansing and supporting the liver this time of year (spring cleaning).
Believe me your liver will thank you for giving it a bit of a scrub. You will find yourself to be less cranky and irritable and more energetic. A congested liver can make you feel funky. I know from experience.
I spent a year working with a nutritionist to detox my liver and it not only got rid of my IBS but it totally transformed my immune system from wimpy to ass kicker.
I posted these brussels sprout muffins on my Instagram feed and was surprised by the overwhelming response.
Maybe veggies are back in style? Or maybe muffins sell….anyway it made me happy that people were freaking out over savory treats as much as they do about sweet ones.
What I love about this recipe is that it's super easy, as long as you have a food processor to shred them. It makes brussels sprouts much easier to eat. And if sprouts are not your thing, you can substitute other greens like spinach or kale, but I can't vouch for the results as I haven't tried yet.
Lastly, these muffins are highly portable, so they make a great breakfast or lunch on the go. I cut them in half and used them as bagel substitutes for my smoked salmon fix (see the photo at the top of the post).
And there's a secret ingredient in this dish that kicks it up a notch. Can you tell what it is from the photo below?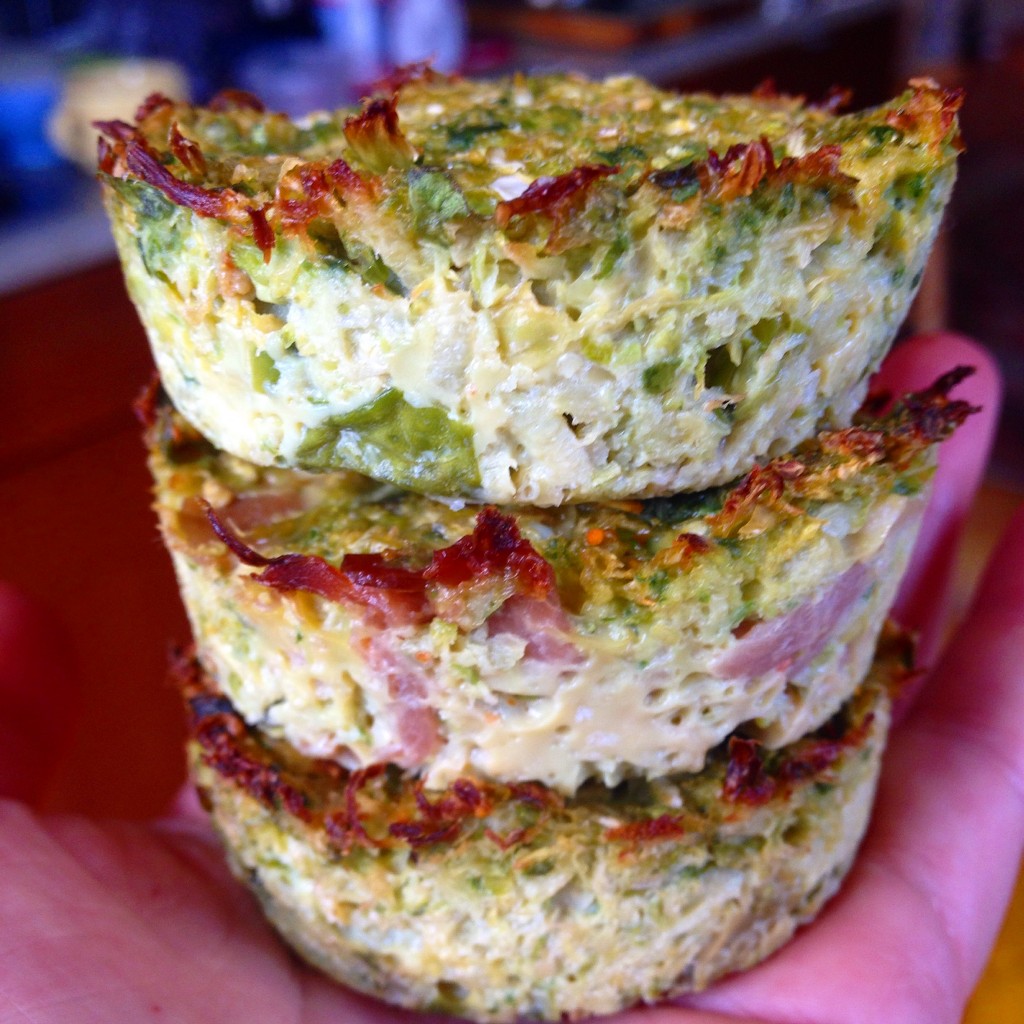 If you're game for this adventure the recipe is below. If you make this, please tag me on Instagram @paleokitchenlab and I'll proudly share it with the world.
Ingredients
Makes 6 muffins
1 cup of brussels sprouts, shredded in your food processor
1 or 2 eggs per cup of sprouts (I tried it both ways and it was good, depends on how eggy you like your muffins. If you are not a huge fan of sprouts I suggest you use 2 eggs)
2 strips of dried proscuitto or bacon, chopped
1/2 teaspoon of salt
optional: 1/2 teaspoon of cumin, parpika and garlic powder)
How to
Shred whole, raw brussels sprout in the shredding attachment of your food processor or in the food processing bowl itself. This works best when you cut the sprouts in half or in quarters first.
It varies on the size of the sprouts how many  you need to get one cup, but shred what you have and if you have extra then make more muffins. The rule of thumb is simply one or two eggs per cup of spouts.
Add eggs into cup of sprouts along with chopped meat and spices.
Mix everything will with a fork.
Grease your muffin tins or use parchment paper muffin liners.
Spread the mixture evenly between 6 muffins and bake at 350 for 25 minutes.
Let cool and enjoy cut in half with butter or a filling of choice or bite into these babies while they're still hot.
These reheat easily in the oven/toaster oven and can be frozen for later use.

DISCLOSURE OF MATERIAL CONNECTION: Some of the links in my blog are "affiliate links." This means if you click on the link and purchase the item, I will receive an affiliate commission. Regardless, I only recommend products or services I use personally and believe will add value to my readers. I am disclosing this in accordance with the Federal Trade Commission's 16 CFR, Part 255: "Guides Concerning the Use of Endorsements and Testimonials in Advertising." PAID ENDORSEMENT DISCLOSURE: In order for me to support my blogging activities, I may receive monetary compensation or other types of remuneration for my endorsement, recommendation, testimonial and/or link to any products or services from this blog. I only endorse products that align with the ideals of Healy Eats Real and that I believe would be of value to my readers. FDA DISCLOSURE: Information and statements regarding health claims on this blog have not been evaluated by the Food and Drug Administration and are not intended to diagnose, treat, cure, or prevent any disease.
Tags:
brussels sprout muffins
,
egg muffins
,
green muffins
,
savory muffins
,
to go muffins