Lately I've been posting a lot of Paleo desserts.
The truth is that last year, I went through a phase of emotional eating from September to the end of November.  I didn't realize it was emotional eating, it felt mostly like I was bitten by the baking bug and I was compelled to make Paleo desserts.
Of course, I gained weight and my depression deepened. Again, I didn't realize I was depressed, it manifested mostly as fatigue. It always amazes me how we can keep our own  emotions hidden from ourselves, to protect ourselves from fully experiencing the pain.
I found comfort in baking. And I loved how everyone's eyes lit up when I passed around my latest treat invention.
When I finally realized what was going on with me I went on a Paleo cleanse called the Whole 30. It was a big help. And I started to exercise, which was an even bigger help and lifted my mood issues.
These days treats are rare, making them actual treats, not daily events.
Paleo treats are super popular in the Paleo world. They are a healthier alternative to processed treats full of gluten, white sugar or scary oils. But sugar is still sugar.
If you want to lose weight, don't eat sugar regularly. If you want to heal your gut, thyroid or adrenals, don't eat sugar period.
Also, choosing healthier treats with a higher protein content can help balance the insulin spike from sugar, so can taking a walk after eating your treat.
These tahini balls, for example, have more protein than most desserts. Tahini is sesame paste popular in middle eastern cuisine, and gives hummus it's distinctive taste.
Tahini is full of good fats, rich in B vitamins, calcium, vitamin E and essential minerals. It's also easy to digest and aids in liver detoxification. As treat material, it's a pretty good choice.
Eaten alone tahini  is bitter but honey or maple syrup covers up the bitterness beautifully.
Tahini gives these desserts balls a wonderfully moist texture. And they can be whipped up in minutes when you want dessert but don't feel like baking.
So "treat" yourself responsibly (yes that was a pun). And if you've never eaten tahini as a sweet before you're in for a….treat.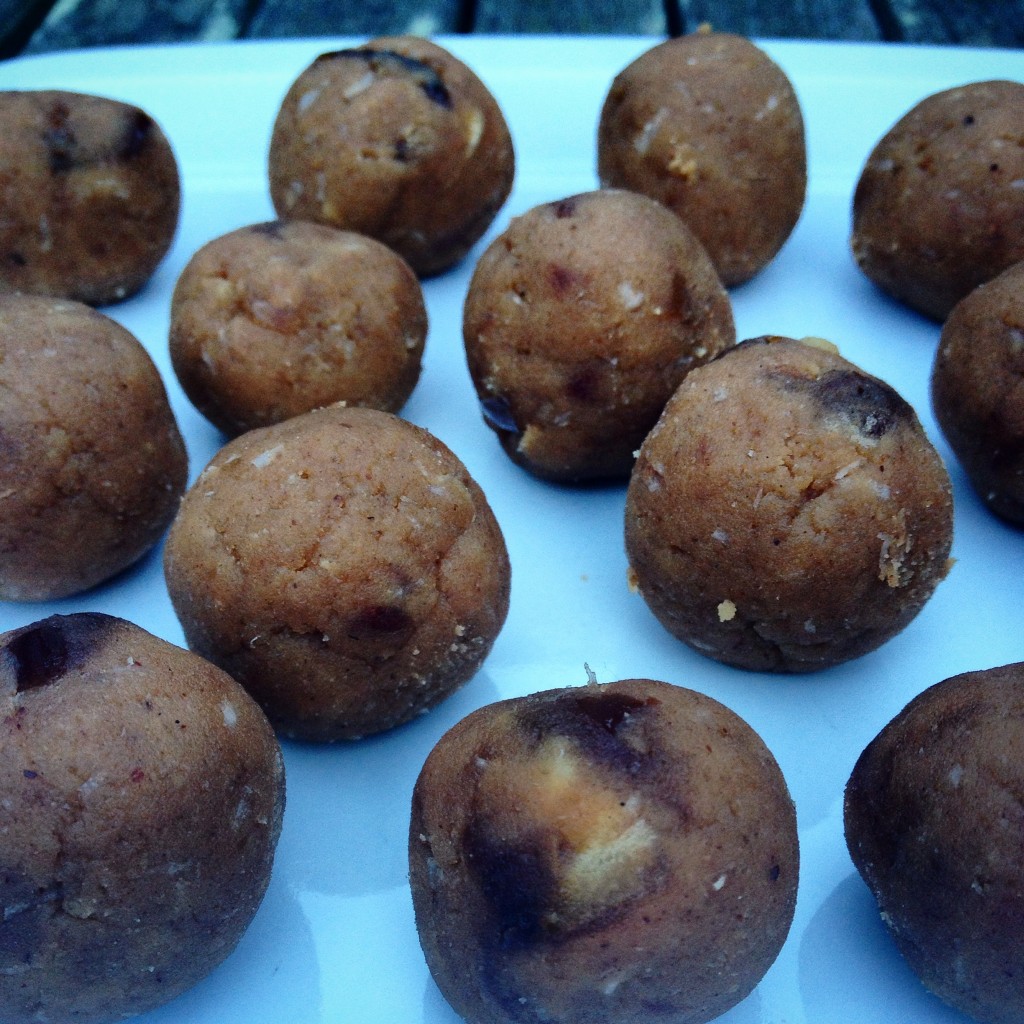 Ingredients
1 cup of blanched almond flour
1/2 cup of tahini (I buy mine here)
1/2 cup of honey
1 tsp cardamom
1 tsp vanilla
1 date, chopped
1 tablespoon of shredded coconut
1 tablespoon of nut butter of choice
1 tablespoon of melted chocolate chips
How to
Mix the tahini and honey in a bowl.
Mix in the almond flour and nut butter.
Add coconut, chopped date, vanilla and cardamon (you can substitute cardamom with cinnamon)
Melt chocolate chips in a pan and add in. Or if you prefer, add the chips in unmelted, it will be just as good.
Mix everything together well and put in the fridge for 15 minutes to chill or the freezer for 5 minutes.
Form the dough into ball shapes. If you want them to be on the harder side, refrigerate for half an hour before eating. Or simply pop them in your mouth after rolling.
Store leftovers in the fridge.
Raw almond balls
Don't have tahini?
Here's a bonus recipe that I made the other night using leftover almond pulp from making almond milk. If you don't have almond pulp you can use almond flour instead.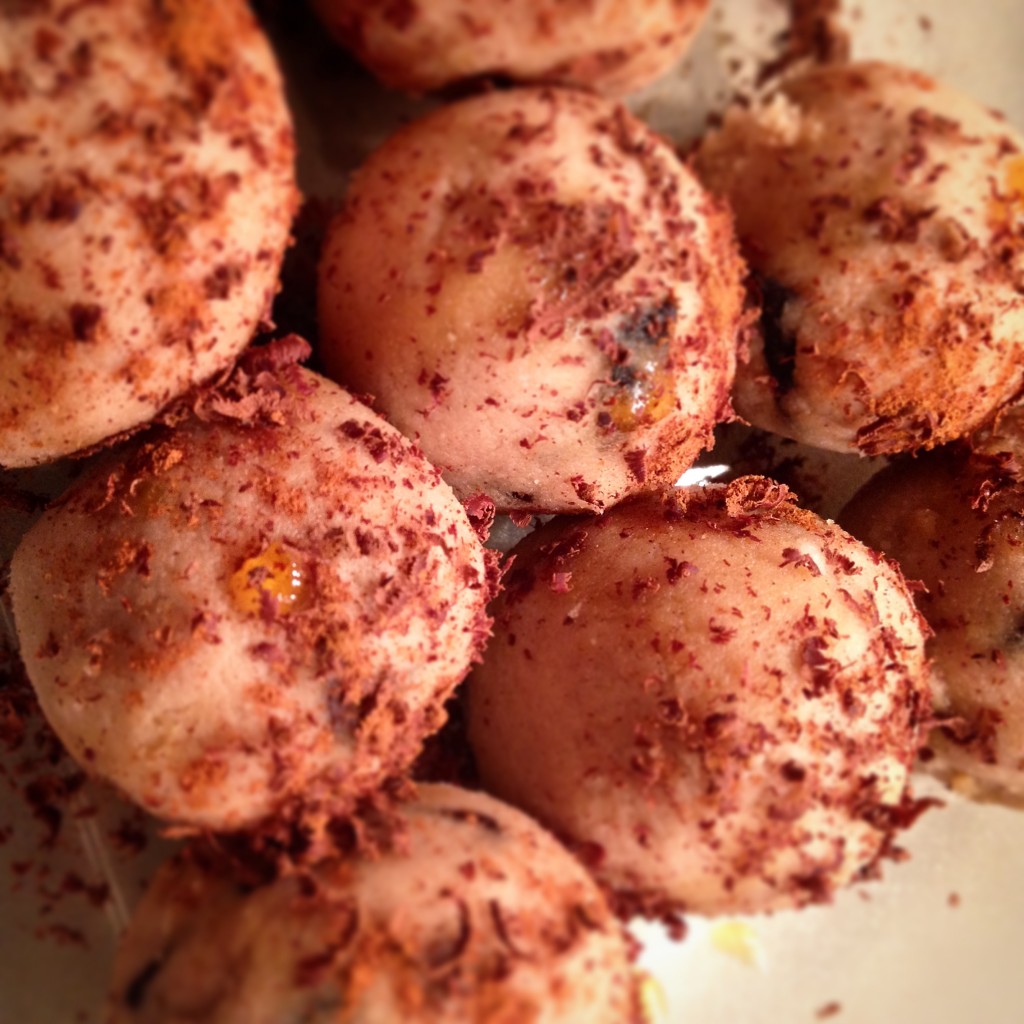 Ingredients
1/2 cup of almond pulp or almond flour
2 tablespoons of coconut butter
2 to 4 tablespoons of almond milk 2 chopped dates
1 chopped prune
1 teaspoon of vanilla
1/4 teaspoon of salt
1/4 cup of maple syrup
1/4 cup of dark chocolate chips
2 tablespoons of melted coconut oil
1 teaspoon of cardamom
Drizzle with 1 teaspoon of honey, 1/2 teaspoon of cinnamon and chocolate shavings (grate a dark chocolate bar with a cheese grater)
How to
Mix all the ingredients except for the almond milk in a bowl. Start with 2 tablespoons and if the dough is too dry keep adding almond milk by the tablespoon until it starts to stick  together.
Form gold ball sized balls and drizzle with honey and sprinkle the cinnamon and dark chocolate shavings if using.
Feel free to substitute ingredients here, this is an easy dessert to improvise with. Taste the dough and add more sweetener, spice or dried fruit if needed.
Chill in the fridge for 20 minutes before serving.
DISCLOSURE OF MATERIAL CONNECTION: Some of the links in my blog are "affiliate links." This means if you click on the link and purchase the item, I will receive an affiliate commission. Regardless, I only recommend products or services I use personally and believe will add value to my readers. I am disclosing this in accordance with the Federal Trade Commission's 16 CFR, Part 255: "Guides Concerning the Use of Endorsements and Testimonials in Advertising." PAID ENDORSEMENT DISCLOSURE: In order for me to support my blogging activities, I may receive monetary compensation or other types of remuneration for my endorsement, recommendation, testimonial and/or link to any products or services from this blog. I only endorse products that align with the ideals of Healy Eats Real and that I believe would be of value to my readers. FDA DISCLOSURE: Information and statements regarding health claims on this blog have not been evaluated by the Food and Drug Administration and are not intended to diagnose, treat, cure, or prevent any disease.
Tags:
protein balls
,
tahini balls
,
tahini dessert
,
tahini treats