Pasta is one of the most missed comfort foods on the Paleo diet.  If you miss something then substitute it with something yummy to smooth the transition.
Paleo style is to substitute sugar-bomb noodles with healthier carbs, veggies.
Spaghetti squash and spiralized zucchini noodles are popular substitutions. But you can also make noodles from sweet potatoes, butternut squash or  julienned carrots.
Here's a "pasta" idea you haven't seen before: green beans cooked in broth.
Ok, it's not exactly pasta, but it is the perfect vehicle for a creamy coconut sauce or a tangy marinara.  And you can serve them soft or al dente, just like real pasta.
And after this meal you're not left in a carb coma, and have squeezed more veggies into your day. And such a sneakily delicious way to do it.
Using bone broth to cook your green beans also adds gut healing benefit to your virtuous veggie eating ways.
I made this with homemade marinara. But you can use sauce from a jar if you are crunched for time. Just promise me that when you do have time you'll make sauce from scratch. Not only is it healthier (it's hard to find sugar-free sauce) but it will taste amazing and raise your kitchen confidence and sense of accomplishment.
There's something so delightfully old world about making your own marinara. I think you'll really dig it once you taste your work.
The star of this meal is definitely the lamb marinara, and the green beans are simply a delicious and nutritious canvas for show casing this rich and hearty sauce.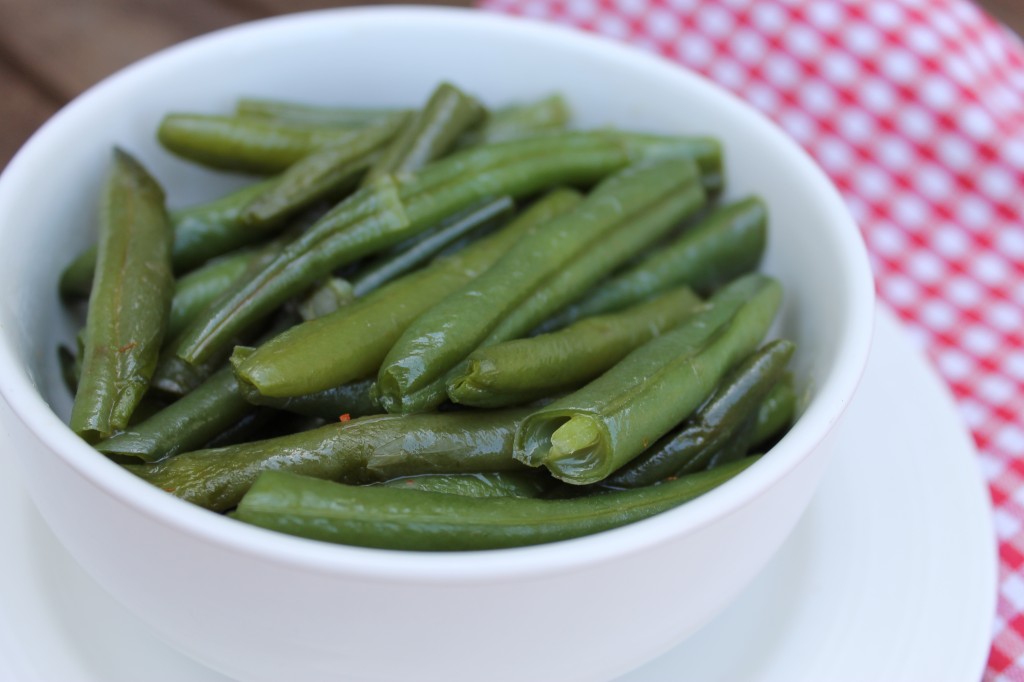 Ingredients
Green beans (I used 10 ounces of raw beans but you can use anywhere from half a pound to a pound for this recipe depending on how many you are feeding).
An 18 ounce jar of stewed, whole, or crushed tomato
2 tablespoons of olive oil
1/2 an onion, diced
1/2 cup of bone broth
3 cloves of garlic, crushed and diced (more if you are really into garlic)
1 teaspoon of salt
1 teaspoon of dried oregano
1/2 a pound of ground lamb
optional: a few leaves of fresh basil, chopped
Optional: 2 tablespoons of shredded or pulverized Parmesan cheese to sprinkle on top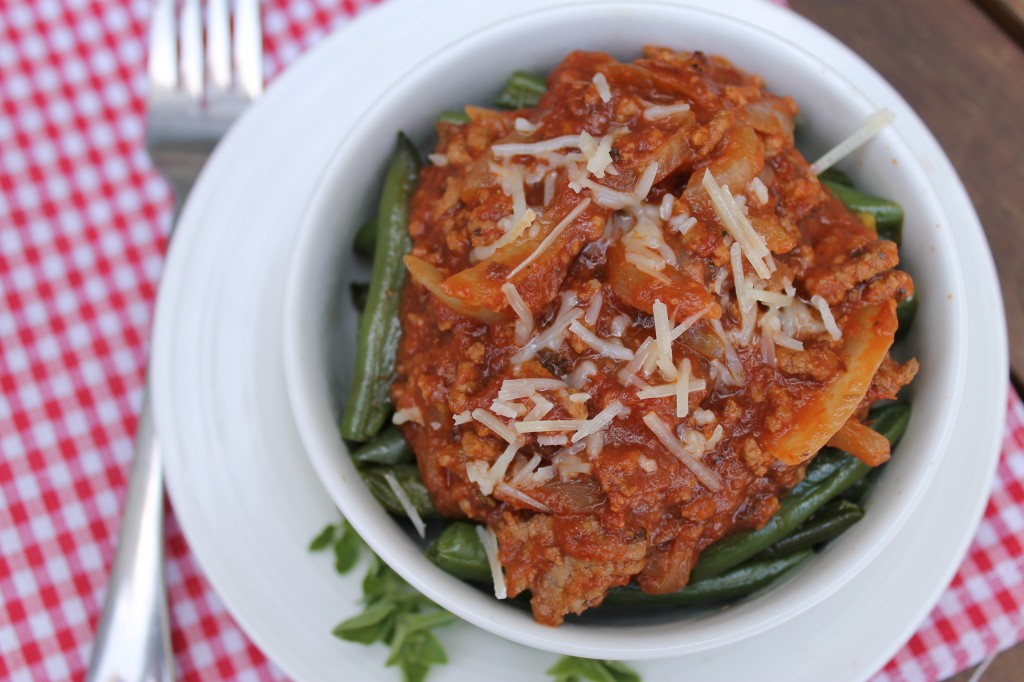 How to
Wash the green beans and chop off the end tips on each side (or buy prepped green beans that have the ends snipped already)
Throw the green beans is pot or large wok with the bone broth. Add a sprinkle of salt.
Cook the green beans in the bone broth until they begin to soften. After about 10 minutes fish a green bean out with a fork and test it (let it cool first). If you like it softer then cook it for a few minutes more and keep testing it until the green beans reach the texture you like.
While the green beans are cooking, use another burner to heat a pan on medium high heat and add olive oil after the pan is hot. Then wait 30 seconds and add the diced onions and saute till the onions turn fragrant (begin to soften and smell great).
Throw in the garlic and cook while stirring for about a minute. Throw in the remainder of the salt and the jarred tomato and stir. If you tomatoes are whole (like mine were) use your spatula to break it into smaller chunks. If you don't like your marinara chunky then use an immersion or regular blender to smooth out the chunks before adding the lamb.
Let the tomato sauce bubble on the stove for about 15 minutes uncovered. It will thicken as the water evaporates.
When the green beans are cooked remove them from the pot leaving the brothy liquid they were cooked in. Remove the pot from the stove and use another pan to brown the lamb. You can skip this step if you don't want to dirty another pan and simply put the ground lamb in the cooking liquid from the green beans.
I like to brown the lamb first because it gives it an extra bit of crisp texture in the sauce, but if you don't care about that then skip the extra step.
If you are browning the lamb first, simply put it in a pan without any cooking fat and saute it while constantly stirring until it begins to cook and turn color. Don't worry if it cooks completely through.
Add the ground lamb to the brothy sauce and cook it for a few minutes in the broth and green bean juices.
Then transfer the meat and cooking liquid into the pot of marinara.
Mix everything together and taste. How long you let the sauce simmer on the stove top is up to your taste preference. Do you like your marinara more saucy and liquidy or thicker and more concentrated.
Taste it and cook it down to your preference by letting it simmer uncovered on medium heat.
When it's done, spoon the hot marinara over the green beans and serve. Sprinkle some Parmesan cheese on top if you tolerate dairy.
If you want the green beans to be hot before you serve, then heat them up in a pan before adding the sauce.
If you want to have lots of leftover sauce, just double or triple this recipe and refrigerate or freeze the sauce. It defrosts wells.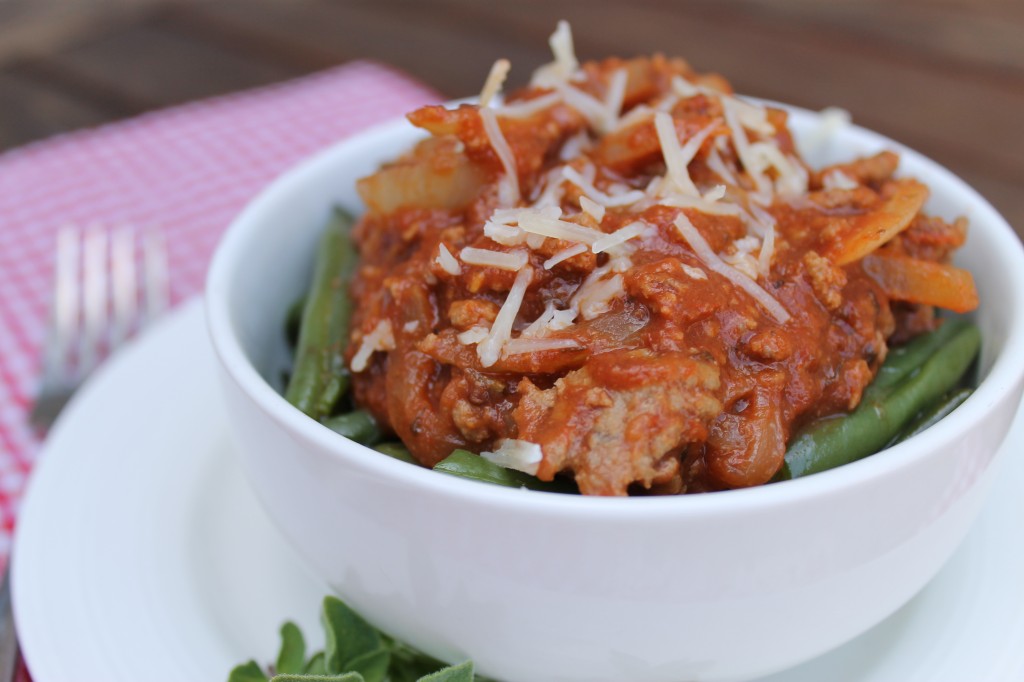 DISCLOSURE OF MATERIAL CONNECTION: Some of the links in my blog are "affiliate links." This means if you click on the link and purchase the item, I will receive an affiliate commission. Regardless, I only recommend products or services I use personally and believe will add value to my readers. I am disclosing this in accordance with the Federal Trade Commission's 16 CFR, Part 255: "Guides Concerning the Use of Endorsements and Testimonials in Advertising." PAID ENDORSEMENT DISCLOSURE: In order for me to support my blogging activities, I may receive monetary compensation or other types of remuneration for my endorsement, recommendation, testimonial and/or link to any products or services from this blog. I only endorse products that align with the ideals of Healy Eats Real and that I believe would be of value to my readers. FDA DISCLOSURE: Information and statements regarding health claims on this blog have not been evaluated by the Food and Drug Administration and are not intended to diagnose, treat, cure, or prevent any disease.
Tags:
bone broth
,
diy marinara
,
green bean pasta
,
green beans
,
healthy pasta
,
lamb marinara
,
Paleo pasta