Oxtail is amazingly versatile but for the longest time I didn't know what to do with this curious cut of boney meat.
So I bought it as a chew toy for my tiny dogs because they were the perfect size for them.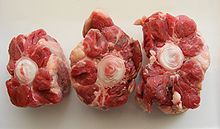 Eventually, I wised up and started using these bones to make bone broth. I think they make the tastiest, meatiest broth because they are the perfect mix of bone and meat.
Also, oxtail broth seems much less wasteful. Usually I throw out chicken or cow bones after making my broth, but with oxtail I take out the bones and shred the meat off with two forks. It comes off easily after it's stewed.
I use the left over oxtail meat to make one of my favorite fish, oxtail hash.
Directions for making oxtail bone broth
Fill your slow cooker (crock pot) with water. The ratio is 2 pounds of oxtail per gallon of water. My crock pot hold a gallon so I put in two pounds of oxtail and add 2 tablespoons of  apple cider vinegar. I cook it on low for 24 hours and then remove the oxtail.
That's it.
You don't need a slow cooker to make broth, you can make it in a regular stock pot on the stove or a dutch oven, but using a slow cooker is the easiest method. It takes a few minutes to set up and you just leave it and forget about it.
I think everyone should own a slow cooker because it's like having a personal chef. It will help you save time and effort a thousand time over. And they are incredibly safe to leave on and leave alone.
You can buy digital slow cookers online and program them to turn off when you are not there. They are pretty inexpensive. Like this one here.
Once you remove the oxtail, shred the meat off the bone with two forks and refrigerate for later.
You'll notice that oxtail meat is fattier than regular meat but this fat is also made up of connective tissue, which is full of gut-healing, nutrient-dense gelatin. If you haven't heard about the multiple health benefits of gelatin, then Google it.
Oxtail meat is very high in gelatin. And when you pan fry it with potatoes you don't need to add extra oil. The fat in the meat will render and the oxtail meat will crisp on the edges. That's what makes this a truly irresistible dish.
You can eat this hash for breakfast but I eat it for breakfast, lunch or dinner. It's a filling and nutritious meal any time.
You can use either sweet or white potatoes for the hash and add your favorite spices or additional chopped veggies.
I keep it simple with only salt, onions and smoked paprika. But sauteed bell peppers or green onions would be a great addition. So would bacon if you're feeling decadent.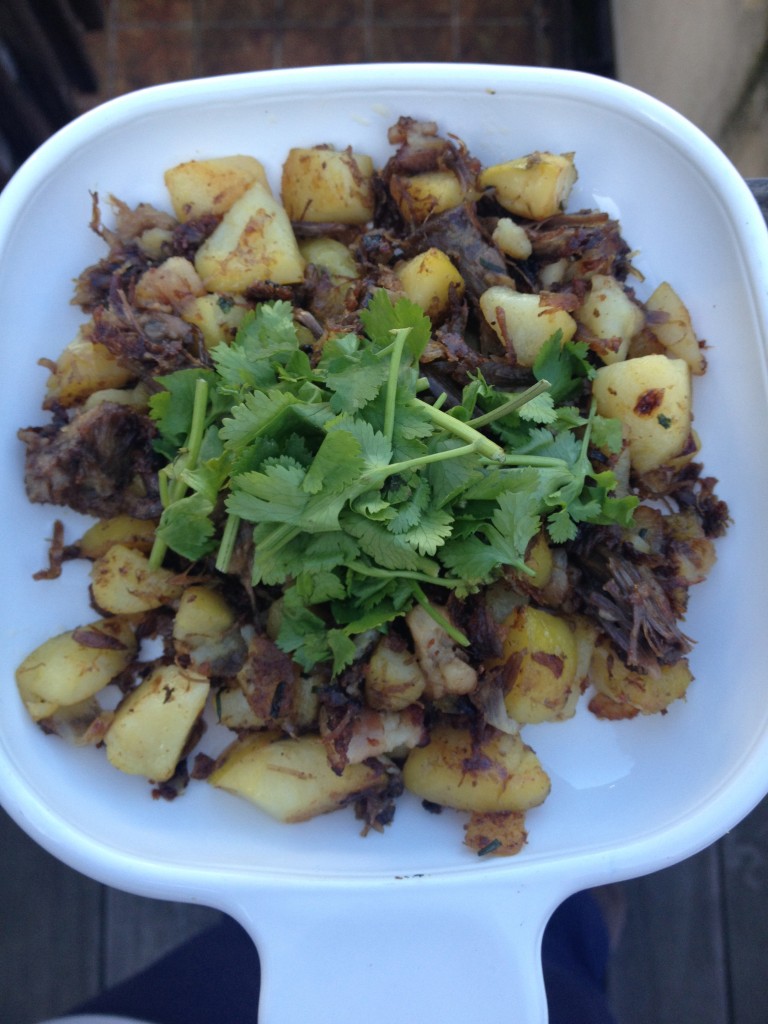 Oxtail and potatoes are a match made in heaven.
Oxtail hash
Ingredients
Shredded oxtail meat from about 4 or 5 bones (depending on the size)
2 to 3 tablespoons of chopped onion
salt and paprika to taste
One or two (depending on the size) cooked, peeled potatoes. You can bake or boil them.
How to
Peel potatoes and roughly chop potatoes into small squares.
Heat a pan over medium high heat and add the shredded oxtail meat.
After one minute, add the diced onion and saute until it starts to brown.
Add potatoes last and cook until potatoes are heated through.
Cook this dish until the oxtail starts to slightly crisp on the edges. It's hard to over cook this dish, you'll likely run out of patience first.
Turn off the heat and sprinkle with salt and paprika and mix with your spatula.
Serve topped with fresh herbs for a bit of brightness and freshness. I garnish with chopped cilantro but chopped sage or thyme would also work.
This dish is so satisfying. It's the perfect, equal serving of fat, protein and safe starch carbs.  Serve with side salad or sauteed green for added fiber.
If you're in a spicy mood add some sliced Jalapenos or Serrano peppers to the oxtail while cooking.
Other ways to serve oxtail
I've sitr-fried oxtail with chopped romaine lettuce and onions. It may seem like an odd  combination but it's quite delicious and pretty low carb.
I hope you enjoy this easy, versatile, comforting dish as much as I do.
And don't forget to make something yummy with the broth.
DISCLOSURE OF MATERIAL CONNECTION: Some of the links in my blog are "affiliate links." This means if you click on the link and purchase the item, I will receive an affiliate commission. Regardless, I only recommend products or services I use personally and believe will add value to my readers. I am disclosing this in accordance with the Federal Trade Commission's 16 CFR, Part 255: "Guides Concerning the Use of Endorsements and Testimonials in Advertising." PAID ENDORSEMENT DISCLOSURE: In order for me to support my blogging activities, I may receive monetary compensation or other types of remuneration for my endorsement, recommendation, testimonial and/or link to any products or services from this blog. I only endorse products that align with the ideals of Healy Eats Real and that I believe would be of value to my readers. FDA DISCLOSURE: Information and statements regarding health claims on this blog have not been evaluated by the Food and Drug Administration and are not intended to diagnose, treat, cure, or prevent any disease.
Tags:
breakfast hash
,
oxtail broth
,
oxtail hash
,
oxtail meat
,
shredded oxtail