In an ongoing attempt to reduce dairy in my diet I've been buying almond milk lately. But the kind they sell in most stores has undesirable stuff like sugar or preservatives and even the organic stuff has carrageenan added.
I've also found high quality almond milk freshly made with nothing but almonds and water but it's super expensive at $10 for a 32 ounce bottle.
Back when I was eating a raw food diet to heal my ailing digestion I used to make my own almond milk. It wasn't that hard. But I didn't know at the time that I was intolerant to nuts, which explains why I was getting sicker and sicker.
Since then I've healed my nut allergy, but been resistant to making my own almond milk because I associate it with being sick and feelings nauseous after drinking it.
But when I saw coconut almond milk on sale I was curious and excited to try it. I was also shocked by the $13 price tag.
It was time to heal my almond milk making trauma so I decided to recreate this delicious looking milk.
The label said it was made with nothing but coconut water, almonds and vanilla. I knew I could do that at home. I already had all the equipment, a blender and a nut milk bag (left over from my raw food days) to strain the milk. You can buy a nut milk bag here.
Coconut water is by far my favorite drink and it naturally sweetens the almond milk so it doesn't need added sugar. And it adds all the nutritious health benefits of coconut water, including essential electrolytes.
The hardest part in making this milk was blanching the almonds. After soaking them overnight the skins become easy to peel but it's still a time commitment.
Because I was feeling a bit stressed at the time, I found the process of peeling the almonds to be calming, like a meditation. But then I bought myself some blanched almonds  here for the next batch.
And if you want to blanch your own almonds, soaking them in boiling water makes it even easier to peels as the skins just rub off between your fingers.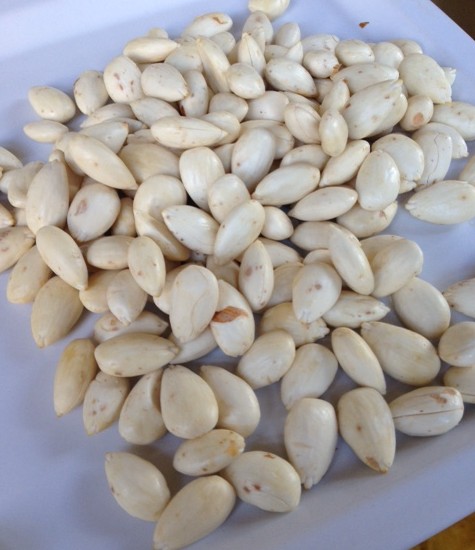 Ingredients
3 cups of coconut water. (My favorite brand is Harvest Bay because it tastes like it came straight from the coconut (You can find it here)

1 cup of raw, almonds (I bought blanched almonds here)

Optional: 1/2 teaspoon of vanilla extract
How to
Soak your almonds in water. I like to soak them overnight but if you're in a rush, a few hours is sufficient.
If your almonds are not already blanched, then drain the water and pour boiling water on the almonds, let sit for 10 minutes and drain. This should make the skins rub off easily.
Throw the blanched almonds in a blender with the coconut water and blend on high for a few minutes until well blended.
Transfer the contents of the blender to the nut bag. This part can be a bit tricky. You can ask someone to hold the nut bag over a bowl or large container as you pour it or drape the bag over the container yourself.
Also depending on the size of your nut bag you may have to do this in two parts. My bag was big enough to hold the whole batch.
Then close the nut bag and squeeze it to help all the liquid drain out. This part is a bit like what I imagine milking a cow is like. I found it fun. But I'm weird like that.
When you are done, you should be left with a small ball of almond pulp. You can use this pulp as a crust for baked goods or in place of blanched almond flour. I used mine as a crust for this pumpkin cheese cake.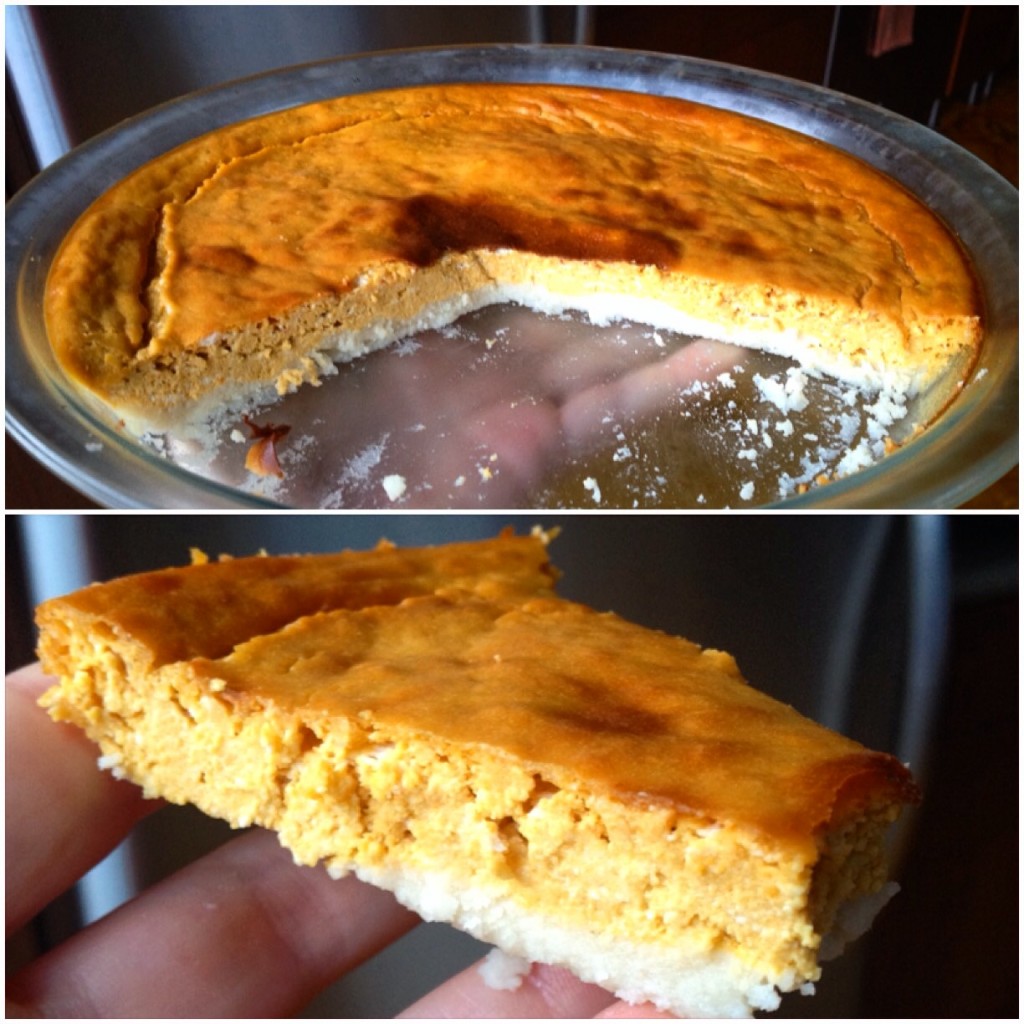 Nothing goes to waste in my house! And it tasted great with a glass of fresh, homemade  coconut almond milk.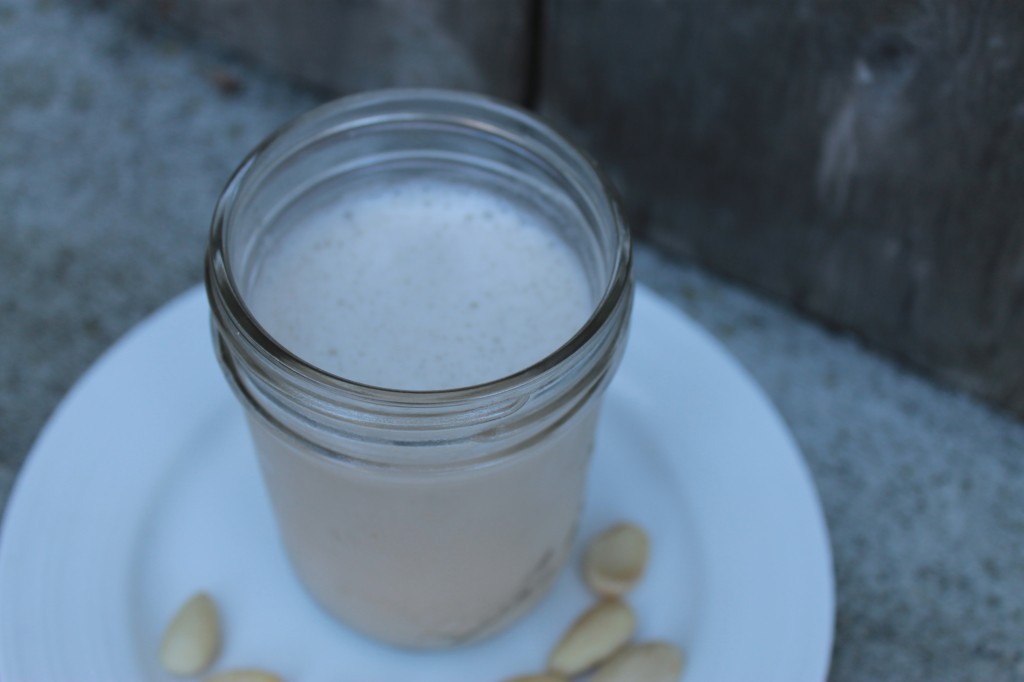 DISCLOSURE OF MATERIAL CONNECTION: Some of the links in my blog are "affiliate links." This means if you click on the link and purchase the item, I will receive an affiliate commission. Regardless, I only recommend products or services I use personally and believe will add value to my readers. I am disclosing this in accordance with the Federal Trade Commission's 16 CFR, Part 255: "Guides Concerning the Use of Endorsements and Testimonials in Advertising." PAID ENDORSEMENT DISCLOSURE: In order for me to support my blogging activities, I may receive monetary compensation or other types of remuneration for my endorsement, recommendation, testimonial and/or link to any products or services from this blog. I only endorse products that align with the ideals of Healy Eats Real and that I believe would be of value to my readers. FDA DISCLOSURE: Information and statements regarding health claims on this blog have not been evaluated by the Food and Drug Administration and are not intended to diagnose, treat, cure, or prevent any disease.