Who needs pasta with these flavors?
If you think about it, pasta doesn't have much flavor. Rather, it's just a blank canvas that holds the bold, acidic, umami flavors of marinara sauce.
The star of a spaghetti and meatball dish is the meat and the sauce after all, so swapping out pasta for some nutritious veggies will only add to the awesomeness of this classic American dish.
I used preshredded carrots and brocolli slaw to replace the pasta in this dish. Because I bought my veggies precut, it was a breeze to assemble. I recommend this crowd pleaser for nights you're tired but still want to impress.
I was feeling quite tired the night I made it and enjoyed how easy this dish was.
Using premade marinara sauce is another time saver. I picked a brand low in sugar (Putenesca is a sauce flavor that's sugar free and loaded with olives). And boosted the flavor of the store bought sauce with sauteed onions and chopped portobello and oyster mushrooms.
I baked the meatballs in the toaster oven, but you can also simmer them in a pot of marinara sauce also.
You can follow my recipe exactly, but these meatballs beg for customization. The ground beef is also like a blank canvas that's enhanced by fresh herbs like basil and cilantro, or chopped raw spinach. I added garlic, spices and a little bit of cheese, but I encourage you to make them to your own tastes, adding tomato paste and an egg will make it taste more like meatloaf.
You can even add leftovers from last night's dinner. Go crazy, it's hard to go wrong. And if you're not sure you can test a meatball or two first. Add don't be afraid to use any meat for this, lamb, pork or turkey work great.
My only regret is that I didn't make more.  I suggest doubling this recipe if you have a large family or want leftovers for lunch. The recipe below was enough for 3 to 4 servings, including a packed lunch for my husband the next day….
Ingredients
8 ounces of shredded carrots (1 cup)
8 ounces of broccoli slaw
8 ounces of low or no sugar marinara sauce
1/3 cup of chopped oyster and portabello mushroom
1/3 cup of roughly chopped onion
1 pound of ground beef
2 large cloves of garlic, chopped finely
Spices: (1/4 teaspoon of each) paprika, tumeric, oregano, cayenne, black pepper, cumin
1/2 teaspoon of salt
optional: 2 tablespoons of grated Parmesan cheese
1 tablespoon of olive oil
How to
Saute the onions in olive oil until they begin to turn translucent.
Add in the mushrooms and saute for a few minutes, mixing with the spatula
Add in the carrots and broccoli slaw and saute for 5 minutes, mixing with the spatula. Add more olive oil (or a touch of water) if it's sticking.
Add in the marinara sauce and simmer on medium heat, mixing occasionally. Let it simmer until the carrots and broccoli begin to soften (until they're no longer crunchy when you break them with a spatula).
Meanwhile put the meat in a bowl and mix the spices and finely chopped garlic cloves into it. Add cheese only if you tolerate dairy. You can mix the meat with a fork, but I enjoy mixing it with one hand. If you try this make sure the meat is not still cold from the fridge or it might irritate your hand.
Mix until everything is folded into the meat, then start forming meatballs.
The size of the meatballs is up to you, but I like to make them the size of my fist (about the size of a small apple). The larger the meatball, the longer it will take to cook.
Put the meatballs on a parchment paper lined baking sheet and put in the oven at 350 for 30 minutes.
Because all ovens are different, it's always a good idea to split open one meatball after it's done cooking to see if it has cooked through. For beef or lamb, a little bit of rare meat in the middle is not a big deal, but make sure you cook pork or chicken meatballs all the way through.
Because I'm playing with eating cheese again, I melted organic mozzarella on my veggie marinara with some dried oregano sprinkled on top. So decadent.  But it's just as tasty without the cheese.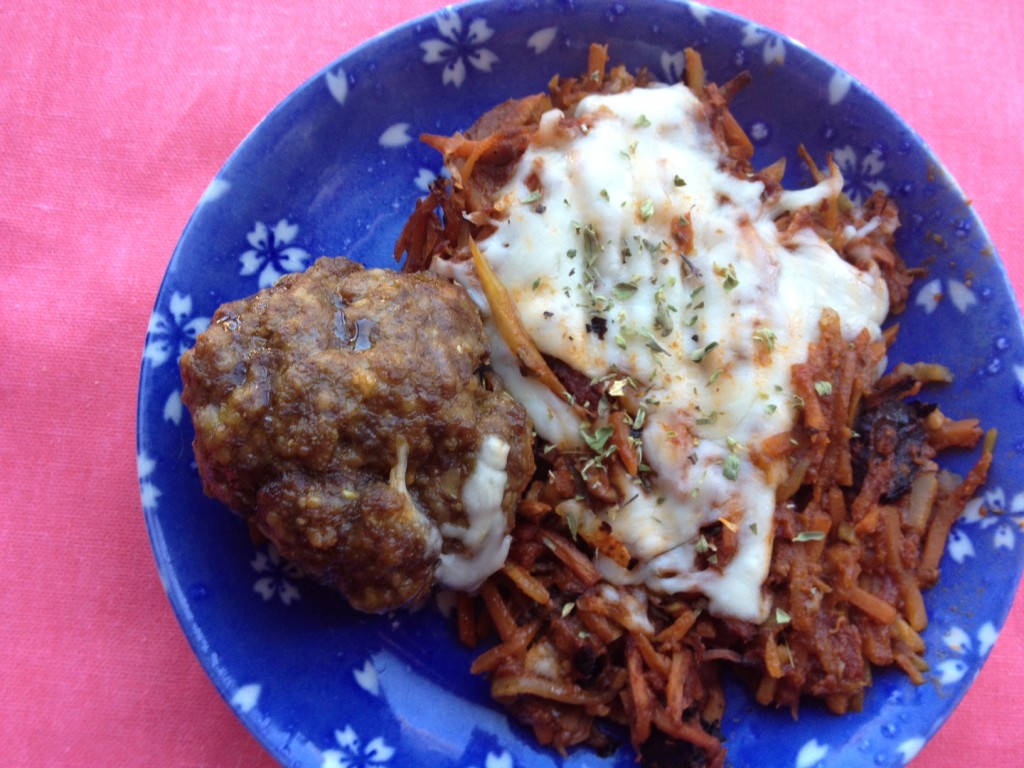 Behold the yuminess….and tell me in the comments how you will customize yours!
DISCLOSURE OF MATERIAL CONNECTION: Some of the links in my blog are "affiliate links." This means if you click on the link and purchase the item, I will receive an affiliate commission. Regardless, I only recommend products or services I use personally and believe will add value to my readers. I am disclosing this in accordance with the Federal Trade Commission's 16 CFR, Part 255: "Guides Concerning the Use of Endorsements and Testimonials in Advertising." PAID ENDORSEMENT DISCLOSURE: In order for me to support my blogging activities, I may receive monetary compensation or other types of remuneration for my endorsement, recommendation, testimonial and/or link to any products or services from this blog. I only endorse products that align with the ideals of Healy Eats Real and that I believe would be of value to my readers. FDA DISCLOSURE: Information and statements regarding health claims on this blog have not been evaluated by the Food and Drug Administration and are not intended to diagnose, treat, cure, or prevent any disease.
Tags:
meatballs
,
Paleo pasta
,
Paleo spaghetti and meatballs