Playing with sweet and starchy plantains
Plantain is a starchy fruit that reminds me of a veggie. Most people describe it as a cross between a banana and a potato.
If you haven't ever tried plantain you might have walked right by it in the store, assuming it was an over sized and over ripe (or under ripe) banana.
Plantains ability to walk the edge between starch and fruit inspires me to be very playful with it.
When plantains are still green they tend to be a lot starchier and people use them to make starchy plantain dishes but when they begin to turn brown/black and spotty they become much sweeter like bananas and people use them to make sweet plantain dishes.
For these recipes, I used the more ripened brown/black plantains because I wanted to play with sweet and savory.
In fact, I got so playful that I turned typically sweet dishes like a banana split into a fun savory version.  Instead of ice cream, I served my plantain split with mashed sweet potato and a giant meat ball.  It was as fun dreaming up, making and photographing this dish as it was eating it.
I think that this dish would delight kids! Though my husband is very much an adult, he got really amused and excited when he saw my plantain split creation.
I invite you to steal my idea and embellish it fit your tastes. If you can do diary, top it with sour cream to resemble whipped cream, or pour a brown gravy on it to resemble chocolate sauce.
The options are only limited by your imagination.
Plantain split with meat and potato "ice cream" scoops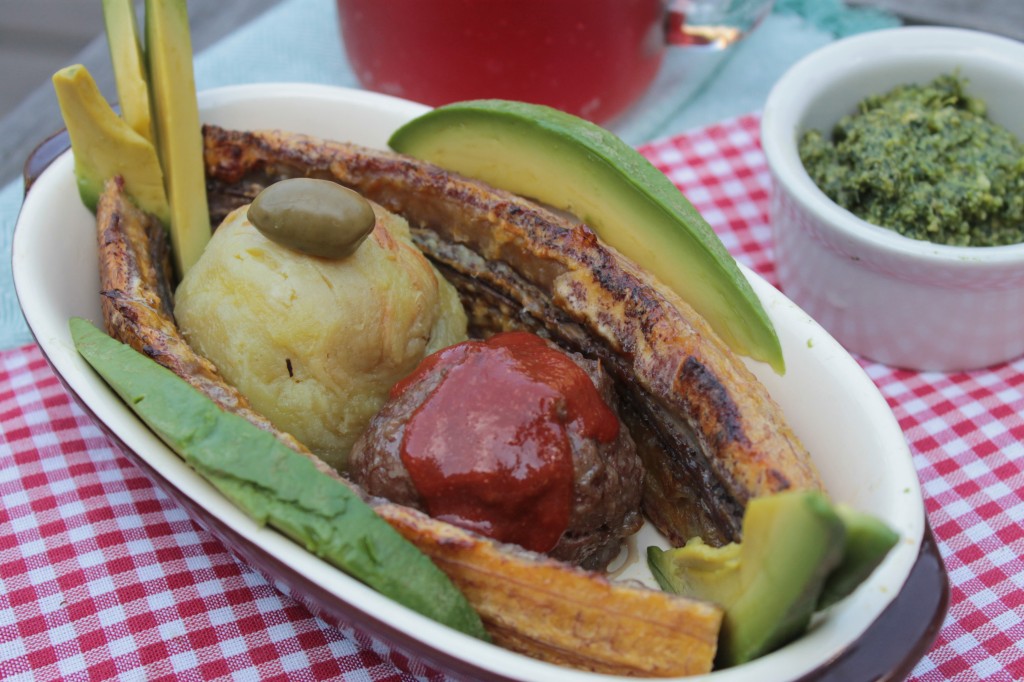 Ingredients
1 brown or black speckled plantain
1 sweet potato
1 tablespoon of butter or coconut oil
1/2 pound of ground meat of choice (I used grass fed beef)
1 teaspoon of each: salt, paprika, garlic powder, cumin, tomato paste
optional: 1 egg
optional garnish: avocado, sour cream/Greek yogurt, chives, olives, gravy, sriracha
How to
Roast a well washed sweet potato at 375 for 30 minutes to one hour depending on the size of the potato. After 30 minutes stick a fork in to check to see if it's done. When it is done the fork should easily pierce through half the sweet potato without much resistance.
Peel the potato (the skin comes off much easier after it is cooked) and mash it with some salt and either butter or coconut oil.
While the potato is roasting make your favorite meat ball recipe. I simply mixed 1 teaspoon of salt, paprika, cumin, garlic powder, 1 teaspoon of tomato paste and 1 teaspoon of sriracha with 1/2 a pound of ground beef. You can add an egg if you like more of a meatloaf taste.
Roll the ground meat into an ice cream scoop size.
Peel a ripe plantain (the more blackened or browned on the outside the riper it is)
Cut it in half and smear it with coconut oil
Bake both the plantain and the meatballs in the oven for it at 350 for 30 minutes.
Lay the plantain on each side of an oblong dish. Put in the meat ball and use an ice cream scooper to scoop mashed sweet potato on the dish.
Garnish it with avocado slices. You can use savory versions of traditional sundae toppings like sliced chives or green onion "sprinkles", olives "cherry", gravy or sriracha "hot sauce" sour cream "whipped cream".  You can even do a scoop of fried cauliflower rice. Have fun, this is your sundae!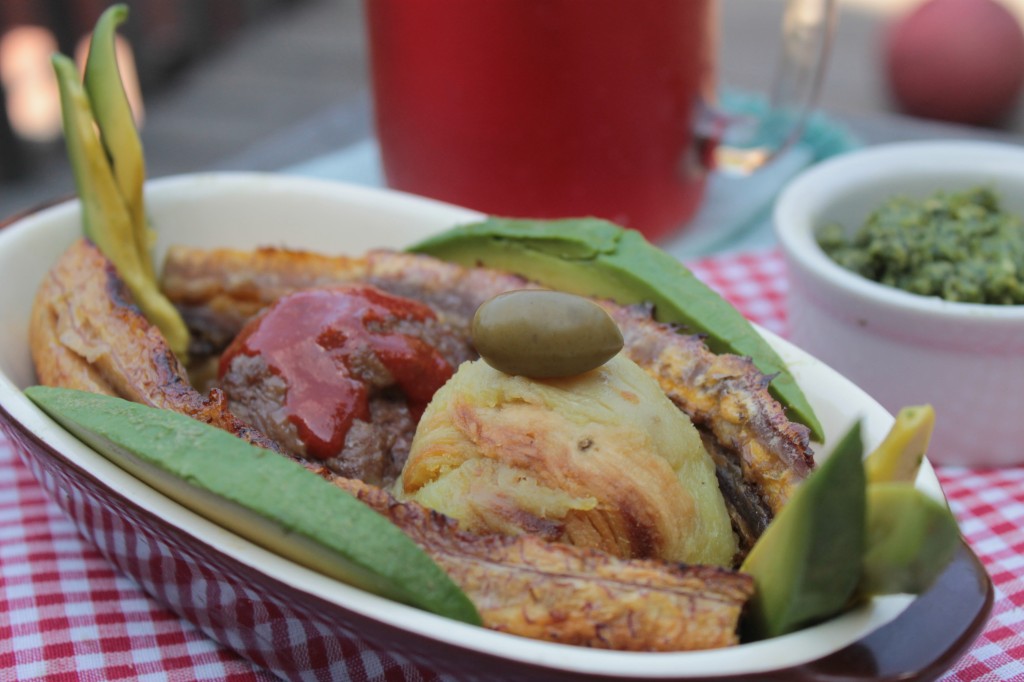 Savory plantain pie
I've been a little bit obsessed with pie lately. So I decided to do a savory plantain-crust pie. I filled mine with bacon, cheese, fresh tomatoes and fresh onions but you can put your favorite meaty or veggie filling in there.
The plantain crust holds together beautifully with the addition of a raw scrambled egg and bakes into perfection.
Yes you really can have pie for dinner and not feel guilty about it.
Here's how I did it…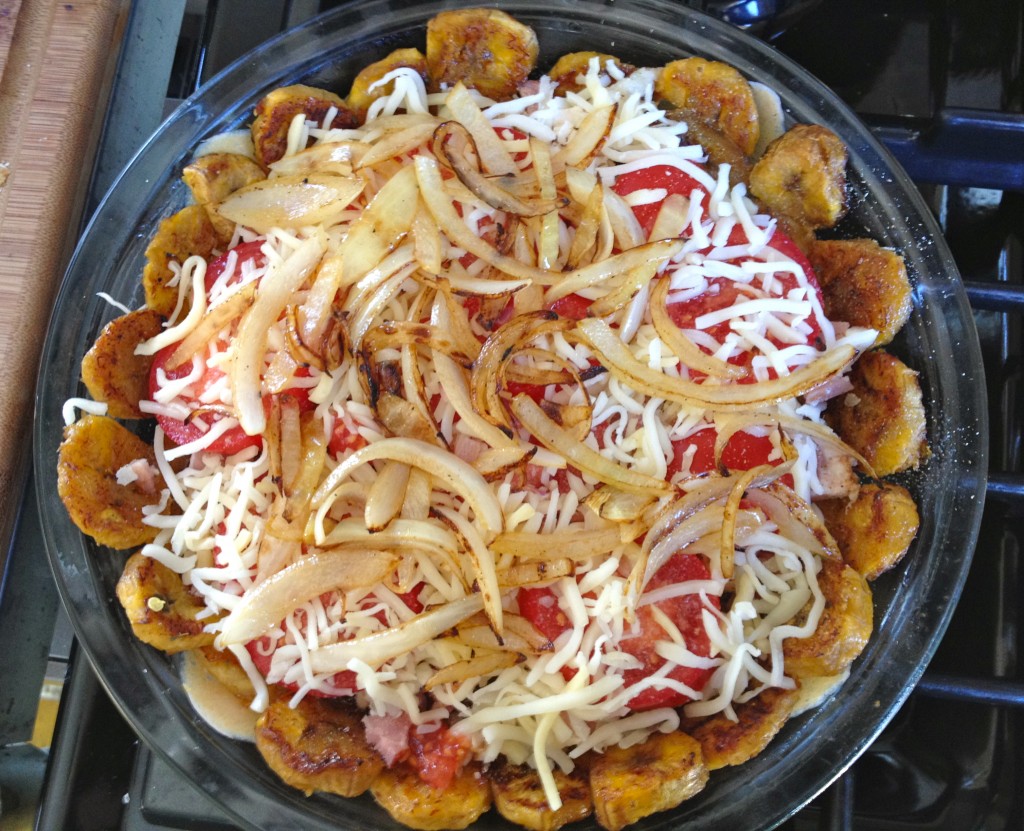 Ingredients
One large or two smaller ripe plantains
One tomato, sliced
2 to 3 sliced of bacon, cut into small strips
1/4 of an onion sliced into strips
1/3 cup of your favorite shredded cheese (I used mozzarella)
1 egg, scrambled
Salt
1 Tablespoon of coconut oil

How to
Peel and cut your plantain(s) into slices
Put the coconut oil in a hot skillet and let melt.
Add the sliced plantains and fry on each side for a few minutes then turn a few times till they are nicely browned on both sides.
Transfer the plantain slices to a greased pie plate or tin (see photo above).
Preheat oven to 350.
Scramble one raw egg in a bowl and add salt. Pour it over the plantain slices making sure to spread the egg mixture evenly.
In a saute pan, cook the small sliced of bacon until no longer raw. Don't overcook because they will cook more in the oven.
Sprinkle bacon, cheese on top of the plantain crust. Add slices of fresh tomato and onion.
Put the pie in the preheated oven and cook for 20 to 25 minutes.
Take out of oven and let cool for it to solidify about 10 to 15 minutes. If you cut into it too soon it will still be delicious but won't hold a its pie shape.
Enjoy your savory home baked plantain pie comfort food! I did.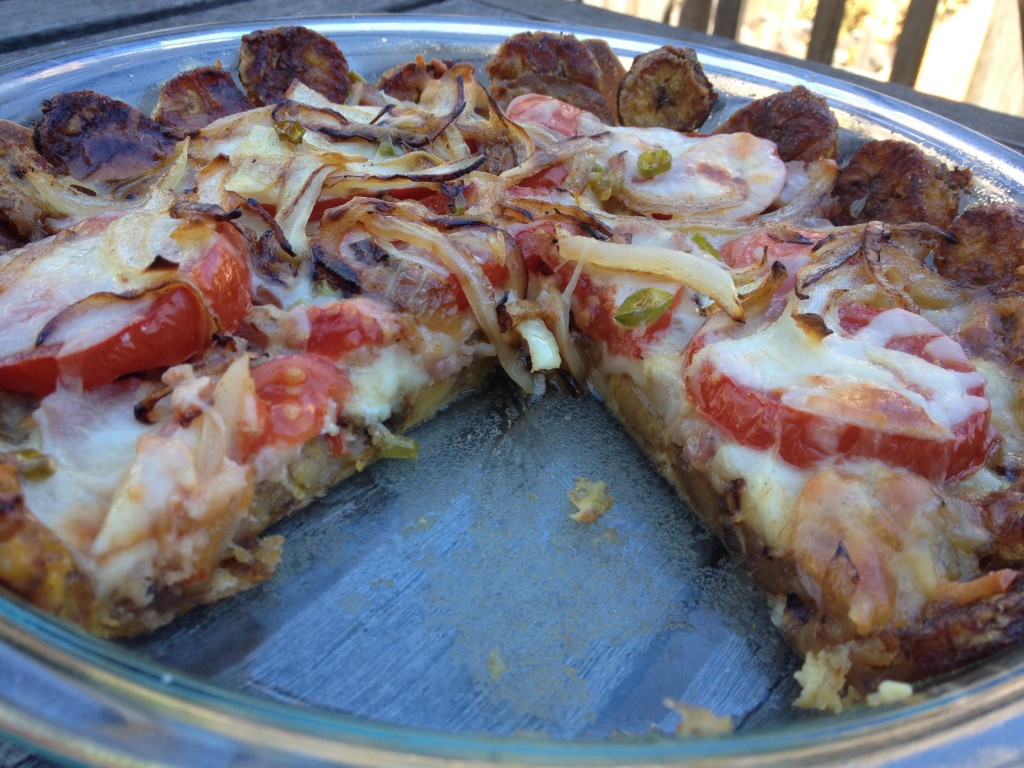 DISCLOSURE OF MATERIAL CONNECTION: Some of the links in my blog are "affiliate links." This means if you click on the link and purchase the item, I will receive an affiliate commission. Regardless, I only recommend products or services I use personally and believe will add value to my readers. I am disclosing this in accordance with the Federal Trade Commission's 16 CFR, Part 255: "Guides Concerning the Use of Endorsements and Testimonials in Advertising." PAID ENDORSEMENT DISCLOSURE: In order for me to support my blogging activities, I may receive monetary compensation or other types of remuneration for my endorsement, recommendation, testimonial and/or link to any products or services from this blog. I only endorse products that align with the ideals of Healy Eats Real and that I believe would be of value to my readers. FDA DISCLOSURE: Information and statements regarding health claims on this blog have not been evaluated by the Food and Drug Administration and are not intended to diagnose, treat, cure, or prevent any disease.