Cauliflower rice pudding
You may know that cauliflower is the Paleo replacement for rice. I've made lots of savory Paleo dishes with cauliflower rice like stirfries, sushi, curry and pizza.
But one of my favorite non Paleo desserts is rice pudding.
If you think like me then you too would try to make dessert out of cauliflower.
Many would be daunted by the idea as gross or odd but I had to see if it could be a good replacement for rice pudding.
In my 40s I don't do much outrageous stuff anymore, except in the kitchen….so I hope you enjoy my walk-on-the-weird-side today!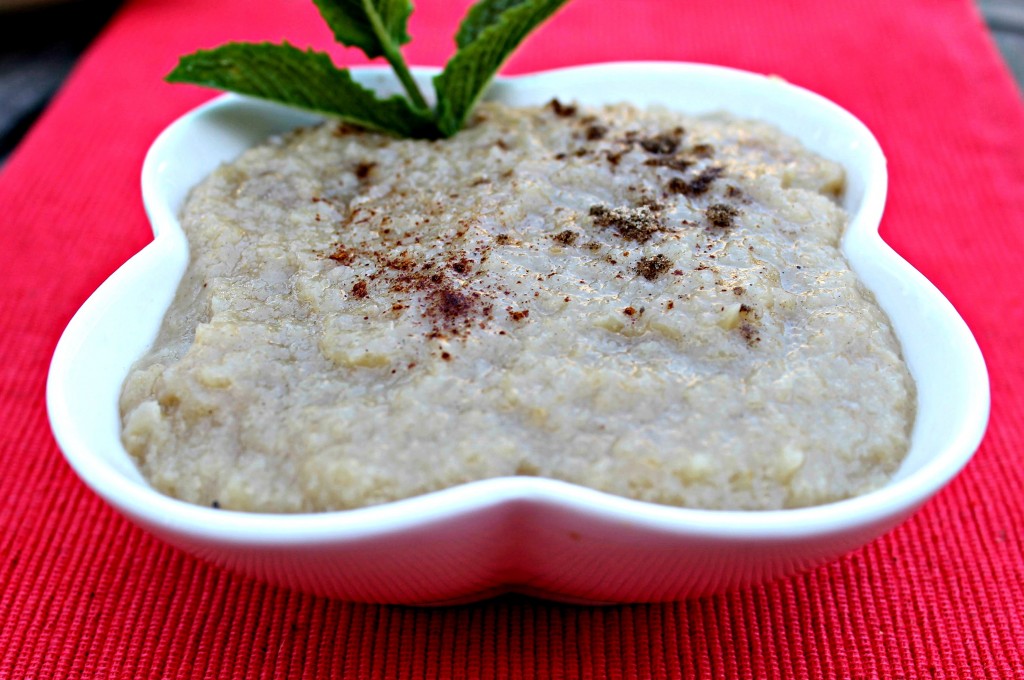 Once you "rice" the cauliflower in your food processor or grate it with a cheese grater this dish is incredibly simple to make.
But how does it taste?
The honey and coconut milk add sweet flavor but the after taste of the cauliflower comes through clear and strong.
That said, my husband and recipe tester really liked this dessert. I was on the fence, but found that mixing it with Greek yogurt and toppings made all the difference in mellowing the cauliflower flavor.
Ingredients
Equal parts cauliflower rice and coconut milk
*Note about the milk: you can use coconut milk, almond milk or dairy and you can add more milk you want a thinner pudding. If you add too much milk, just cook it on low heat to evaporate the liquid.
Honey or maple syrup (I put one tablespoon of honey per half a cup of "rice" but you can adjust it to your taste)
Optional spices and toppings: cardamom, cinnamon, pumpkin pie spice, shredded coconut, fresh banana slices, chocolate chips, a pad of butter, Greek yogurt and dried cranberries)
How to
Cut you cauliflower into smaller florets and process in the your food processor until it turns into a snow-like consistency.
Put into a pan with the coconut milk and bring to a boil, then turn heat down and simmer until the desired consistency is reached. I cooked it for 15 minutes on low heat.
Stir in your sweetener and spice and mix.
It's ready to serve.
Other veggie desserts
I love the idea of veggie desserts because you squeeze in extra nutrition and fiber while still enjoying a treat. I'm not alone in my heretic veggie dessert recipes. Other renegade Paleo bloggers have also riffed on this theme…here are a few more ideas to explore.
Spaghetti squash kheer– This is the Indian version of rice pudding but made with spaghetti squash instead of cauliflower.
Cauliflower crust chocolate pizza– I haven't tried this yet, but assume you won't be able to taste the cauliflower due to all the chocolate.
Chocolate eggplant torte– More chocolate and veggie madness. Apparently you can't really taste the eggplant either.

Cauliflower rice pudding
Turn your craving for dessert into a nutritional powerhouse with this daring Paleo take on rice pudding.
Ingredients
Equal parts: coconut milk and cauliflower rice (add more milk for thinner consistency)
Honey or maple syrup to taste (I used 1 Tablespoon of honey for ½ cup of rice)
Optional: ½ teaspoon of vanilla extract or one drop of lemon essential oil
Optional toppings and spices: chocolate chips, dried cranberries, crushed nuts, shredded coconut, coconut oil or butter, cardamom, cinnamon, pumpkin pie spice)
Instructions
Cut up florets and rice cauliflower in a food processor or by hand with a cheese grater
Put coconut milk and cauliflower rice in a pan, bring to boil and turn down to low heat to simmer until desired consistency
Add sweetener and spices and serve with optional toppings.
DISCLOSURE OF MATERIAL CONNECTION: Some of the links in my blog are "affiliate links." This means if you click on the link and purchase the item, I will receive an affiliate commission. Regardless, I only recommend products or services I use personally and believe will add value to my readers. I am disclosing this in accordance with the Federal Trade Commission's 16 CFR, Part 255: "Guides Concerning the Use of Endorsements and Testimonials in Advertising." PAID ENDORSEMENT DISCLOSURE: In order for me to support my blogging activities, I may receive monetary compensation or other types of remuneration for my endorsement, recommendation, testimonial and/or link to any products or services from this blog. I only endorse products that align with the ideals of Healy Eats Real and that I believe would be of value to my readers. FDA DISCLOSURE: Information and statements regarding health claims on this blog have not been evaluated by the Food and Drug Administration and are not intended to diagnose, treat, cure, or prevent any disease.
Tags:
cauliflower rice pudding
,
paleo rice pudding
,
veggie desserts