Cauliflower: One OF PALEO'S Most VErsATILE VEGGIES
Not only is cauliflower good for you, it's also the rice replacement of the Paleo world. If you've never had Cauliflower fried rice you're missing out on some serious deliciousness.
But that's not all. Once riced (I'll show you how below) cauliflower also makes an amazing base for pizza crust, fritters and sushi. Oh yes, SUSHI!!! One of my favorite foods! And I couldn't believe how authentic it tasted and how easy it was to make my own sushi.
In this week's installment of sexy veggies, I'll show you all the amazing things I've made out of a head of cauliflower. Including an original fritter recipe adopted from a recipe for cauliflower tots (a Paleo take on tater tots).
And don't let cauliflower's white color fool you. It's a nutritional powerhouse, packed with vitamin C, folate, B vitamins and essential minerals. Take that white rice!
Turning cauliflower into rice isn't that hard. There are two ways. You can cut it in half and grate it the old fashioned way on a cheese grater or you can chop it into pieces and put it in the food processor. It's done when it turns the consistency of snow.
Once you have your bowl of riced cauliflower, the hardest part is choosing from the recipe options below.

Cauliflower fried rice
Add your favorite fried rice ingredients to the pan and saute. I made mine with onions, peas, eggs, carrots, bok choy, bacon and ground chicken.
Get the recipe here.
Cauliflower Sushi
You will need some unusual ingredients for this, but you can find sushi nori (seaweed wrap), sushi grade fish like tuna and salmon and even a sushi rolling mat at Whole Foods. You can substitute veggies for fish. Not into raw fish? It's also yummy with cooked crab, avocado, a touch of mayo and cucumber.
Get the recipe here.
Cauliflower pizza
I just featured this recipe on the blog a couple of weeks ago. What a healthy way to indulge your pizza craving. And if you're not into cheese you can always make this with pesto and roasted veggies.
Get the recipe here.
Cauliflower fritters
This is a whole meal packed into a tasty baked fritter. The recipe was inspired by the cauliflower tater tot recipe by Lauren from Empowered Sustenance. She's one of my favorite bloggers.
Her recipe called for coconut flour, eggs and cauliflower rice. It was easy to make but the mild, subtle flavors were underwhelming. And it tasted noting like tater tots.
I decided to use cauliflower and egg as a base but to add bolder flavors with meat, cheese and  spices. I also added potato flour to make it taste more like a giant version of a tater tot.
I riced half a head of cauliflower, added the other ingredients and mixed the dough with a fork. And I decided to bake them because they were too thick to fry.
They turned out divine, like nutrient-packed biscuits full of flavorful meaty, satly surprises.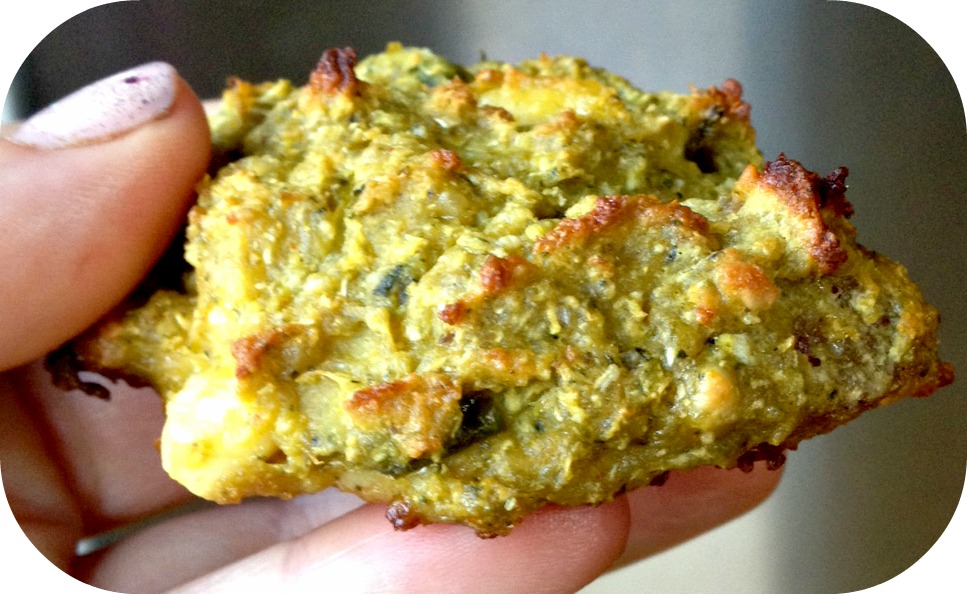 Ingredients
1.5 cups of cauliflower rice
4 teaspoons of coconut flour
1/3 cup of potato flour
3 eggs
Spices: tumeric, cumin, paprika and oregano
Optional: If you like spicy hot food add 1/2 a chopped Serrano or jalapeno pepper
2 tablespoons of cubed sausage
4 tablespoons of feta cheese crumbles (leave these out if you don't tolerate dairy)
1 tablespoon of butter
How to
Mix all the ingredients in a bowl with a fork.
The dough is incredibly sticky so wet your hands while forming it into fritters. Bake these at 350 for 25 minutes on a cookie sheet that's greased or lined with high heat parchment paper.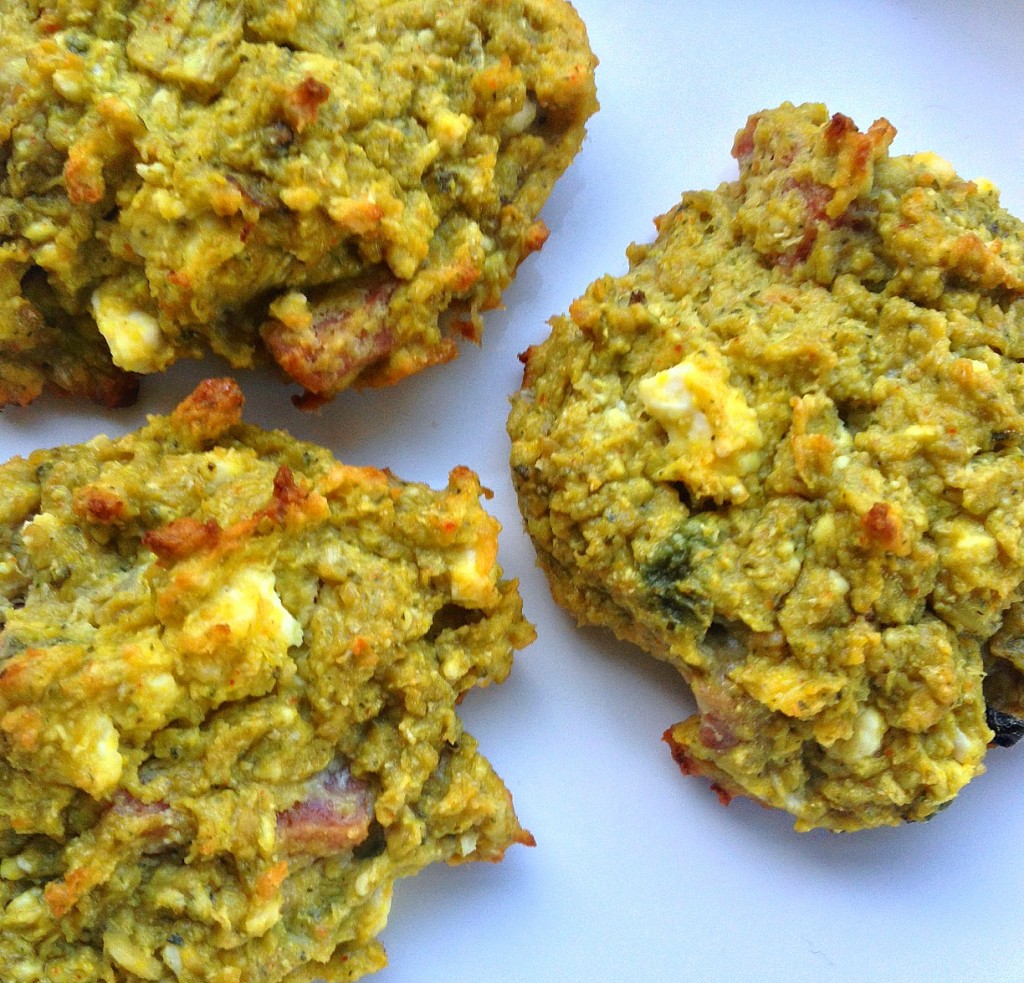 DISCLOSURE OF MATERIAL CONNECTION: Some of the links in my blog are "affiliate links." This means if you click on the link and purchase the item, I will receive an affiliate commission. Regardless, I only recommend products or services I use personally and believe will add value to my readers. I am disclosing this in accordance with the Federal Trade Commission's 16 CFR, Part 255: "Guides Concerning the Use of Endorsements and Testimonials in Advertising." PAID ENDORSEMENT DISCLOSURE: In order for me to support my blogging activities, I may receive monetary compensation or other types of remuneration for my endorsement, recommendation, testimonial and/or link to any products or services from this blog. I only endorse products that align with the ideals of Healy Eats Real and that I believe would be of value to my readers. FDA DISCLOSURE: Information and statements regarding health claims on this blog have not been evaluated by the Food and Drug Administration and are not intended to diagnose, treat, cure, or prevent any disease.
Tags:
cauliflower fried rice
,
cauliflower fritters
,
cauliflower pizza crust
,
cauliflower rice
,
Cauliflower sushi
,
cauliflower tater tots