Paleo cauliflower pizza
Pizza is my favorite guilty indulgence. I like the crust, but it's always been about the sauce, cheese and toppings for me.
This isn't a unique concept, but you can use cauliflower, eggs and cheese to create a grain-free pizza crust worthy of the toppings.
I call this the guilt-free pizza. Because it's full of fiber, vitamins and protein. Regular pizza crust breaks down into sugar and messes with blood sugar. This is what packs on the pounds.
Cauliflower pizza is a way to add veggies to your plate, in the shape of an indulgence.
This is the perfect Paleo dish to serve to vegetarian friends (minus the bacon of course). And if cheese is a problem, I invite you create your own experiment, substituting cheese made from almonds (sold in stores like Whole Foods) instead of dairy cheese.
If you're a pizza fan, like me, swap out the guilty pleasures of traditional pizza and beer for the guiltless pleasures of cauliflower pizza and fizzy kombucha!!
Just say no to deprivation.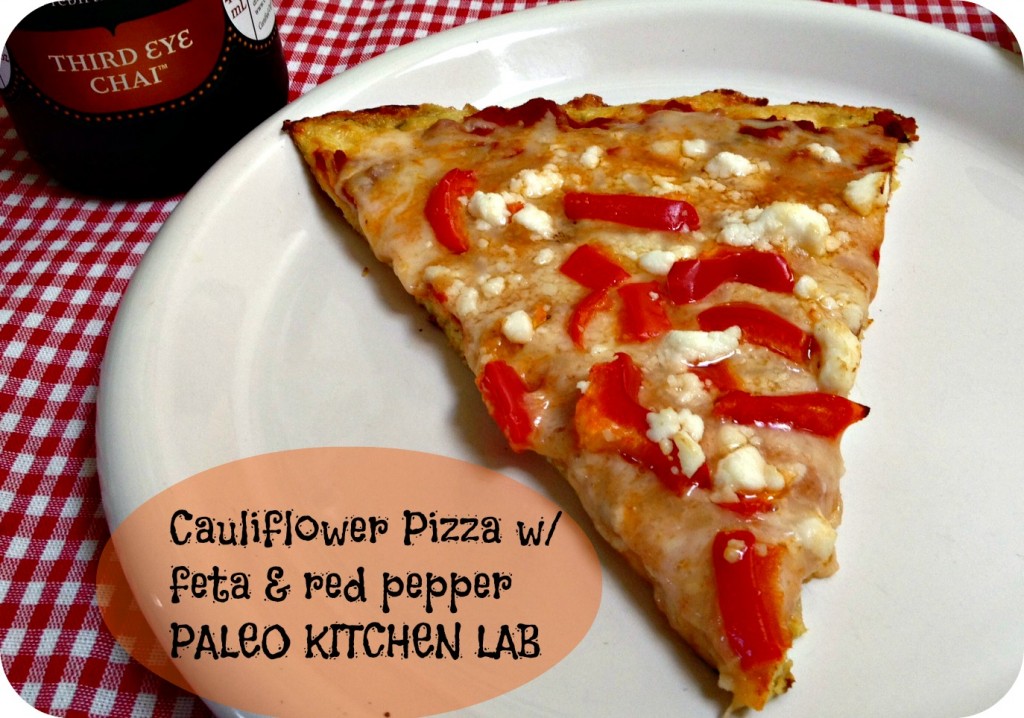 Ingredients
1 small head of cauliflower, processed into a snow-like rice in your food processor or hand grated.
1 cup of Mozzarella cheese
1/2 cup of grated Parmesan
1 tablespoon of dried oregano
1 teaspoon of salt
optional: 2 tablespoons of almond flour
2 eggs
2 tablespoons of tomato paste, mixed with 1 tablespoon of pasta sauce
Toppings: 1/2 a sliced pepper, crumbled feta cheese
Optional: cooked crumbled bacon to use as topping (or to bake inside the crust)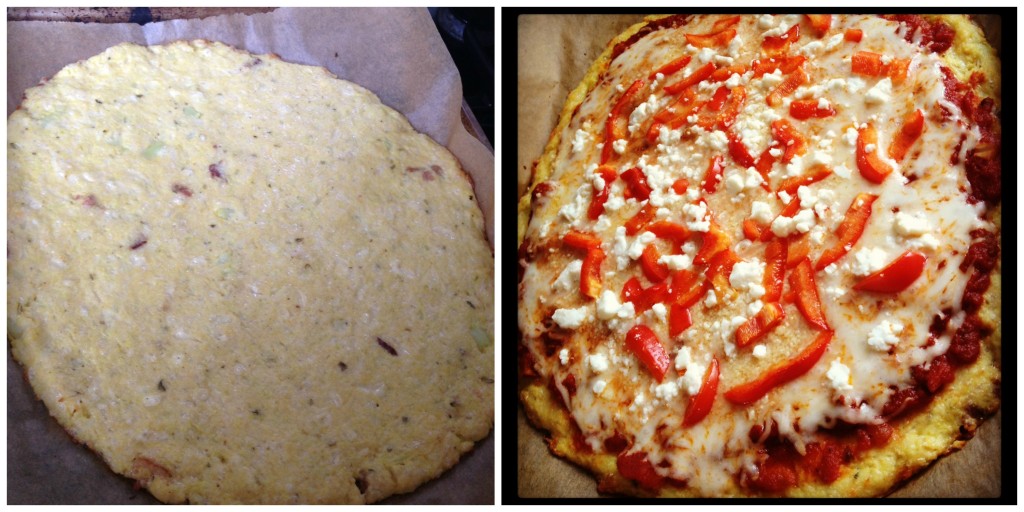 How to
Chop cauliflower into smaller pieces to put in food processor or cut in half and grate each half on a large cheese grater
Put the grated/processed cauliflower in a pan with 1/4 cup of water and let it simmer for 7 minutes or until the cauliflower is steamed into a soft consistency.
Here is the key part: line a colander with a clean kitchen towel and dump the steamed cauliflower in there. Let it drain and cool, and then wrap the towel around the cauliflower, into a balloon shape and squeeze the excess water out by wringing the towel. Make sure the towel has cooled before you pick it up.
Once you've squeezed the excess water out put the cauliflower in a bowl and add in 1/2 cup of mozzarella cheese and 1/2 cup of Parmesan cheese, eggs, oregano, almond flour and salt. Mix with a fork until everything is incorporated and the mixture makes a dough.
Put the dough on top of parchment paper and start shaping into a circle using your hands. You can also top the dough with more parchment paper and roll it out with a rolling pin. I personally prefer patting it down and shaping it by hand.
Move the crust on top of the baking parchment to a cookie sheet and put into a preheated oven at 400 degrees for 12 to 15 minutes. Watch it to make sure it doesn't burn.
Take the crust out of the oven and spread a mixture of tomato paste and pasta sauce on top with a spoon. I find pasta sauce too watery to make good pizza sauce, but mixing it with  tomato paste boosts flavor and texture.
Sprinkle 1/2 cup of mozzarella on top and add crumbled feta cheese, chopped peppers and crumbled cooked bacon. You can also mix the bacon straight into the crust, like I did.
Put back in the oven until the cheese melts. The edges of the crust will also start to brown! Yum.
Take it out and let it cool. Slice it up, sprinkle with extra Parmesan cheese and serve with your favorite pizza toppings like spicy red pepper or garlic powder.
Pizza heaven.
DISCLOSURE OF MATERIAL CONNECTION: Some of the links in my blog are "affiliate links." This means if you click on the link and purchase the item, I will receive an affiliate commission. Regardless, I only recommend products or services I use personally and believe will add value to my readers. I am disclosing this in accordance with the Federal Trade Commission's 16 CFR, Part 255: "Guides Concerning the Use of Endorsements and Testimonials in Advertising." PAID ENDORSEMENT DISCLOSURE: In order for me to support my blogging activities, I may receive monetary compensation or other types of remuneration for my endorsement, recommendation, testimonial and/or link to any products or services from this blog. I only endorse products that align with the ideals of Healy Eats Real and that I believe would be of value to my readers. FDA DISCLOSURE: Information and statements regarding health claims on this blog have not been evaluated by the Food and Drug Administration and are not intended to diagnose, treat, cure, or prevent any disease.