Mama mia, you've gotta make one of these pizza calzones!
I'm not going to say that this was easy to make. There was nothing complicated about it, but the dough did take a while to make and it took me 45 minutes to make three of these. But it was worth every minute of effort because these were hands down one of the tastiest things I've had on the Paleo diet.
It tasted the most like pizza. No offense to cauliflower crust pizza but it has a heaviness that this pizza dough does not.
I got the recipe for the crust from Ashley at MyHeartBeets.com, and it was for Paratha bread. If you are not familiar with paratha bread, it's Indian. And it's a mix between flat bread and a thick crepe.
This is one of those keeper, life changing recipes, at least for me. Because Paratha was one of my favorite things to eat before I went Paleo. I used to buy them frozen from Trader Joes. But they're straight up gluten yo! No bueno.
When I made this Paleo version I was shocked at how much it actually tasted like the real thing. And it got me thinking that these babies would be perfect crusts for individual Paleo pizzas.
When we finally plated this goodness, we folded them over to make them easier to eat. And that is how the Paleo calzone was born!
The good news is that you only need 3 ingredients to make the Paratha pizza dough. Just mix a 1/2 a cup of almond flour, a half cup of tapioca flour and 1 cup of coconut milk.
For those who have a nut allergy, you can substitute flaxseed flour.
So the hardest thing about this recipe is cooking the Paratha. I found that it cooks best on low to medium heat, flipping every 3 to four minutes about 4 times. That's why it takes 45 minutes to make these. But aren't they beautiful?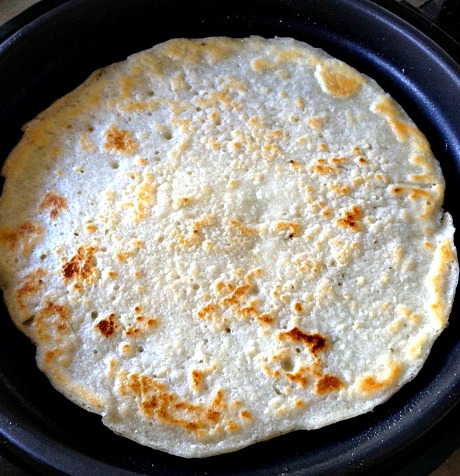 Once the paratha is cooked all you need to do is put it on a parchment paper lined cookie sheet, top with sauce, cheese, sausage, veggies and herbs and stick them in a preheated oven at 350 degrees. Once the cheese melts you're done!
And if cheese isn't your thing, these would be equally as delicious with just sauce, veggies and meat. Stuff your calzone with your favorite toppings.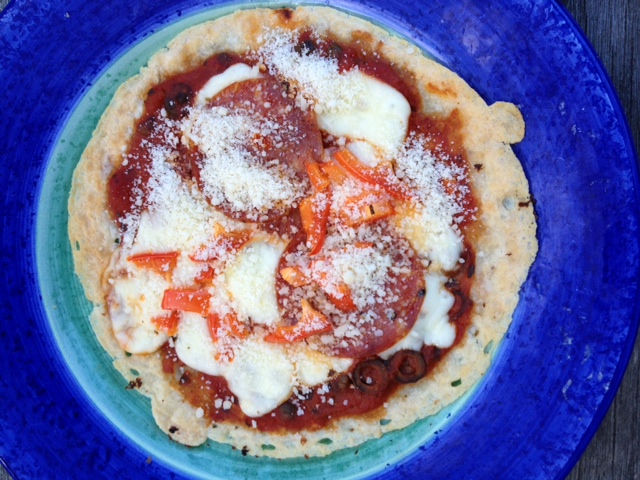 Just fold over and enjoy one of the most decadent pizza experiences you'll ever have on Paleo.
Paleo pizza calzone
Below are the ingredients for the crust from Ashley's recipe. Use your favorite pizza toppings. The toppings I used are below in the instruction section.
Ingredients
½ cup of blanched almond flour
½ cup of tapioca flour
½ teaspoon of salt
1 cup of full fat coconut milk
Instructions
Mix the four ingredients above, grease your pan with butter or cooking fat of choice and drop ⅓ of batter into the pan. I cooked each one individually.
I used medium low heat to cook each crust, flipping every 3 to 4 minutes about 4 times.
Once all three are cooked place the paratha on a cookie sheet (lined with parchment or greased) and top with your favorite toppings.
I used sugar-free Putenesca tomato sauce, slices of mozzarella cheese, a sprinkling of grated parmesan cheese, two slices of sausage, diced bell pepper and oregano.
Once it came out of the oven I sprinkled some chili flakes on it and folded it over.
My husband said it was one of the *@#$# best things I've ever made.
We ate it on our deck making lots of satisfied noises. These were surprisingly filling and 3 were enough split between the two of us.
DISCLOSURE OF MATERIAL CONNECTION: Some of the links in my blog are "affiliate links." This means if you click on the link and purchase the item, I will receive an affiliate commission. Regardless, I only recommend products or services I use personally and believe will add value to my readers. I am disclosing this in accordance with the Federal Trade Commission's 16 CFR, Part 255: "Guides Concerning the Use of Endorsements and Testimonials in Advertising." PAID ENDORSEMENT DISCLOSURE: In order for me to support my blogging activities, I may receive monetary compensation or other types of remuneration for my endorsement, recommendation, testimonial and/or link to any products or services from this blog. I only endorse products that align with the ideals of Healy Eats Real and that I believe would be of value to my readers. FDA DISCLOSURE: Information and statements regarding health claims on this blog have not been evaluated by the Food and Drug Administration and are not intended to diagnose, treat, cure, or prevent any disease.
Tags:
Paleo calzone
,
paleo paratha
,
paleo pizza