FRESH FLAVORS AND BOLD SPICES
I'm not usually much of a holiday recipe person. But since I love the fresh flavors and bold spices of Mexican food so much, I decided to post not one but two recipes for Cinco De Mayo.
One of the recipes is naughty and the other is nice. Translation: one of them you can feel virtuous about eating, because it contains nutritious raw greens. The other is a pot of pure melted decadence.
So there's something for everyone in this recipe post, provided of course, you like jalapenos, cilantro, avocado, lettuce, lime, tomatoes and spicy, grilled meat. And I replace classic Mexican sour cream with probiotic-rich Greek yogurt because it's just as tasty but has extra health benefits. And it makes an amazing dressing for this salad.
Getting the Mexican salad to taste authentic is a matter of spicing the meat with the right spices: paprika, cumin and cayenne.
The Mexican fondue, also called Queso Fondido, is an effortless mix of melted cheese, fresh tomato, hot pepper, cilantro, onion and chorizo. Ay yay yay!
Not exactly something you'd want to eat everyday but a delicious holiday dish that will coat your stomach nicely for a night of festivities.
I used a tiny crock pot for melting and serving the fondue, but you can melt all the ingredients in a skillet or use a fondue pot if you have one. Even a rice cooker might work, if you leave it on low.
My teeny crockpot (nicknamed "mi crockpotito")  was a super convenient way to keep the cheese from growing cold and congealing. Not like this dish would last that long anyway!
And because we don't believe in corn chips in the Paleo world, I would suggest dipping sliced bell pepper "chips" (raw bell pepper slices) in the fondue.
Of course these recipes are good for any time of the year, so create your own Cinco De Mayo celebration when you are feeling a little bit spicy one night! I sure will.
Mexican salad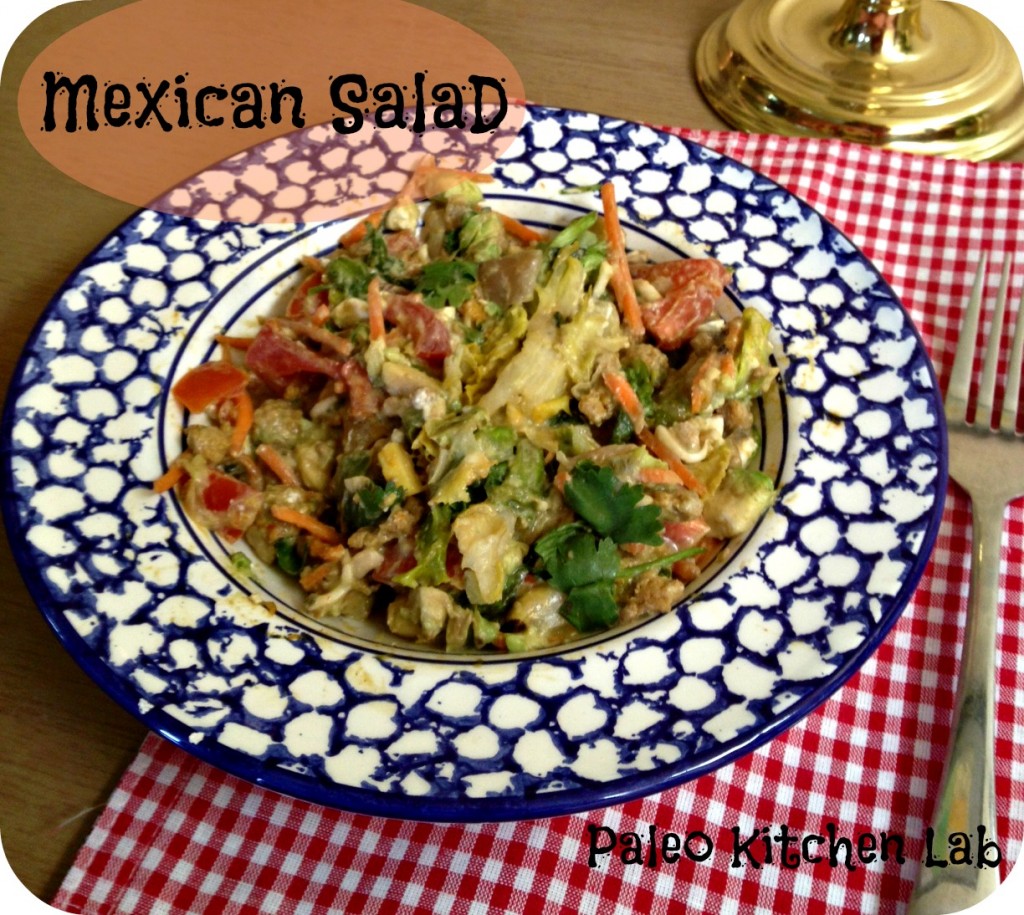 INGREDIENTS
Shredded carrots
One head of green leaf lettuce (Romaine and ice berg would also work)
1 stalk of cilantro, chopped
3 small (roma) tomatoes or 1 large tomato, chopped
1/4 onion, chopped
1  avocado, diced
Optional: shredded mozzarella or cotijo cheese (as much as you want)
8 ounces (1/2 pound) of ground pork or meat of choice
Spices for meat: 1/4 teaspoon of smoked paprika, salt, cumin
Fresh or dried oregano
2 Tablespoons of Greek yogurt
1 jalapeno pepper, finely chopped
Juice of one small lemon or lime
HOW TO
Chopped lettuce and put into salad bowl.
Throw in chopped avocado, cilantro, tomato and carrots and toss.
Put ground pork in a bowl, add spices and mix in with a fork.
Saute onion and jalapeno in fat of choice until onions starts to turn translucent.
Add pork and saute. When pork is cooked through let it cool for a few minutes as you dress the salad.
Dress the salad with lemon juice, dried or fresh oregano and Greek yogurt and toss.
Top with steaming meat and cheese and serve.
Queso Fondido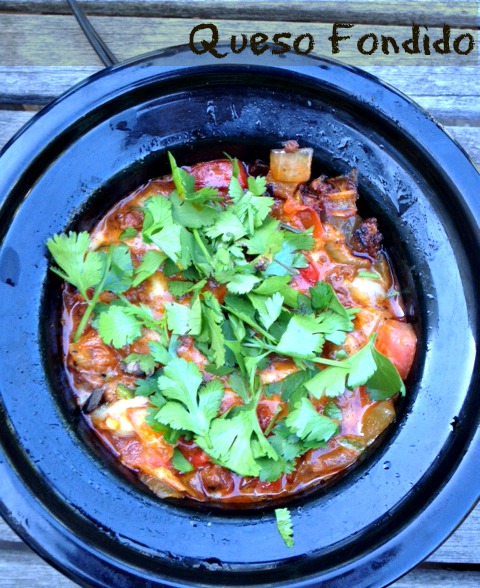 Ingredients
1/2 onion, diced
2 cloves of garlic, minced
1/2 a Serrano or jalapeno pepper chopped
1 fresh tomato, diced
4 ounces of stringy cheese like mozzarella, monterey jack or queso blanco, shredded
1/2 teaspoon of cumin and salt
1/2 bunch of cilantro chopped
4 ounces of chorizo sausage, chopped or use ground beef or pork and spice with 1/4 teaspoon of cumin, paprika, salt and cayenne.
How to
Saute the onions, garlic and jalapenos in your cooking oil of choice. Add in chorizo and cook till done.
Drain excess fat and transfer to crock pot or fondue pot.
Add cheese and wait for it to melt.
Add in fresh tomato and let the flavors mingle for half an hour. Mix the contents of the fondue pot with a fork.
Sprinkle with chopped cilantro.
Serve with "chips" made from sliced bell peppers.
Here is another take on this recipe, done in a skillet.
This recipe serves 2 people, so you might want to double, triple or quadruple it if you are serving it for a party and using a regular-sized crock pot.
DISCLOSURE OF MATERIAL CONNECTION: Some of the links in my blog are "affiliate links." This means if you click on the link and purchase the item, I will receive an affiliate commission. Regardless, I only recommend products or services I use personally and believe will add value to my readers. I am disclosing this in accordance with the Federal Trade Commission's 16 CFR, Part 255: "Guides Concerning the Use of Endorsements and Testimonials in Advertising." PAID ENDORSEMENT DISCLOSURE: In order for me to support my blogging activities, I may receive monetary compensation or other types of remuneration for my endorsement, recommendation, testimonial and/or link to any products or services from this blog. I only endorse products that align with the ideals of Healy Eats Real and that I believe would be of value to my readers. FDA DISCLOSURE: Information and statements regarding health claims on this blog have not been evaluated by the Food and Drug Administration and are not intended to diagnose, treat, cure, or prevent any disease.
Tags:
fondue
,
Mexican fondue
,
Mexican salad
,
queso fondido