it might be a hard sell to call creamed spinach sexy.
It doesn't even photograph well. But it can be really comforting and heavenly when prepared well. And it's a health bomb of a dish that's easy to make and can be served in a variety of flavors.
Creaming the spinach makes it extremely easy to digest and breaks down the fibers and other anti-nutrients in raw spinach (like oxalates).
Spinach got some good publicity from the old Popeye cartoons. It made Popeye strong because it's full of iron and zinc, minerals that fights fatigue, strengthen the immune system and are vital for muscle health.
But did you know that spinach is also off the charts in vitamin K? One 30 gram serving has almost 200 percent of our recommended daily value of vitamin K. That's pretty sexy.
Just like vitamin D, most of us are deficient in vitamin K, and the two vitamins work together in the body. So if you're deficient in either one, neither works optimally.
To remedy that, serve your creamed spinach with a nice vitamin D-rich piece of fish, like catfish or salmon, to get the ultimate dose of symbiotic nutrition.
While I've never been a fan of raw spinach because of it's astringent nature (eating it makes my tongue and roof of my mouth feel like sandpaper), I've always loved it stewed in liquid and pureed.
Indian spinach
Indian cuisine has the most delicious version of creamed spinach, served with a mild cheese called paneer. Here's an Indian recipe for creamed spinach. You can serve it over cauliflower rice.
Italian spinach
Another favorite way to prepare creamed spinach is with marinara sauces and canned tuna (there's that powerful combo of vitamin D and K again!)
How to:
Simply saute onions and garlic in olive oil and add fresh or frozen spinach. Once it has began to cook down, add your marinara sauce. I use 4 ounces of sauce per 1 pound of spinach.  Then add a can of tuna packed in olive oil.
After stirring and letting the spinach cook down till it is soft and wilted, you can puree it in a regular blender, hand blend it or eat it as is.
Here's another Italian recipe for spinach, nestled in a bed of Portobello mushrooms.
This dish just begs for improvisation. If you like Thai food, you can cook it in coconut milk and mix it with Thai curry spices. Add some shrimp for a complete meal.
Creamed spinach in bone broth
This might be the healthiest version of creamed spinach yet, with gut healing bone broth. I added spicy pork sausage for extra flavor. Feel free to add your leftovers from last night's dinner to creamed spinach.
I added half a cup of spaghetti squash to my dish, before I creamed it. It added even more texture and flavor to the dish.
The dish I made last night was also sexed up with garlic, onions, tomatoes and hot peppers. The secret to the creamed consistency is using this Cuisinart Smart Stick 2-Speed Immersion Hand Blender. It's one of the best kitchen appliance I've purchased for it's ability to blend soup right in the pot.
I hope you enjoy my easy, healthy, tasty, crazy sexy spinach invention.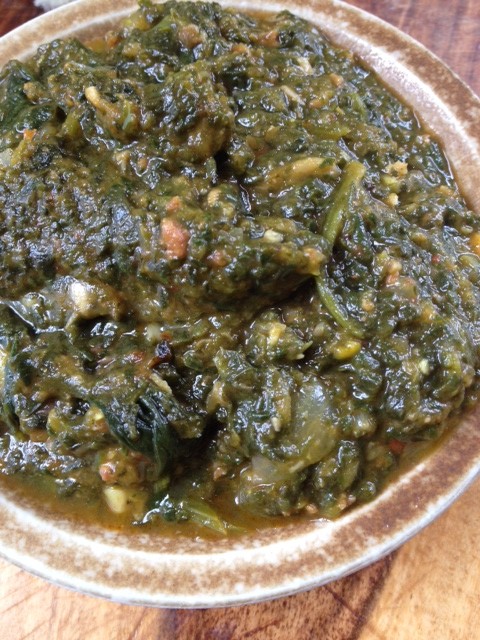 Creamed spinach
This recipe boast the health benefits of spinach, bone broth, garlic and tomatoes, with spicy sausage added for some fun.
Recipe type:
My own crazy invention
Ingredients
I pound of fresh spinach
¼ cup of cubed spicy sausage (mine was precooked Portuguese sausage)
1 fresh tomato, chopped into cubes
½ onion, diced
3 cloves of garlic
½ cup of bone broth
½ teaspoon of salt
sprinkle of parprika
optional:1/2 a Serrano chile diced
optional: ½ a cup of cooked spaghetti squash
Instructions
Saute onions until translucent
Add in chopped garlic and saute till fragrant.
Add in spinach and stir until it starts to wilt.
Pour in bone broth and simmer for a few minutes.
Add in chopped tomato and sprinkle with spices (add in spaghetti squash or other leftover veggies)
Let simmer for 20 minutes on low as bone broth evaporates, stirring occasionally.
Puree spinach by transferring to blender or in the pot with a hand blender.
After blending it, add chopped sausage.
DISCLOSURE OF MATERIAL CONNECTION: Some of the links in my blog are "affiliate links." This means if you click on the link and purchase the item, I will receive an affiliate commission. Regardless, I only recommend products or services I use personally and believe will add value to my readers. I am disclosing this in accordance with the Federal Trade Commission's 16 CFR, Part 255: "Guides Concerning the Use of Endorsements and Testimonials in Advertising." PAID ENDORSEMENT DISCLOSURE: In order for me to support my blogging activities, I may receive monetary compensation or other types of remuneration for my endorsement, recommendation, testimonial and/or link to any products or services from this blog. I only endorse products that align with the ideals of Healy Eats Real and that I believe would be of value to my readers. FDA DISCLOSURE: Information and statements regarding health claims on this blog have not been evaluated by the Food and Drug Administration and are not intended to diagnose, treat, cure, or prevent any disease.
Tags:
creamed spinach
,
health bomb
,
Italian creamed spinach
,
Paleo spinach
,
Saag paneer