BreakFAST Skewers are A unique and playful way to serve breakfast.
One of the most common question people ask when transitioning to a Paleo diet is "what do I eat for breakfast?"
Breakfast is traditionally a carb heavy meal, but it doesn't have to be. In fact, starting the day with a protein breakfast will support adrenals/energy and stabilize blood sugar.
So how do you make a protein breakfast more fun. You can only have bacon and eggs so often before boredom sets in.
One way I keep it fun with Paleo is finding new ingredients to play with. And this recipe has one of the most unique ingredients yet.
Dinosaur eggs.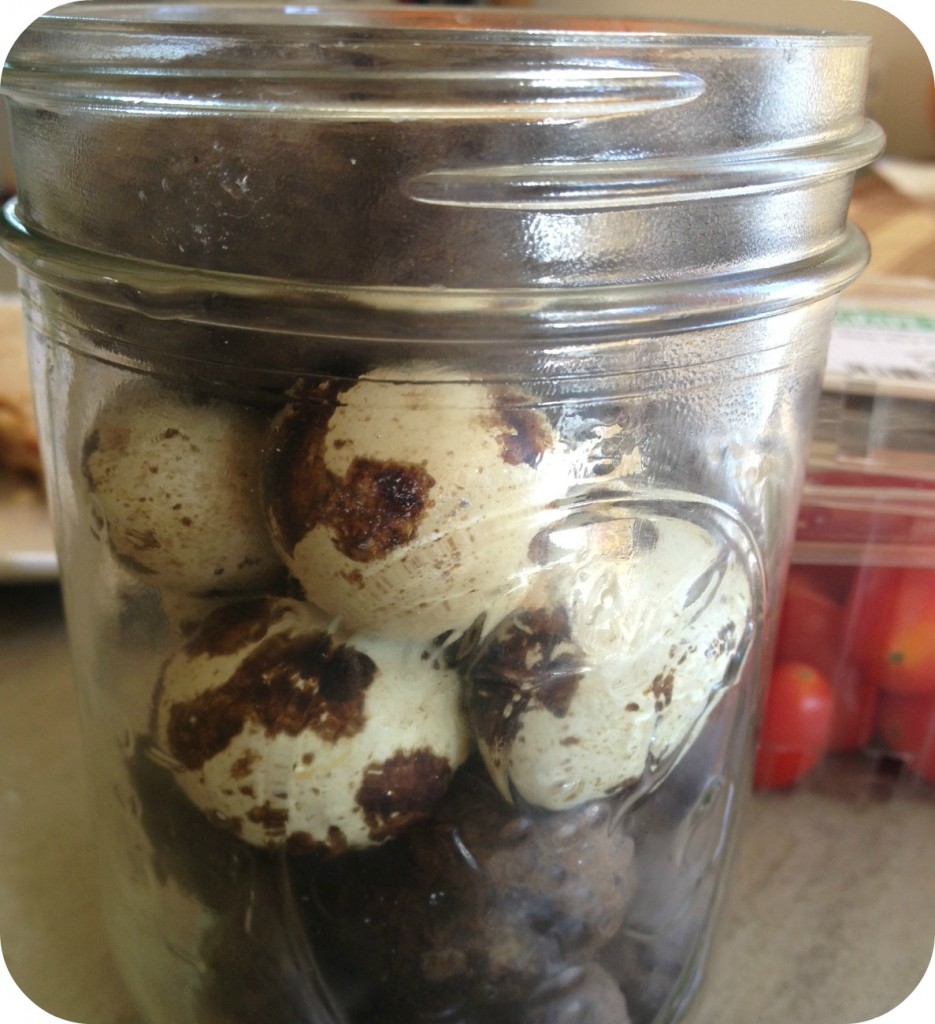 Ok, so these aren't actually dinosaur eggs, but don't they look like the eggs of some exotic, long extinct creature?
These tiny eggs are actually quail eggs. And if you are a sushi freak like me, you might have seen them cracked and served raw on a bed of tiny red caviar.
Don't worry, I hard boiled these little cuties for my recipe. And stored them in a mason jar, along with the equally unique mini purple potatoes!
These skewers can be done with tiny white potatoes or any other ingredients you have on hand. So don't fret if you can't get your hands on quail eggs. You can still make these.
But the quail eggs do give it a fun factor, so if you want to try them just Google "buy quail eggs online" and several options will come up for ordering.
I made these skewers by precooking the eggs and potatoes and then assembling everything on skewers and sticking them in the toaster over for 15 minutes.
My husband actually laughed at my silly little skewers, between gobbling them up before my very eyes that is. He laughed and he loved them.
No need to take breakfast so seriously. Make it into an arts and crafts project by skewering your favorite foods. Some other ideas are apple chunks, cheese, meatballs, Paleo bread croutons, veggies and anything else you can dream up. You can even skewer leftovers.
And to add to the flavor and the fun factor make a dipping sauce for the skewers. Hollandaise sauce works well, but I opted for homemade mayo mixed with organic sriracha sauce.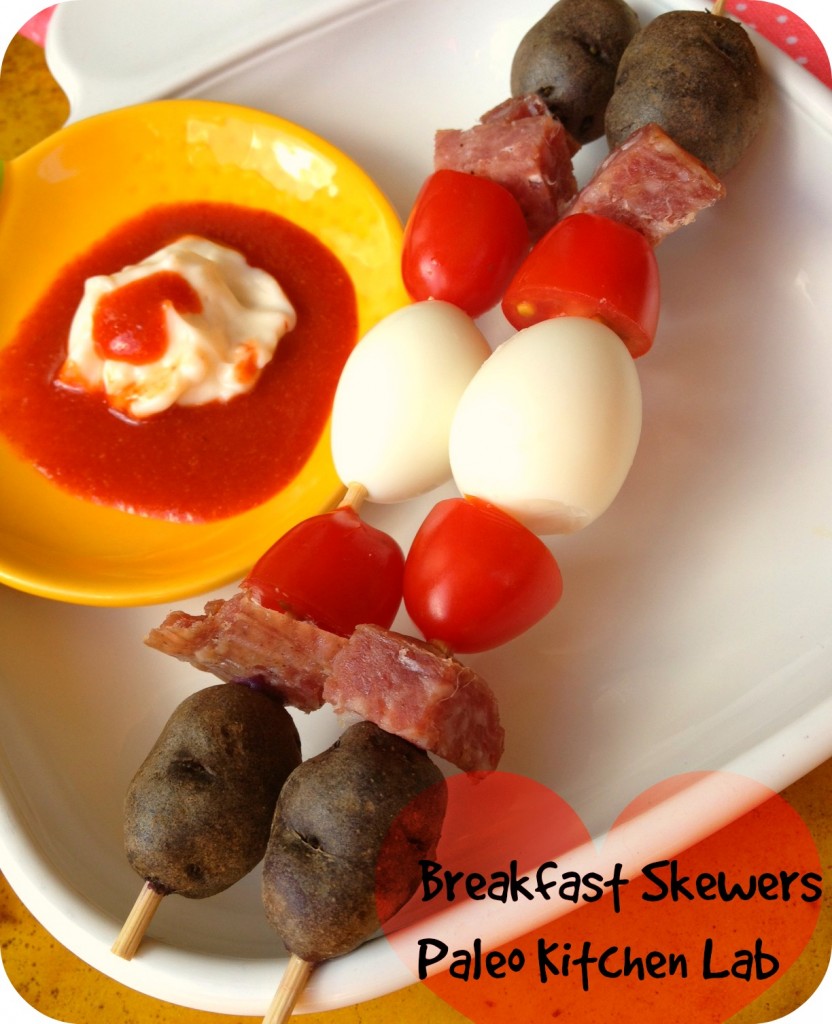 Ingredients
Tiny potatoes (baked or boiled) I used purple potatoes but any kind would work, white or sweet potato cut into cubes.
Your favorite cooked breakfast sausage or meat ( I used hard salami).
Quail eggs or small hard boiled eggs (you can cut regular eggs in half)
Cherry tomatoes
Wooden skewers (I used 7 inch skewers)
Optional (make a sauce out of mayo, salt and hot sauce for dipping the egg and potatoes).
How tO
Bake the tiny creamer potatoes in the oven at 350 for 40 minutes, or boil until you can stick a fork through the biggest potato. If you are using sweet potatoes, cut into cubes and bake at 350 for 20 minutes or until cooked through.
Boil the quail eggs for 4 to 5 minutes. Then pour out the hot water and fill the pan with cold water/and or ice cubes. This will make it easier to peel the eggs and cool them fast. Let them sit in the water for another 5 to 10 minutes.
Peel the eggs and store extras in a mason jar.
Time to assemble the skewers. Start with the potatoes, add two cherry tomatoes, the quail egg and the sausage cubes in any order you please.
Return to the oven or toaster oven for 15 minutes at 350. This will heat the sausage and cook the tomato, bringing out the sweetness and saltiness of this dish. An amazing combination.
Serve the skewers right out of the oven with dipping sauce.
Eat with your fingers like you did as a kid!
DISCLOSURE OF MATERIAL CONNECTION: Some of the links in my blog are "affiliate links." This means if you click on the link and purchase the item, I will receive an affiliate commission. Regardless, I only recommend products or services I use personally and believe will add value to my readers. I am disclosing this in accordance with the Federal Trade Commission's 16 CFR, Part 255: "Guides Concerning the Use of Endorsements and Testimonials in Advertising." PAID ENDORSEMENT DISCLOSURE: In order for me to support my blogging activities, I may receive monetary compensation or other types of remuneration for my endorsement, recommendation, testimonial and/or link to any products or services from this blog. I only endorse products that align with the ideals of Healy Eats Real and that I believe would be of value to my readers. FDA DISCLOSURE: Information and statements regarding health claims on this blog have not been evaluated by the Food and Drug Administration and are not intended to diagnose, treat, cure, or prevent any disease.
Tags:
Paleo break fast skewers
,
Paleo breakfast ideas
,
quail eggs