You can call it a potato frittata, but it's one of the most popular dishes in Spain: THe Tortilla Espanola.
Over a decade ago when I lived in Spain I learned how to make this traditional national dish.
I was disappointed in the restaurant food in the Southern Spanish town of Granada, where I lived for 8 months. You can only eat so much calamari and ham and cheese before you want to start cooking for yourself.
So that's what I did. And this dish, one of my favorites,  took me a while to master.
The hardest part is mastering the art of flipping this chunky egg dish so it doesn't fall apart. After many botched attempt, I figured how to do this using two frying pans.
Traditionally this dish is fried in a pan with lots of olive oil, and tradition is very important to the Spanish.
But tradition is not as important to me. I'm a bigger fan of innovation. It's the American way. So I found a stress free way to make this dish. I baked it instead.
You can be as equally as untraditional and use sweet potatoes instead of white or red potatoes! It will be just as yummy.
My nod to Spanish cuisine was including pork in the form of bacon. I don't think anyone loves pork (they call it "Jamon")  as much as the Spanish.
And because I'm going through a cheese phase right now, I threw some crumbled feta cheese in my tortilla.
The final result incorporates the classic bacon, egg and potato breakfast in a travel-friendly package.  It's the perfect solution for a protein-rich breakfast on the go.
You can cut it into squares, freeze and defrost it, and always be prepared!
And you can feel multicultural while doing it!
Enjoy this comfort dish from Spain for breakfast, lunch or dinner like they do!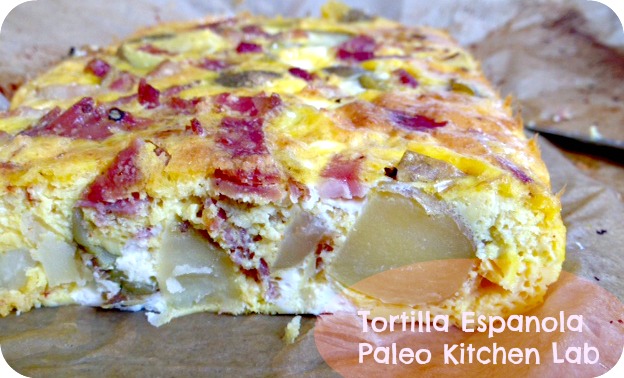 Traditionally, this recipe is made without cheese and includes fried onions instead, but I find that adding a little bit of cottage cheese gives it a creamy and light texture.

Tortilla Espanola (Potato Fritatta)
One of the national dishes of Spain is this delicious, easy to make and filling frittata. Mine is baked instead of fried.
Ingredients
Sliced bacon or sausage (cooked or raw is fine)
Optional: feta cheese or ½ cup of cottage cheese to add fluffiness and flavor
Spices: ½ teaspoon of cumin and paprika
8 small creamer potatoes, chopped into quarters and COOKED or 5 bigger potatoes (you really can't overdo it on the potatoes, so if you love potatoes add more)
6 eggs scrambled
Instructions
Bake or boil the potatoes, then cut them into small chunks.
Preheat oven to 350 degrees.
Add eggs, spices and potatoes to a bowl and mix gently.
Add in raw or cooked meat and cheese. You can add chopped bell peppers instead of the cheese.
Line a baking dish with parchment paper and pour in the mixture.
Bake at 350 for 35 minutes.
Let cool on the counter for 10 minutes, slice and serve this all in one breakfast. Top with hot sauce if you are a spice fiend like me!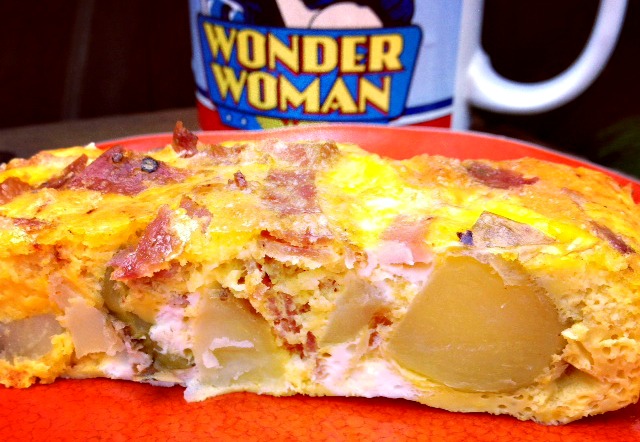 DISCLOSURE OF MATERIAL CONNECTION: Some of the links in my blog are "affiliate links." This means if you click on the link and purchase the item, I will receive an affiliate commission. Regardless, I only recommend products or services I use personally and believe will add value to my readers. I am disclosing this in accordance with the Federal Trade Commission's 16 CFR, Part 255: "Guides Concerning the Use of Endorsements and Testimonials in Advertising." PAID ENDORSEMENT DISCLOSURE: In order for me to support my blogging activities, I may receive monetary compensation or other types of remuneration for my endorsement, recommendation, testimonial and/or link to any products or services from this blog. I only endorse products that align with the ideals of Healy Eats Real and that I believe would be of value to my readers. FDA DISCLOSURE: Information and statements regarding health claims on this blog have not been evaluated by the Food and Drug Administration and are not intended to diagnose, treat, cure, or prevent any disease.