The art of following a recipe
I like it when people write about their failures. You can learn just as much from what went wrong as you can from what went right.
I'm really bad at following other people's recipes but since I've gone back to then Paleo diet I've tried different recipes to expand my range and learn new ways of cooking and baking. And mostly to replace old favorites.
I really love flour tortillas. They are the perfect light but starchy canvas for amazing Mexican dishes. When I saw this recipe for plantain tortilas from Zenbelly, a San Francisco-based Paleo catering company, I had to give it a try.
Plantains look like large bananas and are very popular in the Caribbean and Latin America. They are best eaten when the peel starts turning black.
I made this recipe twice because the first time I didn't have the exact ingredients so I improvised in my usual style.
I'm posting both versions here to show how tweaking this recipe just a little bit produced such different results.
Plantain tortillas version #1 (and #1.5)
The recipe calls for about 2 to 2.5 pounds of plantains which equal 3 large or 4 small plantains. Also you're supposed to use plantains that are not yet black on the outside but not too green because the are not starchy enough to blend well.
The ingredients are 3 plantains, 3 tablespoons of lard (or coconut oil), 1 teaspoon of lime, 1 teaspoon of salt and two egg whites.
My version:
I used 2 large plantains, two eggs whites, lemon juice instead of lime, grass fed butter instead of lard and I threw in 2 tablespoons of coconut flour because I'm a rebel with a need to add my opinion.
I also divided the batter in half and made one half with eggs whites and the other half with egg whites and yolks.
How to
I blended the plantains in the food processor until they were smooth like baby food. Then I mixed in the egg whites, juice, salt and melted butter.
The recipe suggests that the tortillas are cooked in rounds, but I simply spread the mixture out in a rectangle shape on top of baking parchment paper on a cookie sheet.
I baked on 350 for 15 minutes.
Then I baked the second half of the mixture (with egg yolks) in the same way.
My husband and I both liked the version with the egg yolks better but it did taste a bit more like sweet pancakes than tortillas. They were light and fluffy and a successful experiment.
But the plantains pancake tortillas just ended up being too sweet to eat with meat, so we spread almond butter and homemade cranberry chutney on them and ate them both as dessert.
Plantain tortillas version #2 (and #2.5)
This time around I got serious about following the instructions. I used…
3.5 plantains (ended up being 2.5 pounds just as the recipe called for)
1 teaspoon of lime juice
3 tablespoons of duck fat (much closer to lard than butter)
1 teaspoon of salt
2 egg whites
This is how it turned out, in a perfect rollable texture..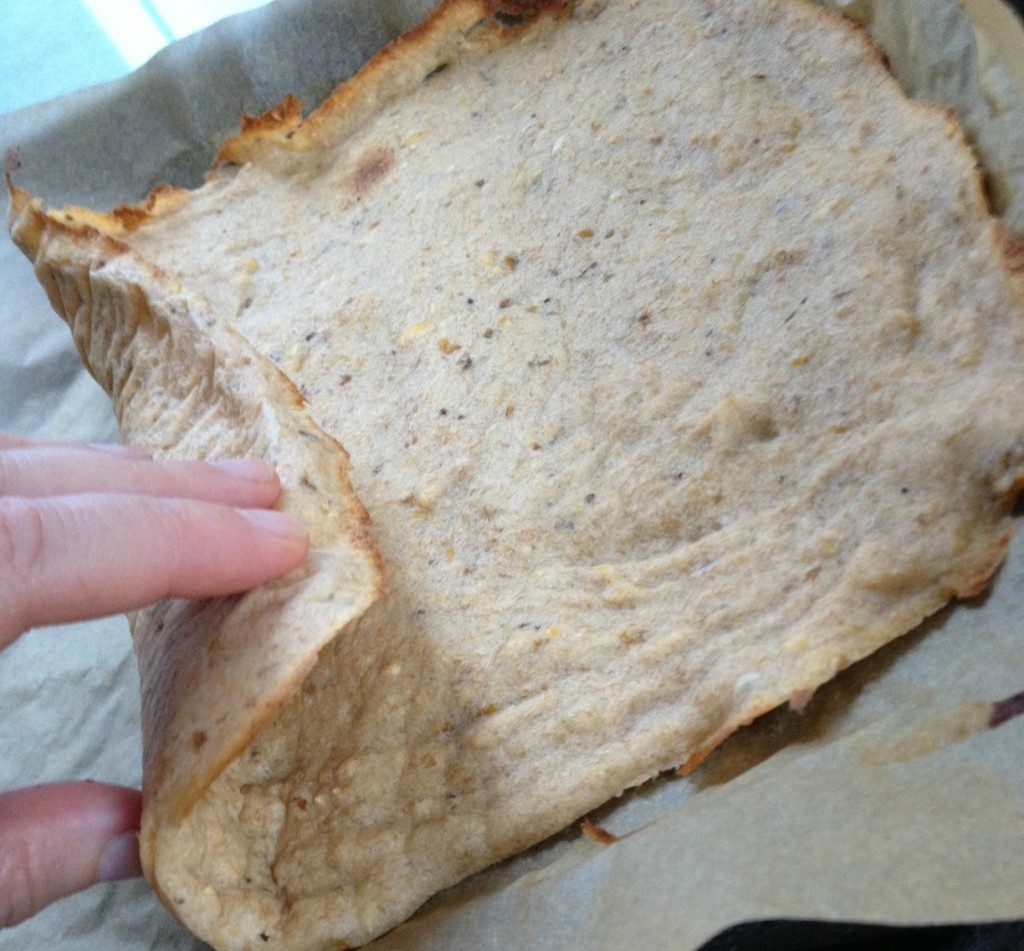 But it was still too sweet to enjoy with cheese or skirt steak.
So I decided to use the rest of the dough to make plantain pancakes. But this is when disaster ensued.
I had refrigerated the other half of the dough overnight and when I took it out it was quite cold and thick. I mixed in the left over egg yolks. But when I added a 1/3 cup of coconut flour, it didn't mix in well and the dough became lumpy.
I baked it at 350 for 15 minutes like the other versions and it came out very dense. None of the lightness of the previous batches. It was like a tortilla/pancake brick.
It tasted ok when it was still fresh out of the oven but the next day after storing it in the fridge it was hard and dry and too unpleasant to eat. We tried it with yogurt and spread butter over it and it still couldn't be saved.
So I decided to turn it into a porridge so I can eat it for breakfast. I put it in my powerful blender with some goat milk, half a banana and a touch of maple syrup and cinnamon.
It actually tasted pretty good as a porridge. I call this trick "repurposing". I ate it with fresh raspberries for breakfast.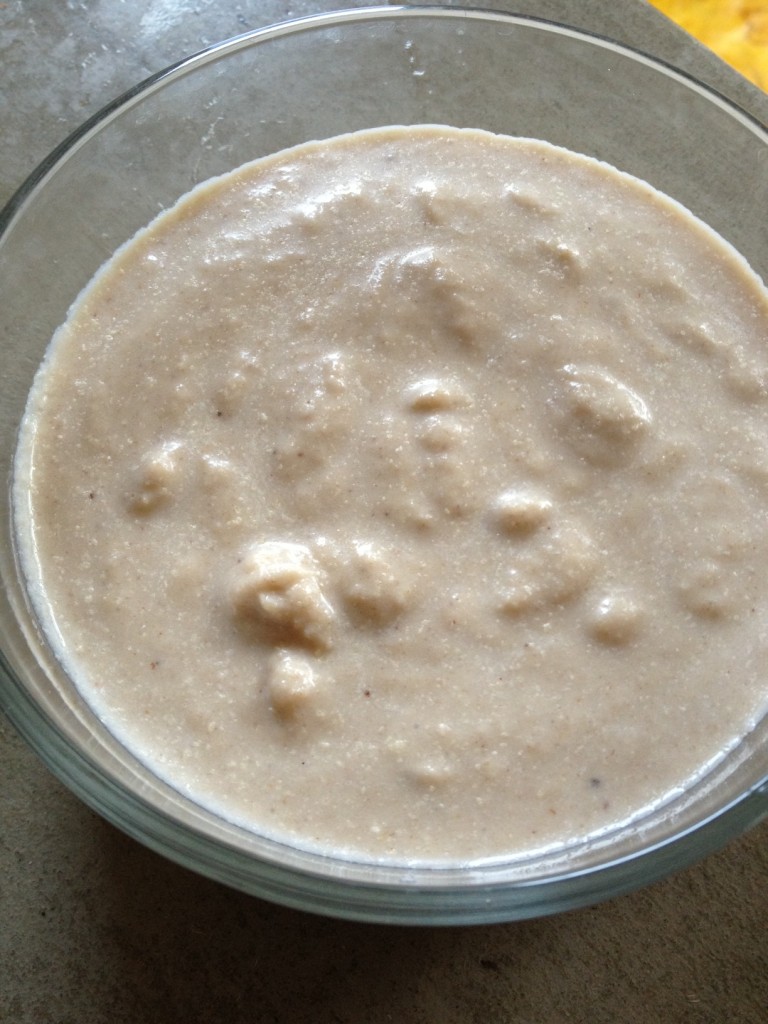 This experiment reinforced to me that baking is pure chemistry.
I'm not sure what went wrong with this last batch.  I'm guessing refrigerating the dough changed it's texture. There was too much coconut flour this time and it didn't go well with the extra plantains (I used almost double the amount of the first batch). And the egg yolks just added to the heaviness.
If you want to try this recipe for yourself I'd suggest trying version 1.5, where I improvised on the ingredients and added the yolks. It would make a tasty breakfast dish that you can layer with yogurt, fruit and nuts.
Don't be afraid to play around with a recipe. What you find something even better.
Or not. And then you can repurpose it!
DISCLOSURE OF MATERIAL CONNECTION: Some of the links in my blog are "affiliate links." This means if you click on the link and purchase the item, I will receive an affiliate commission. Regardless, I only recommend products or services I use personally and believe will add value to my readers. I am disclosing this in accordance with the Federal Trade Commission's 16 CFR, Part 255: "Guides Concerning the Use of Endorsements and Testimonials in Advertising." PAID ENDORSEMENT DISCLOSURE: In order for me to support my blogging activities, I may receive monetary compensation or other types of remuneration for my endorsement, recommendation, testimonial and/or link to any products or services from this blog. I only endorse products that align with the ideals of Healy Eats Real and that I believe would be of value to my readers. FDA DISCLOSURE: Information and statements regarding health claims on this blog have not been evaluated by the Food and Drug Administration and are not intended to diagnose, treat, cure, or prevent any disease.
Tags:
grain free tortillas
,
Paleo baked goods
,
plantain pancakes