A year ago, I made the transition back to Paleo after taking a 7 year break.
More than 8 years ago, I was on the Paleo diet before it became popular. I didn't even know what it was called. All I knew is this miracle diet gave me my life and health back after years of struggling with IBS.
The first time around my Paleo diet was super strict and I did it all by myself. No Paleo recipe sites to inspire me.
Because I couldn't eat nuts or have any type of sweeteners, I never learned how to bake with grain-free flour. My only dessert was carob powder mixed in coconut oil and pumpkin seed butter with apples.
Every morning I ate fruit for breakfast and lunch and dinner was a mix of meat or fish and veggies. But even with those limitations I ate well, learning how to cook and training my taste buds to like real food.
That's something I've noticed about my body. It can be trained like a dog. After an adjustment period, it craves what I feed it the most. Even though I used to love sugar and bread, now it asks for bacon.
Not that bacon is a health food but it's a better for you treat than sugar and wheat.
This time around, since I didn't have digestive issues, my results on the Paleo diet were less dramatic. But still very worthwhile. I lost 13 pounds effortlessly without counting calories, going the gym or watching what I ate. I'm 5 foot 3 inches and weigh 130 pounds now.
My idea weight is 5 pounds less, but my body seems to have settled at this weight. If I want to lose the last 5 pounds I'm going to have to add regular cardio exercise or try intermitten fasting (you only eat for an 8 hour window each day or fast for 24 hours once or twice a week).
To do this kind of fasting you need to have been on Paleo for long enough for your body to switch your body from primarily burning sugar for energy to burning fat. I've become an efficient little fat burner, which explains why these days I have cravings for fat instead of sugar.
I briefly tried 8-hour intermitten fasting but found it made me obsess about food, which I never usually do. A better option is probably exercise or a liver cleanse. But I'm not worried about it because my goal was to greatly reduce my "cortisol belly", which I did!
The stress of starting a business while I did not eat Paleo deposited a ton of fat on my belly. As a health coach I know this is the worst place to carry weight because it's associated with diabetes, heart disease and cancer. No thank you.
Now my belly fat has been greatly reduced, my body feels light and I sleep like a baby. I also feel more confident about the way I look. Check out my most recent "after" photos below.
If you want to see my before photos check out my about page.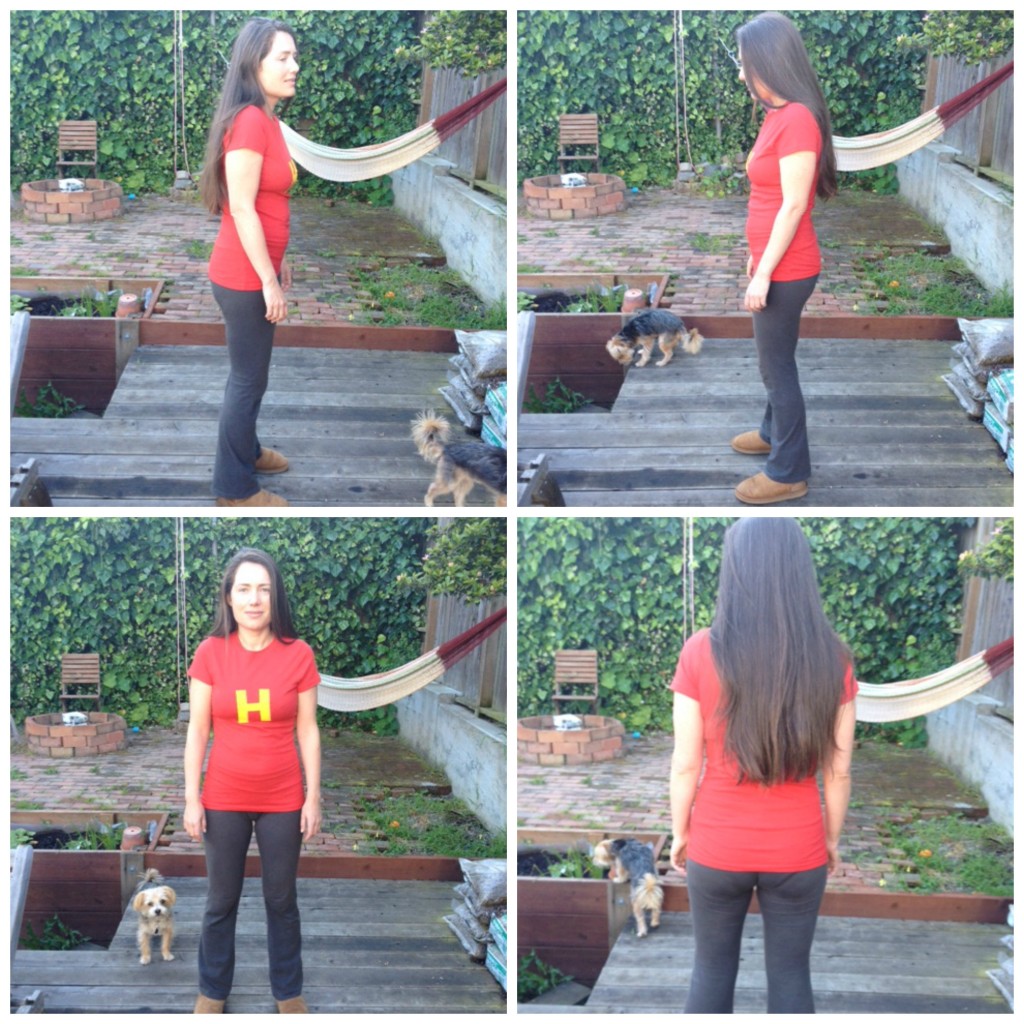 How I went Paleo
I think the hardest part of transitioning to Paleo is the first month. So I joined an online group cleanse led by a health coach friend of mine.
The group support made a huge difference for me. I had a Facebook forum to share my experiences and recipes and felt incredibly supported by the other women, who were also transitioning.
This wasn't my first attempt to return to Paleo. Years ago, I tried multiple times and failed. This time I wised up. Previously I would go cold turkey and make extreme changes all at once. And my body would rebel.
This time I made the transition slowly, like a turtle crawling towards the finish line. I was addicted to bread and cheese when I started. Quesadillas in particular. Such a tasty and convenient lunch, especially when I was busy.
But instead of cutting out both of my addictions at the same time, I just cut out tortillas/bread. Also I cut out most grains but still kept quinoa in. And I also including hummus because I loved it. Slowly over time I phased them both out, but this time my body didn't complain.
I even did 30 days without dairy, but discovered that since I could tolerate it life was better with yogurt and cheese. I also decided that organic white potatoes were staying in my diet even though they were questionable Paleo. But for me, this diet isn't about deprivation and extremism, it's about balance and health.
A year later,  it seems weird NOT to eat Paleo. I'm not 100 percent, I'm more like 95 percent, because twice a month I love to go out for a grass-fed burger and it's not the same without the bun.
I've been experimenting with finding the perfect Paleo hamburger bun, but haven't had much luck. I've never baked anything light enough to compliment the heaviness of ground beef.
The two best things about going Paleo
First, I believe Paleo has been an amazing preventative health tool. It has helped my body counteract the ravages of stress.
I struggle with the stresses of running my own business, and it's nice to know that my food is supportive rather than adding extra stress. For example, eating grains disturbs blood sugar and cortisol is needed to balance it. My cortisol is busy regulating my stress, it doesn't need the extra responsibilities.
I believe that Paleo has kept me from developing adrenal issues. It's an extremely supportive diet for the adrenals.
Secondly, my example has changed lives around me. My hubby is now Paleo and healed his gut with it, my dad is gluten-free and has reduced his gout medication, my son healed his environmental allergies on the diet and I've helped my friends lose weight and boost their energy.
My dog has been Paleo since he was a 2 month old puppy. That's how I healed the recurring yeast infection in his ears that he got from eating commercial dog food at the breeders. He is almost 7 now (middle aged for a dog) and still has the energy of a pup. I put bone broth in his food to keep his immune system strong.
I've met some nice people in my local Paleo community. It's fun to geek out with them about all things health and Paleo. I feel like we're part of an secret society that understands important principles about health and longevity.
I feel lucky and blessed to eat this way. I have a lot of fun in the kitchen experimenting and trying new recipes.
It's been a triple win situation.
The downside of Paleo? People think it's weird that I don't eat bread. But that doesn't bother me. I've never been one to truly fit in.
So for me there's not much of a downside to Paleo. Especially since I am not 100 percent strict with the diet.
Tell me below…what are your challenges with Paleo?
DISCLOSURE OF MATERIAL CONNECTION: Some of the links in my blog are "affiliate links." This means if you click on the link and purchase the item, I will receive an affiliate commission. Regardless, I only recommend products or services I use personally and believe will add value to my readers. I am disclosing this in accordance with the Federal Trade Commission's 16 CFR, Part 255: "Guides Concerning the Use of Endorsements and Testimonials in Advertising." PAID ENDORSEMENT DISCLOSURE: In order for me to support my blogging activities, I may receive monetary compensation or other types of remuneration for my endorsement, recommendation, testimonial and/or link to any products or services from this blog. I only endorse products that align with the ideals of Healy Eats Real and that I believe would be of value to my readers. FDA DISCLOSURE: Information and statements regarding health claims on this blog have not been evaluated by the Food and Drug Administration and are not intended to diagnose, treat, cure, or prevent any disease.