For years I couldn't follow recipes, so I never used cookbooks. So I taught myself to cook, 10 years ago, through improvisation.
I didn't even know I was following the Paleo diet too heal my IBS, I thought it was a magical diet my dietician came up with.
Because of my experimental nature I was able to enjoy my home-cooked, grain-free meals for a year and at the end felt very confident in the kitchen.
Now it's time to take my cooking skills to the next level by following recipes. That's how I'm learning cooking techniques I wouldn't have discovered on my own.
There are so many gorgeous cookbooks to choose from right now. Curling up with these beautiful photos is such a fun experience, like taking a culinary tour with your eyes.
My latest cookbook obsession is Real Life Paleo by the Paleo Parents, Stacy Toth and Matthew McCarry. Their recipes are uncomplicated, comforting and kid-friendly.
It's more than just a cookbook, it's also a guide on slowly transitioning to Paleo. A much better method that cold turkey.
And if you're already Paleo, it's a guide to adding healing, nutrient-dense foods like organ meats, fermented foods and broth, with recipes to support that.
Of the 175 recipes I was fascinated by the butternut squash ice cream.  It's exciting to get a serving of veggies while eating dessert.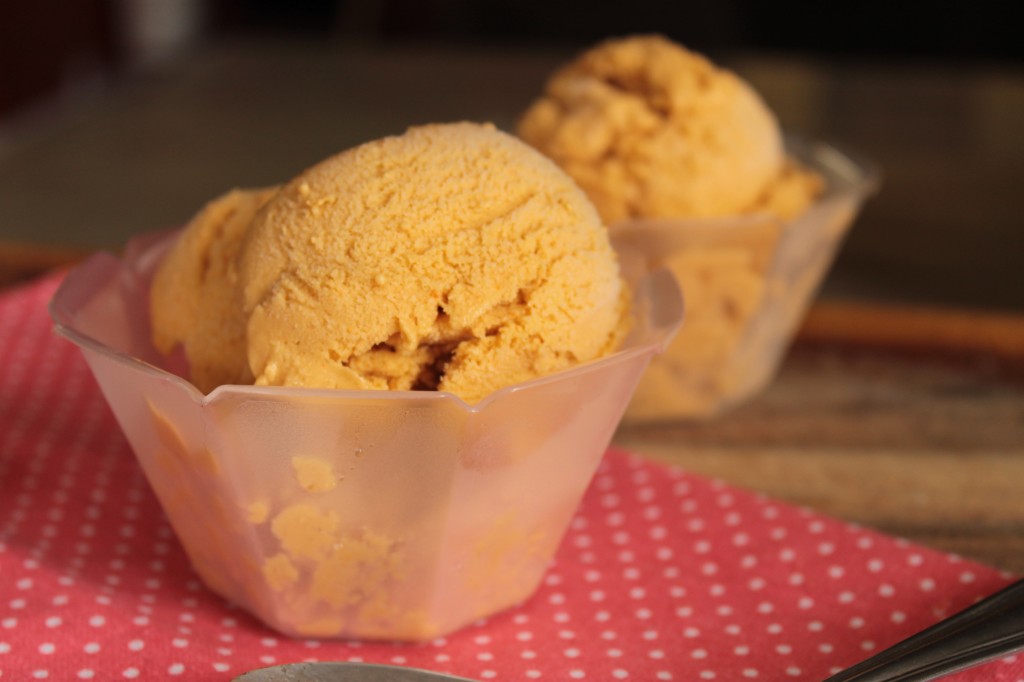 The name of this recipe is "The World's Healthiest Ice Cream". I couldn't agree more. It doesn't even include sweetener.
I added a bit of maple syrup to adjust it to my tastes. But you can leave the sweetener out and eat this on a sugar detox diet.
The Paleo parents suggest topping this with a salty nut mix but you can also serve it with shredded coconut, diced fresh fruit or home made caramel sauce.
If you don't have an ice cream maker, no problem. There are instructions below on making this with a blender or food processor only. It has the consistency of soft serve.
Making your own ice cream is a great way to control the sugar, additives, flavor and type of milk in your ice cream. Make it at home so you can enjoy your ice cream without guilt.
It's so darn easy and worth the investment if you're an ice cream fan like me. I use this one.
Check out the other 174 Real Life Paleo recipes here.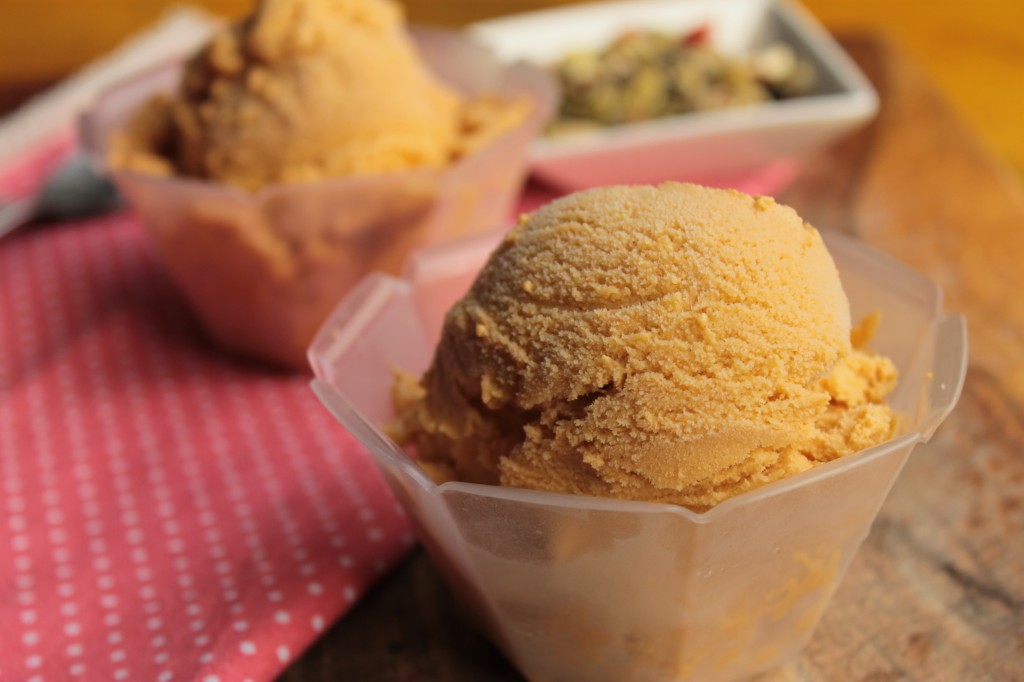 This recipe is pretty simple, but you can make it even easier by using canned organic butternut squash puree instead of roasting your own.
Ingredients
1 medium butternut squash (about 1.5 pounds)
1 1/2 teaspoon of salt
1 (13.5 ounce) can of full fat coconut milk
2 large pastured egg yolks
2 tablespoons of coconut oil
1 teaspoon of pure vanilla extract
1 teaspoon of almond extract (I left this out because I didn't have any)
1 teaspoon of ground cinnamon
Optional garnish: dried fruit and nuts
(This was my addition to the recipe) 1 or 2 tablespoons of maple syrup
How to
Preheat the oven to 350 F and remove the ends of the squash, slice it in half lengthwise, and remove the seeds.
Then peel and cube the squash. Spread out the squash cubes in a rimmed baking sheet and roast in the oven for 30 minutes or until easily pierced with a fork. Let cool completely.
Alternate way to roast a squash is to put it into the oven whole at 375 for 50 minutes. Then let cool, cut in half, scoop out the seeds and then scoop out the flesh.
You can tell  if the squash is done by piercing it with a knife. If the knife goes through easily it without much resistance it is done.
Place two packed cups of cooled squash and the remaining ingredients in a high-speed blender or food processor and puree until smooth.
Put the mixture in an ice cream maker and churn, following the manufacturers directions, until stiffened, about 10 minutes.
Freeze in an airtight container for at least 30 minutes before serving. If frozen for more than 4 hours, let rest at room temperature for about 20 minutes before serving.
Natural ice creams don't contain chemical softeners so they set hard like ice and require time to soften.
Scoop into bowls and top with your favorite ice cream toppings.
You can substitute pumpkin or any winter squash in this recipe.
If you don't have an ice cream maker you can freeze the squash puree in the freezer for a few hours. Then add the partially frozen squash and the rest of the ingredients to a blender or food processor and puree it. You will have instant soft serve.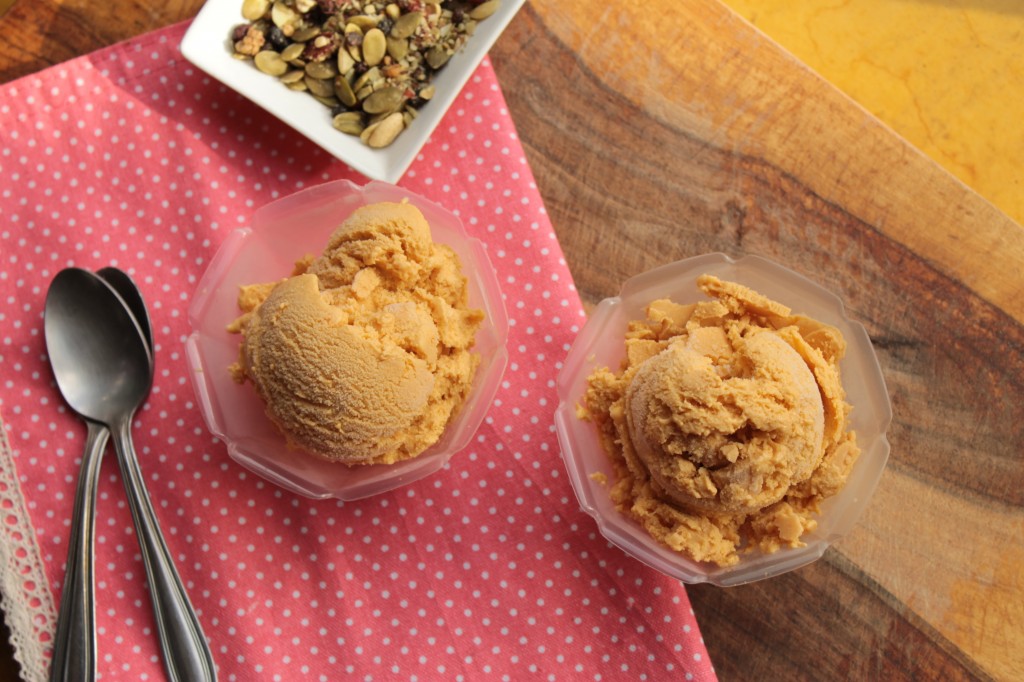 DISCLOSURE OF MATERIAL CONNECTION: Some of the links in my blog are "affiliate links." This means if you click on the link and purchase the item, I will receive an affiliate commission. Regardless, I only recommend products or services I use personally and believe will add value to my readers. I am disclosing this in accordance with the Federal Trade Commission's 16 CFR, Part 255: "Guides Concerning the Use of Endorsements and Testimonials in Advertising." PAID ENDORSEMENT DISCLOSURE: In order for me to support my blogging activities, I may receive monetary compensation or other types of remuneration for my endorsement, recommendation, testimonial and/or link to any products or services from this blog. I only endorse products that align with the ideals of Healy Eats Real and that I believe would be of value to my readers. FDA DISCLOSURE: Information and statements regarding health claims on this blog have not been evaluated by the Food and Drug Administration and are not intended to diagnose, treat, cure, or prevent any disease.
Tags:
butternut ice cream
,
Paleo ice cream
,
real life paleo