ARE YOU A PERFECTIONIST?
Attitude is just as important as ingredients in cooking. After all, we bring our personality to everything we do. And food is extremely emotional,  associated with memories, comfort and social bonds.
You can make cooking a chore or use it as a vehicle to heal and grow.
Perfectionism can drive us to do our best, but more often it causes stress and robs us of self esteem. Sometimes it paralyzes us into procrastination and manifests as fear.
While I am a recovering perfectionist, I've managed to let go of my perfectionism while cooking and the results have been amazing  Instead being my usual neurotic self, I play in my kitchen like a kid at the beach. I'm not attached to results but rather uber curious. It's always an experiment. That's why I think of my kitchen as a lab.
With perfectionism out of the way, I'm guided by the food itself and my intuition. I become a conduit for creative expression. That's why I'm so in love with cooking.
Perfectionism can keep us out of the kitchen and from trying new things. Use cooking to learn how to deal with failure on a small scale so you can handle the big stuff when it comes up.
Besides, most failed cooking attempts can usually be repurposed or saved, by adding hot sauce, salt, butter, etc., so you won't go hungry.
I share my failures with you as much as my successes to show you that I'm far from perfect in the kitchen. I hope it gives you permission to not be perfect either.
Here's an examples of a big failure. Carob mulberry cookies that turned out crumbly and dry. Not recipe worthy but still good enough to eat.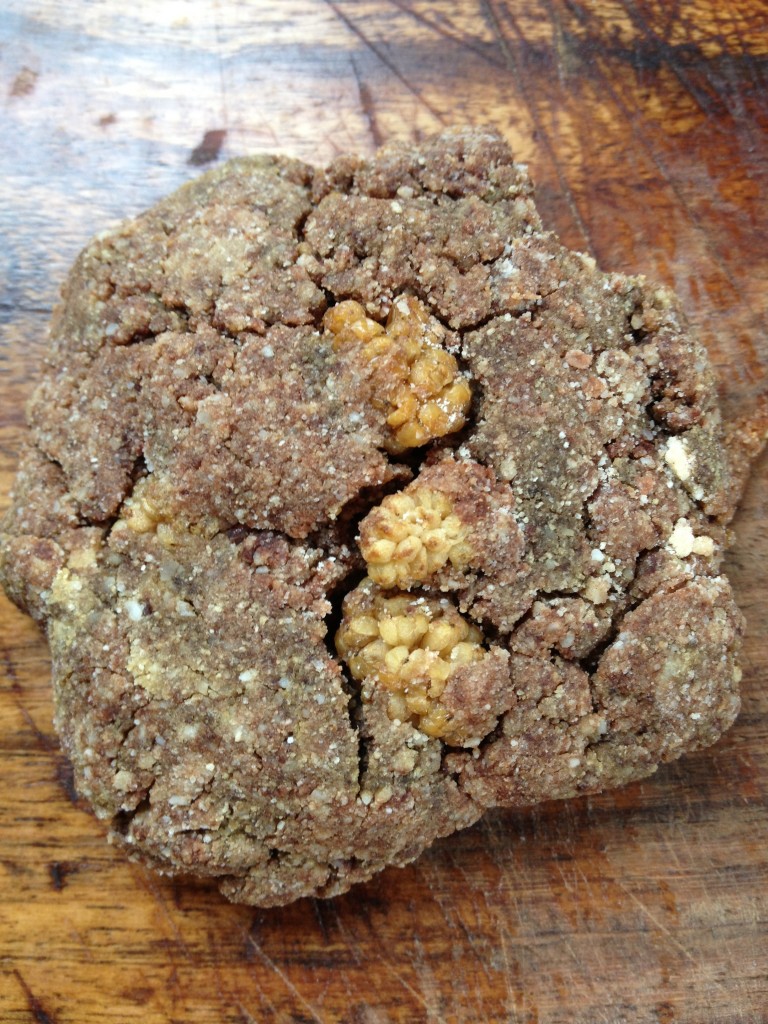 And even though I'm working on improving my photography skills I don't want my images to be too perfect either because they'll become unattainable 'food porn'  instead of recipes you want to try.
I was inspired to write this post by an image I posted on Pinterest. It's a Paleo breakfast burrito by Paleo Leap. (I can't post the image here because of copyright law but you can see it here).
It's my most popular pin and has been repinned more than anything I've posted. So I tried to recreate this aspirational burrito made from ham and eggs.
It was a mess. I couldn't get the ham shell to stay wrapped around the eggs. Finally I used a skewer to keep the burrito closed, but it was ugly and disappointing.
Nor did it taste good. The ham was slimy and needed to be well grilled.
This experience illustrated to me that perfectionism is often an illusion that exists only in our minds or airbrushed, perfect images.
After this failed experiment I was left with organic Applegate Farms ham slices, which I usually don't eat. So I decided to play with them and in the process created something I was excited to eat.
Like this breakfast pizza, using ham as the crust.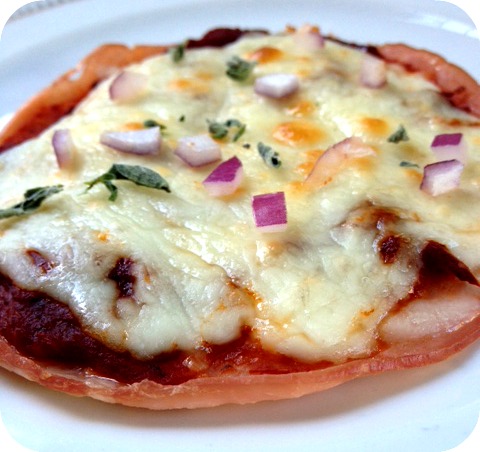 Or this variation on the theme…a grilled cheese, tomato and ham roll up that was effortless to make and roll up.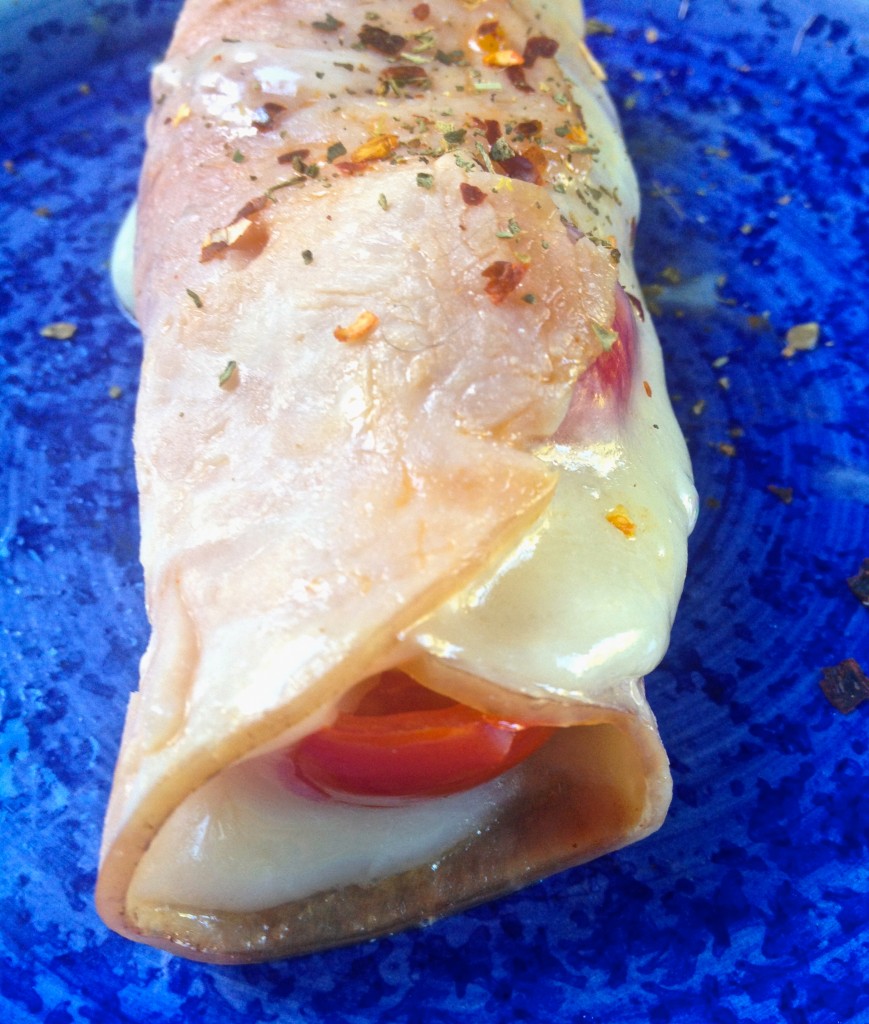 Then I decided to play with a burrito shell made from egg and ham. That didn't work out so well.
I've posted the photos of my eggs-periment below. The burrito shelled was awkward looking but since it was stuffed with lamb sausage and cheese, I enjoyed eating it for breakfast.

I was forced to learn to cook while healing my Irritable Bowel Syndrome symptoms. The way I learned to cook was doing it a lot and messing up often. We often have the idea that we should be good at something right away. That's the trap of perfectionism.
It no longer bothers me when I mess up hollandaise sauce or someone else's recipe. It's all a learning experience.
And if I didn't take risks in the kitchen I wouldn't come up with winners like my  super popular banana unoreos.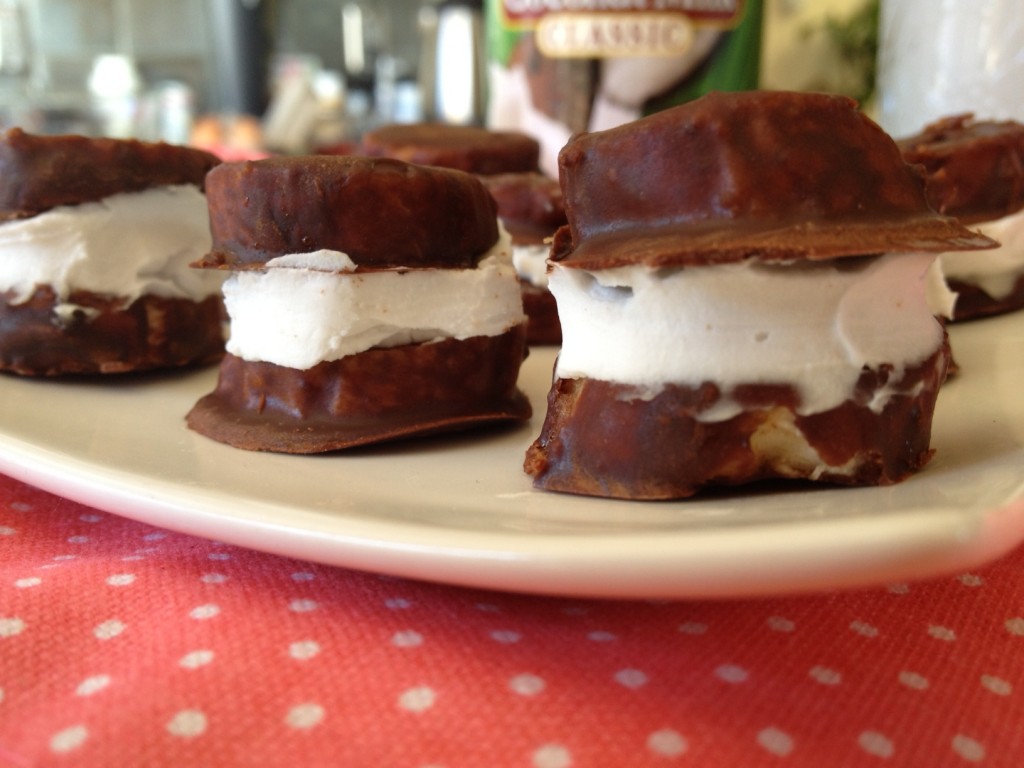 Practice taking risks, failing and letting go of perfectionism in the kitchen, where it's safe. And watch it start to heal the perfectionism that holds you back from doing the truly amazing things you're capable of.
DISCLOSURE OF MATERIAL CONNECTION: Some of the links in my blog are "affiliate links." This means if you click on the link and purchase the item, I will receive an affiliate commission. Regardless, I only recommend products or services I use personally and believe will add value to my readers. I am disclosing this in accordance with the Federal Trade Commission's 16 CFR, Part 255: "Guides Concerning the Use of Endorsements and Testimonials in Advertising." PAID ENDORSEMENT DISCLOSURE: In order for me to support my blogging activities, I may receive monetary compensation or other types of remuneration for my endorsement, recommendation, testimonial and/or link to any products or services from this blog. I only endorse products that align with the ideals of Healy Eats Real and that I believe would be of value to my readers. FDA DISCLOSURE: Information and statements regarding health claims on this blog have not been evaluated by the Food and Drug Administration and are not intended to diagnose, treat, cure, or prevent any disease.