Sometimes life is ironic.
I'm Ukrainian and grew up eating these cabbage rolls. However, no one ever taught me how to make them, old school style.
So when I got the hankering for some Ukrainian comfort food I consulted my favorite cooking teacher. Mr. Google.
The first Paleo recipe that came up was this one from Stupid Easy Paleo. I love Steph and respect her ethnic twists on Paleo cuisine. Making international grain-free cuisine is what keeps it interesting for me.
The part of the recipe that's not intuitive is to boil the whole cabbage in water for 15 minutes. Then the leaves on the outside become really tender and the leaves on the inside are still crisp.
After boiling, you carefully peel the leaves off the cabbage layer by later and lay each layer out on the counter, ready for stuffing.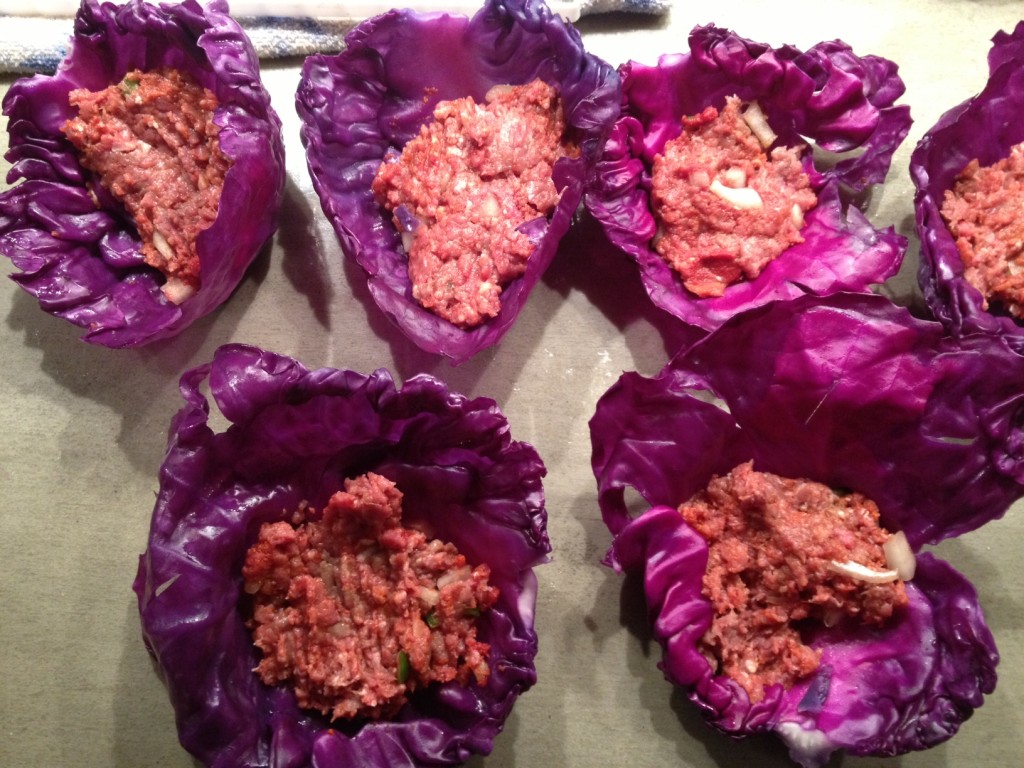 These take a lot longer to make then I expected but are well worth it. And they came out authentic tasting despite the lack of rice. The original cabbage rolls are stuffed with a combination of meat and rice.
And the recipe I referenced combined grated, steamed cauliflower with the meat. But I skipped the cauliflower because I didn't have any. And I was feeling tired and lazy.
I made these with meat only and minimal ingredients. And they still came out amazing! The secret is simply to spice the meat right.
You don't have to follow recipes exactly to get a great result. Improvisation almost always rocks!
So don't be discouraged if you are missing an ingredient or two. Just follow your cooking intuition and it will come out great.There is no failure in cooking, only gaining experience about what does and doesn't work.
That's how cooking intuition is developed, through repetition. And I find simple cooking, with just a few ingredients,  extremely delicious.
Here are the final results.  Not super sexy looking, but either was my Ukrainian grandmother who made these back in the day….but they were still super delicious to eat.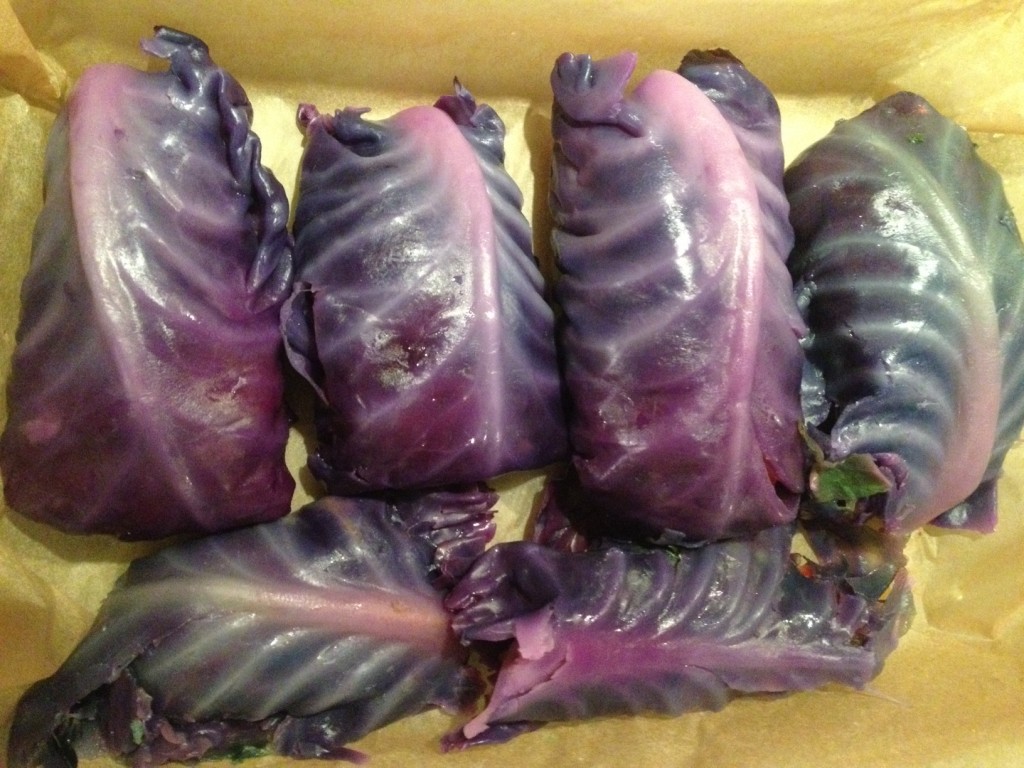 Ingredients
One head of cabbage (you can use green or purple) Don't be alarmed if the outside of the purple cabbage turns green when you boil it.
One pound of grass fed ground beef
3 to 4 ounces of organic tomato paste
1/4 chopped onion
Spices: garlic powder, salt, tumeric, smoked paprika, cayenne pepper (I never use black pepper in recipes because I can't stand the taste, but if you like it then add some to this mix)
How to
Put the whole cabbage in a pot of boiling water till most of it is submerged. Boil for 15 minutes.
Drain water and let cabbage cool. Peel individual leaves of the cabbage and place on counter. The top leaves are going to be very soft and might break in half. Don't worry about it, the inner leaves will be fine to use.
In a bowl, mix ground beef, onions, tomato paste and spices. How much of the spices to use? I never measure. But if you would like to be exact you can use 1/2 to one teaspoon of each. Mix everything together with you hands or with a fork.
Then dollop the meat mixture inside the cabbage leaves and fold. Make sure not to put too much in so it's easy to fold the leaves over. Check out the photo above if you are unsure about amounts.
Once you fold each leaf into a cute little roll you have two options. You can cook in a slow cooker on low for 5 hours or in the oven covered with foil for 1.5 hours on 350. I recommend the slowcooker because it comes out juicier, but if you don't have 5 hours to wait then baking is fine.
I hope you enjoy the delicious simplicity of this traditional dish from the motherland. If you're feeling inspired, you can add some sauteed mushrooms and steamed cauliflower rice to the meat mixture.
But sometimes the simplicity of just a few ingredients is best. You can serve these with a side of mashed sweet potatoes or a green salad for a lighter dinner.
And if you want to impress your Russian or Ukrainian friends, tell them you had Golumbki for dinner
DISCLOSURE OF MATERIAL CONNECTION: Some of the links in my blog are "affiliate links." This means if you click on the link and purchase the item, I will receive an affiliate commission. Regardless, I only recommend products or services I use personally and believe will add value to my readers. I am disclosing this in accordance with the Federal Trade Commission's 16 CFR, Part 255: "Guides Concerning the Use of Endorsements and Testimonials in Advertising." PAID ENDORSEMENT DISCLOSURE: In order for me to support my blogging activities, I may receive monetary compensation or other types of remuneration for my endorsement, recommendation, testimonial and/or link to any products or services from this blog. I only endorse products that align with the ideals of Healy Eats Real and that I believe would be of value to my readers. FDA DISCLOSURE: Information and statements regarding health claims on this blog have not been evaluated by the Food and Drug Administration and are not intended to diagnose, treat, cure, or prevent any disease.
Tags:
cabbage rolls
,
Golumbki
,
Paleo cabbage rolls