Can you still call it "plantain lasagna" if it's cheese and pasta-free?
My husband always gives me a hard time when I misname dishes.
You see, this plantain lasagna dish resembles lasagna only because it layers meat, tomato sauce and starch like traditional lasagna does. But the similarities stop there.
As my husband points out, calling this dish lasagna is like calling pizza without the crust and cheese, pizza. Ridiculous.
Ok, ok. I get it. So let's just say up front that this doesn't taste anything like traditional lasagna. But it is totally, freakin' delicious anyway. My hubby couldn't get enough. I can't tell you how happy it makes me when he goes for his third serving.
If you want to eat something packed with amazing nutrition and flavor, that won't cause inflammation and bloating then this is the lasagna for you.
And let's just call it "lasagna-inspired".
Instead of lasagna noodles, I used ripe plantains cut lengthwise and layered on the bottom of the baking dish.
I made my own marinara meat sauce, using gelatin-rich oxtail as the meat. But you can use ground beef if you don't have this ingredient.
Instead of a layering cheese on top, I used thinly sliced organic potatoes. White potatoes are one of those grey areas of Paleo, but I use them in moderation because when you're on a limited diet, it's nice to add things in instead of cutting everything out.
You can use sweet potato slices instead but I found that the white potatoes, topped with clarified butter gave this dish the perfect balance of flavors.
The sweetness of the plantains were the perfect canvas for the salty acidity of the tomato sauce and the potatoes crisped nicely on top, giving this dish a nice crunch.
Plus, I love to impress my friends and family with a dish they've never had before in their lives.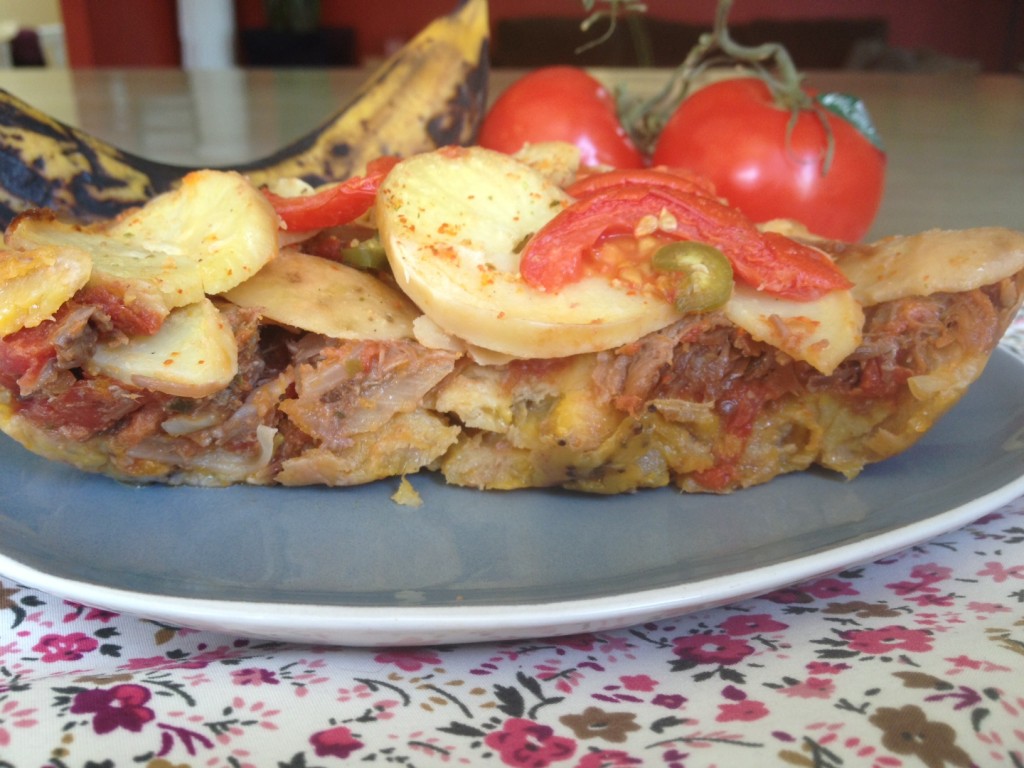 Ingredients
Three ripe plantains  cut lengthwise (you know they are ripe because they blacken on the outside)
1/4 cup of onion
14 ounces of crushed tomato
Olive oil
Salt, garlic powder, oregano
optional: chopped serrano chili to taste
Meat from 4 to 5 oxtails (you can substitute this for 1/2 pound of ground beef)
One small organic potato, precooked and sliced into rounds
One organic tomato sliced in to rounds.
How to
Peel and then slice 3 plantains into thin strips. They don't have to be even strips, you will simply line the bottom of the pan with them. So you don't have to cut them in a pretty way.
I used parchment paper to line my dish, but you can also grease the bottom of the pan with butter, coconut or olive oil.
In another pan saute onions in olive oil until translucent. If you like spice, add the serrano peppers. Then add in the crushed tomatoes, salt, garlic powder and oregano and stir and simmer until the sauce thickens. Taste and adjust with more olive oil and spices until it tastes how you like it.
In the last few minutes add in the meat (oxtail or beef). To make oxtail meat, buy them at the butchers and simmer them on very low heat in water (or in a slow cooker in water) for a couple of hours to create a rich broth. The meat easily falls off the bone then and you have broth left over for making soup.
Pour the tomato meat sauce over the plantains, and then layer sliced potatoes and sliced, fresh tomatoes on top. If you like it hot and spicy like we do. Then layer a few slices or serrano chili peppers on top.
I chopped up a tablespoon of ghee (clarified butter) which hardened in the fridge and put it on top of some of the potato for extra flavor and sprinkled with salt.
I baked the dish for 45 minutes at 365 degrees.
While my husband didn't like the name of the name, he ate half of the "not lasagna".  The faulty marketing was not a problem after all.
And it made a delicious breakfast the next day. Sweet and savory yumness. Lasagna or not.
If you have a better name for this dish let me know if the comments below.
DISCLOSURE OF MATERIAL CONNECTION: Some of the links in my blog are "affiliate links." This means if you click on the link and purchase the item, I will receive an affiliate commission. Regardless, I only recommend products or services I use personally and believe will add value to my readers. I am disclosing this in accordance with the Federal Trade Commission's 16 CFR, Part 255: "Guides Concerning the Use of Endorsements and Testimonials in Advertising." PAID ENDORSEMENT DISCLOSURE: In order for me to support my blogging activities, I may receive monetary compensation or other types of remuneration for my endorsement, recommendation, testimonial and/or link to any products or services from this blog. I only endorse products that align with the ideals of Healy Eats Real and that I believe would be of value to my readers. FDA DISCLOSURE: Information and statements regarding health claims on this blog have not been evaluated by the Food and Drug Administration and are not intended to diagnose, treat, cure, or prevent any disease.
Tags:
plantain and oxtail bake
,
plantain lasagna