How to HOST A PROBIOTIC PARTY (in your mouth)!
You might have heard how good sauerkraut is for you. It's quite popular in Ukrainian cuisine.
I was born in Ukraine (the former Soviet Union at the time) and moved here when I was 5 years old. I grew up eating a mixture of Ukrainian and American food.
I always assumed Ukrainian food was unhealthy, but the more I study nutrition, the more I question my assumption.
Sure, Ukrainian meals can be greasy and heavy on the bread, but the appetizer dishes, known as "zakuski" tend to be light, rich in flavor and generally quite nutritious.
Especially this probiotic gem, the traditional beet salad.
One of the main ingredients in this dish is sauerkraut, which might be the best food you can eat for digestive health.
This salad is typically served on special occasions like birthdays or New Years Eve.  In Russian it's called "Vinaigrette", and it's definitely a crowd pleaser!
This dish is both vegan AND Paleo, will expand your ethnic food experience and contribute to a happy and healthy belly! FODMAP sensitive people, with digestive issues like IBS, should omit the onions, peas and feta and reduce the amount of beets by half.
Because this is such a popular Ukrainian dish, every cook has their own version of it. So feel free to improvise by adding  your favorite ingredients. Some of my ideas are grilled chicken to make it a complete meal or broccoli slaw to make it even more nutritious.
I tweaked this recipe to suite my tastes with a tiny bit of feta cheese. Feel free to omit the cheese, which is not a traditional ingredient.
I also used sweet potatoes (the golden variety) instead of traditional white potatoes to make it more Paleo friendly, but you can use either type or mix and match.
I made this dish with beets picked from my garden. It was the first time I ever grew anything, so serving this salad was a celebration of its own.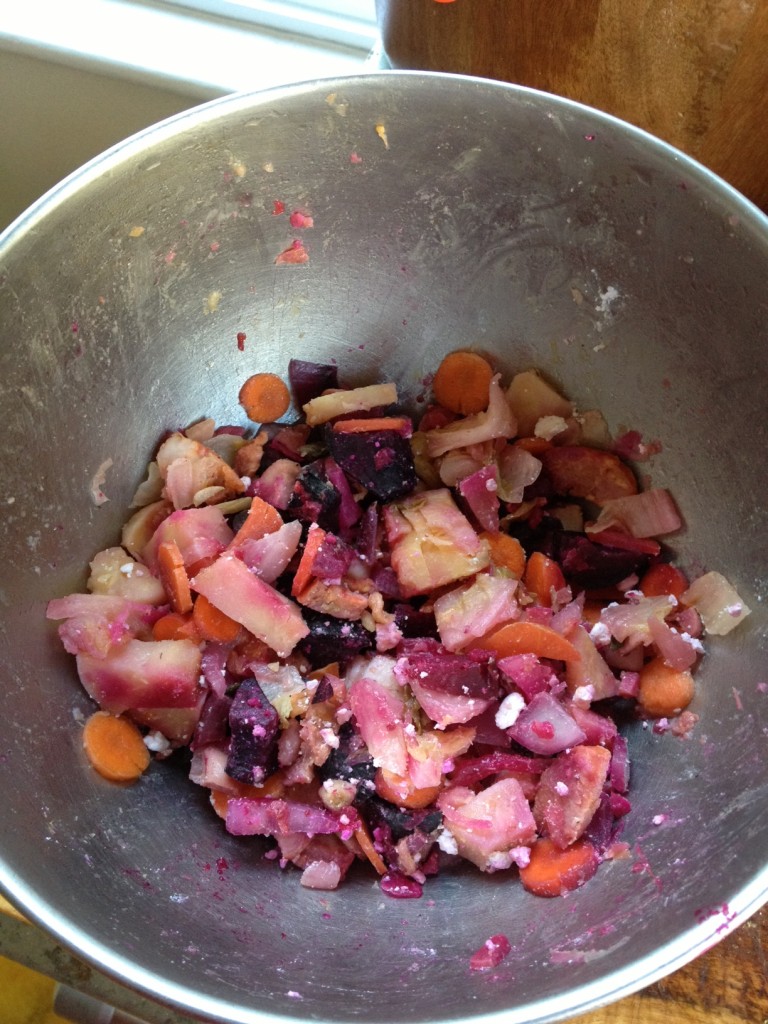 You can eat this salad as an appetizer, or a side dish with a heavier main.
Ingredients $8.00 (4 Servings)
Sweet potato (if large use 1, if small use 2) 2 units
Beets 3 units
Olive oil or avocado oil 2 tbsps
Carrots 2 units
Red or white onion (sauted if you have senstive digestion) 1 unit
Feta cheese or green peas (optional) 1 tsp
salt 1 tsp
Chopped pickles 2 units
Sauerkraut 3 ozs
How to
Boil or bake the carrots, potatoes and beets.
Chop the beets and potatoes into cubes and the carrots into rounds.
Chop the onion and saute if you have sensitive digestion. Raw onions are quite hard to digest.
Chop the pickles into rounds or cubes.
Mix the veggies, oil, onions, salt, pickles and sauerkraut in a bowl.
Throw in some crumbled feta cheese if you can tolerate dairy. An alternative is a few tablespoons of defrosted green peas.
Chill in the fridge for a hour before eating. It can be stored in the fridge for 5 days. The sauerkraut will preserve the salad.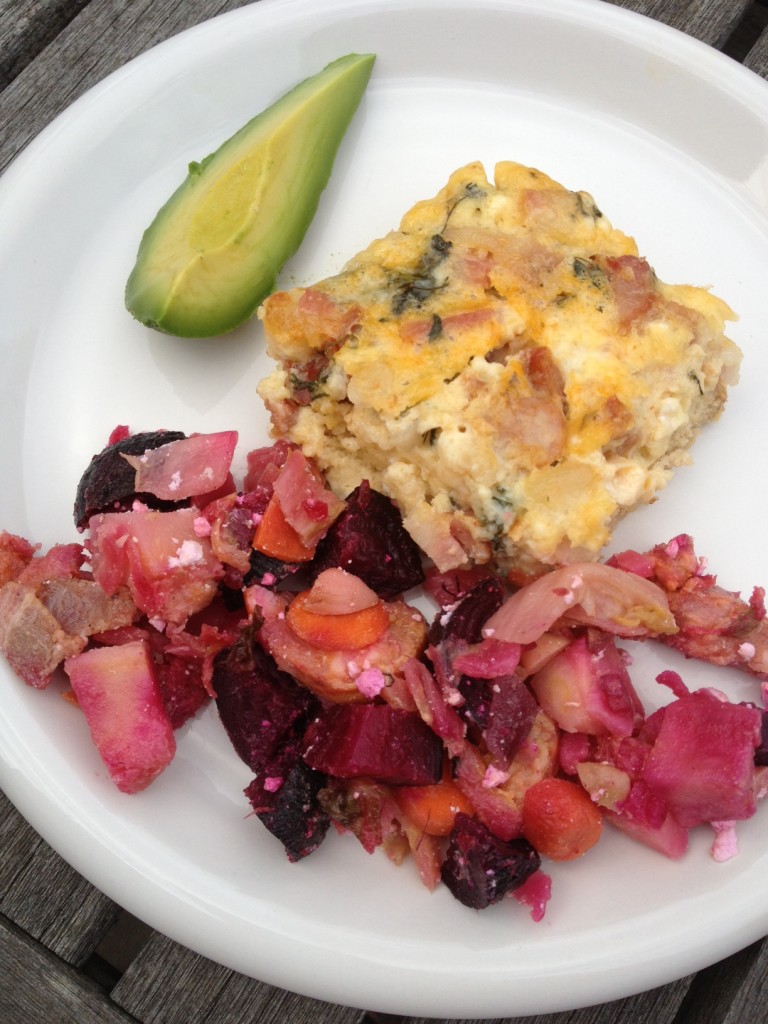 I served it as a side with a slice of crustless quiche and avocado.
To your health!
DISCLOSURE OF MATERIAL CONNECTION: Some of the links in my blog are "affiliate links." This means if you click on the link and purchase the item, I will receive an affiliate commission. Regardless, I only recommend products or services I use personally and believe will add value to my readers. I am disclosing this in accordance with the Federal Trade Commission's 16 CFR, Part 255: "Guides Concerning the Use of Endorsements and Testimonials in Advertising." PAID ENDORSEMENT DISCLOSURE: In order for me to support my blogging activities, I may receive monetary compensation or other types of remuneration for my endorsement, recommendation, testimonial and/or link to any products or services from this blog. I only endorse products that align with the ideals of Healy Eats Real and that I believe would be of value to my readers. FDA DISCLOSURE: Information and statements regarding health claims on this blog have not been evaluated by the Food and Drug Administration and are not intended to diagnose, treat, cure, or prevent any disease.
Tags:
beet recipe
,
beet salad
,
probiotics
,
Sauerkraut