An Eastern European Veggie Soup
I was never a fan of soup growing up. Especially not the two main soups in my native Russian/Ukrainian cuisine. There was a brothy chicken soup,which I couldn't stand and there was Borscht, a colorful beet, potato and cabbage soup eaten with generous amounts of dill.
Borscht (pronounced with a silent "t") was much more tolerable to my palate, most likely because it was served with huge dollops of sour cream.
I was a bit intimidated to make this soup because my grandmother used to tell me it's a lot of work. But she never had a food processor back in the old country. It makes it much easier, and also, it's hard to mess this soup up.
Just think of it as a hearty veggie soup (but not a vegetarian one). Though it's traditionally made with white potatoes, I only had sweet potatoes on hand. And since I'm more of a hacker than a traditionalist, I used them instead.
I also used probiotic-rich organic Greek yogurt instead of sour cream.
The secret to making this soup is to pre-chop and set out all the ingredients on the counter next to your soup pot….like this…..
The ingredients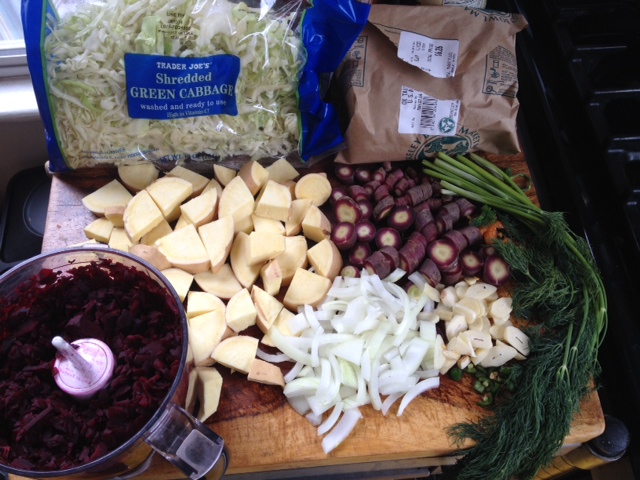 1 pound of oxtail (3 oxtails)
2 carrots chopped
10 ounces of shredded cabbage
1 medium sized sweet potato, chopped
1/2 onion, chopped
3 medium sized beets, grated or processed in a food processor
3 garlic cloves, chopped
Dill for garnish
Tomato paste (or sauce)
Salt (to taste 1 tsp to 1 tbspn) or 1 tablespoon of fish sauce
olive oil
optional for spice lovers: 1/2 serrano pepper, chopped
3 Tablespoons of apple cider vinegar
Greek yogurt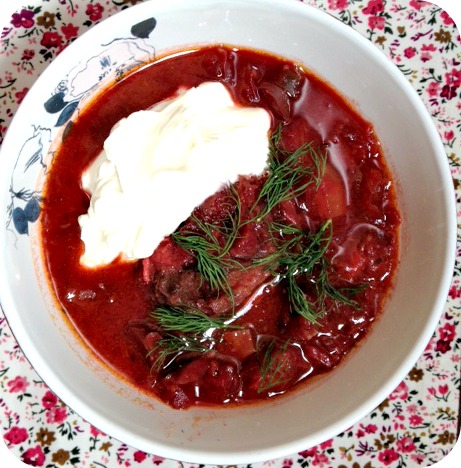 This recipe is full of mineral rich bone broth (from the oxtail). And bone broth is soothing to the soul and healing for the gut. Just in the last year or two I've developed an appreciation for soups that I never had before. Perhaps because I used bone broth to heal my husband's leaky gut and started putting the stuff in everything.
It's amazing that you can train your body and taste buds to like foods that previously disgusted you, like broth used to disgust me.
Now I'm not just a fan of homemade soups, but also dill, I spice I never used to like. Dill is amazing in this soup, adding so much fresh, earthy flavor and liver lover green to the bowl.
Enjoy my modern interpretation of an old world classic. And heal what ails you in the process.

Borsht
Delicious and nutritious Russian veggie soup made with gut healing beef broth. It can be served hot or cold with a dollop of Greek yogurt.
Ingredients
1 pound of oxtail
2 chopped carrots
10 ounces of shredded cabbage (add more or less to your taste)
1 medium sized sweet potato, chopped
½ an onion, chopped
3 medium sized beets, shredded or processed in the food processor
3 garlic cloves
Dill for garnish
1 Tablespoon of tomato paste or 3 tablespoons of tomato sauce
1 Tablespoon of fish sauce or 2 teaspoons of salt
3 Tablespoons of apple cider vinegar
Greek yogurt for garnish
Optional for spice lovers: ½ a Serrano pepper chopped
1 quart of water
Instructions
In a soup pot saute onion in olive oil on medium heat till translucent. Then add garlic and saute for 1 more minute.
Add water and oxtail and let simmer on low heat for 10 minutes.
Add tomato paste/sauce, apple cider vinegar and either salt or fish sauce.
Shred beets on a cheese grater or food processor.
Chop the sweet potato and shred the cabbage roughly or buy pre-shredded cabbage. Chop the Serrano pepper.
Throw all the veggies into the soup pot at once and let it simmer for 15 minutes on medium low heat. You can cover the pot or leave it uncovered while it simmer but if too much water evaporates, just add more.
Taste the soup to see if the veggies have softened and it's ready to eat.
Take it off the heat and ladle into bowls, garnishing with fresh dill and full fat Greek yogurt.
You can either ladle a full oxtail into each bowl or remove the oxtail with a ladle, remove the meat, discard the bones and return the meat to the soup.
Store the rest in the fridge, the soup tastes even better the next day as the flavors mix overnight in the fridge.
DISCLOSURE OF MATERIAL CONNECTION: Some of the links in my blog are "affiliate links." This means if you click on the link and purchase the item, I will receive an affiliate commission. Regardless, I only recommend products or services I use personally and believe will add value to my readers. I am disclosing this in accordance with the Federal Trade Commission's 16 CFR, Part 255: "Guides Concerning the Use of Endorsements and Testimonials in Advertising." PAID ENDORSEMENT DISCLOSURE: In order for me to support my blogging activities, I may receive monetary compensation or other types of remuneration for my endorsement, recommendation, testimonial and/or link to any products or services from this blog. I only endorse products that align with the ideals of Healy Eats Real and that I believe would be of value to my readers. FDA DISCLOSURE: Information and statements regarding health claims on this blog have not been evaluated by the Food and Drug Administration and are not intended to diagnose, treat, cure, or prevent any disease.
Tags:
bone broth recipe
,
Borsh
,
Russian borscht
,
Ukrainian Borscht