Paleo fast food?
Not exactly. While this may look suspiciously like an Egg Mcmuffin, it's a gazillion times healthier. The bun is made from cashews, tapioca and coconut flour and the eggs and bacon are both pastured.  And it's topped with super thin slices of goat's milk Parmesan cheese.
Yes, you can eat your egg sandwich without wrecking your health.
When I was 6 or 7 years old, my family had just emigrated to New York from Ukraine a few years back. We didn't have any money and went out to dinner only once a week, on Friday nights to McDonalds.
I grew up loving McDonald's, associating it with fun and decadence. I always ordered the fillet o' fish sandwich before eventually moving over to Chicken Mcnuggets with the sugary dipping sauces. I wasn't much of a burger eater back then.
But I did love the fluffy, salty sweet goodness of the classic Egg Mcmuffin. You can't go wrong with bacon, egg and cheese. I still enjoy these foods today but I have to rethink the bun.
So I used the recipe for Paleo hamburger buns by Kelly Bejelly (love her name) from A Girl Worth Saving. She's all about Paleo comfort food. Get the full recipe here.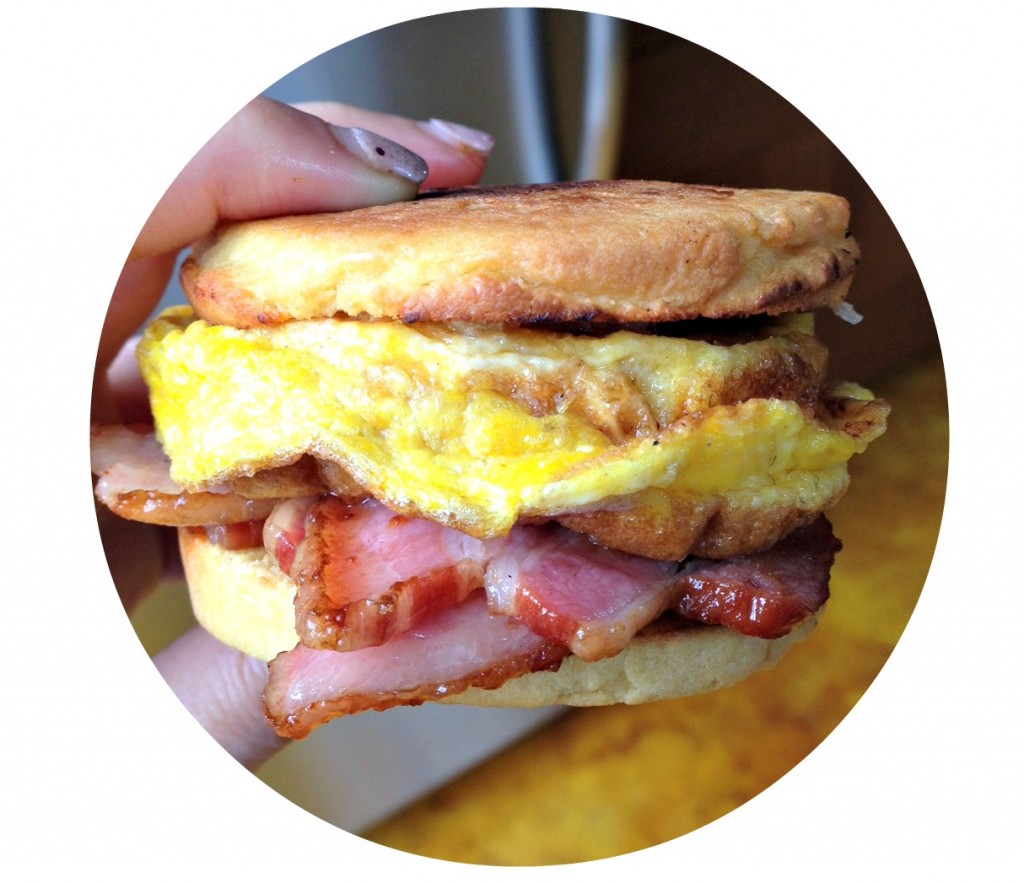 The presentation is what makes this sandwich look as awesome as it tastes. The secret to the those cute looking buns is to bake both the bread and the scrambled eggs in a pan like this Metallic Non-Stick Original Muffin Top Pan.
It's what Kelly used to bake her hamburger buns and gives this muffin sandwich it's neat shape.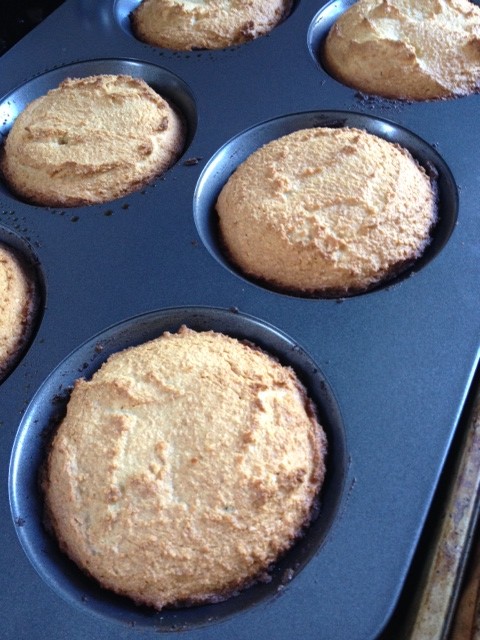 If you want your muffins to have a flat surface like mine simply flip them half way through the baking process (about 15 minutes).
And bake the eggs and bread separately so you don't overcook the eggs. Scramble one egg per compartment and bake at 325 degrees for 10 to 12 minutes. Sprinkle  the  scrambled eggs with salt, cumin and paprika.
Then fry up some bacon and fold it into the sandwich. This is a great recipe to introduce your fast food loving friends or family to the Paleo diet.
Enjoy the grain-free version of egg sandwich decadence. It was so tempting I had to take a bite in the middle of my photo shoot.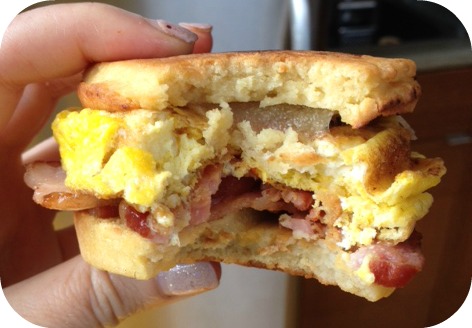 DISCLOSURE OF MATERIAL CONNECTION: Some of the links in my blog are "affiliate links." This means if you click on the link and purchase the item, I will receive an affiliate commission. Regardless, I only recommend products or services I use personally and believe will add value to my readers. I am disclosing this in accordance with the Federal Trade Commission's 16 CFR, Part 255: "Guides Concerning the Use of Endorsements and Testimonials in Advertising." PAID ENDORSEMENT DISCLOSURE: In order for me to support my blogging activities, I may receive monetary compensation or other types of remuneration for my endorsement, recommendation, testimonial and/or link to any products or services from this blog. I only endorse products that align with the ideals of Healy Eats Real and that I believe would be of value to my readers. FDA DISCLOSURE: Information and statements regarding health claims on this blog have not been evaluated by the Food and Drug Administration and are not intended to diagnose, treat, cure, or prevent any disease.
Tags:
egg and bacon sandwich
,
Paleo egg mcmuffin