This is MY love note to Butternut squash.
There's a perception that the Paleo diet is all about meat. For me, it's about the veggies. I eat more veggies now than I did before I went Paleo. I've replaced the carbs from grains with carbs from veggies. It's a smart swap.
Veggies may seem boring on the shelf but after a makeover they can be quite tempting. There are so many creative ways to use veggies, that I've decided to start a "Sexy Veggie" series.
Each week I'll be transforming ordinary veggies into extra ordinary meals.
I decided to start with one of the most versatile ones. Butternut squash. It will lend a creamy, sweetness to any dish.
Recently I roasted an enormous squash. I used the mashed flesh to make shepherd's pie but I had a ton left over.
So I made 3 other dishes from one squash. Amazing abundance.
Here are just 4 ways that you can sex up butternut squash.
Butternut squash shepherd's pie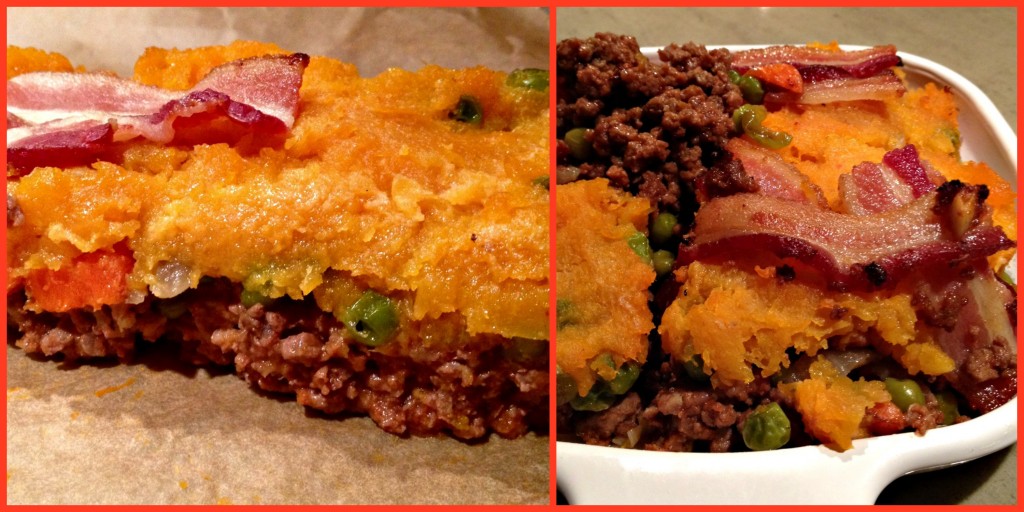 Ingredients
1 pound of ground beef
3 ounces of tomato paste
paprika and salt
2 garlic cloves, chopped
2 carrot cut into rounds
3/4 cup of peas
1/4 onion, chopped
1 tablespoon of fish sauce or coconut aminos
1/2 cup of bone broth
Optional topping: bacon or butter
How to
Saute the onions in oil of choice until they start to turn translucent. Then add in chopped garlic and saute for a few minutes while stirring.
Add in carrots and peas and continue to saute. Add in bone broth and let the veggies simmer in the broth.
Cook down till most of the broth has evaporated and veggies are soft.
In another pan saute the ground meat and saute until mostly cooked through. Add salt, paprika and coconut aminos or fish sauce.
Layer the meat in parchment lined baking pat, ground beef first, then a layer of veggies and then layer of butternut squash on top.
Top with bacon or butter and put in a preheated oven at 375 for 10 to 15 minutes.
Enjoy this sweet twist on a traditional English dish.
Butternut Squash flat Bread
So glad I tried this nut-free flat bread. The recipe is by one my favorite grain-free bloggers, Lauren at Empowered Sustenance. Here's  the original recipe. It calls for an egg, some mashed butternut squash, butter, coconut flour and salt.
I one flatbreads as a base for my Paleo eggs benedict. Instead of Hollandaise sauce I put a mix of sriracha and mayo on top.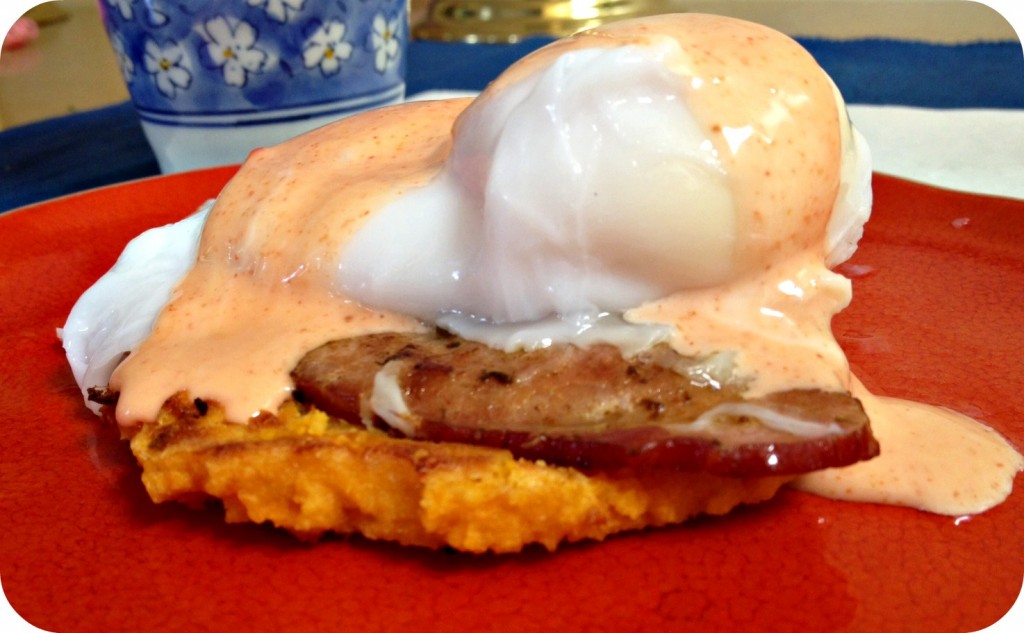 Butternut squash pancakes
This pancake is made with almond butter and inspired by the GAPs diet.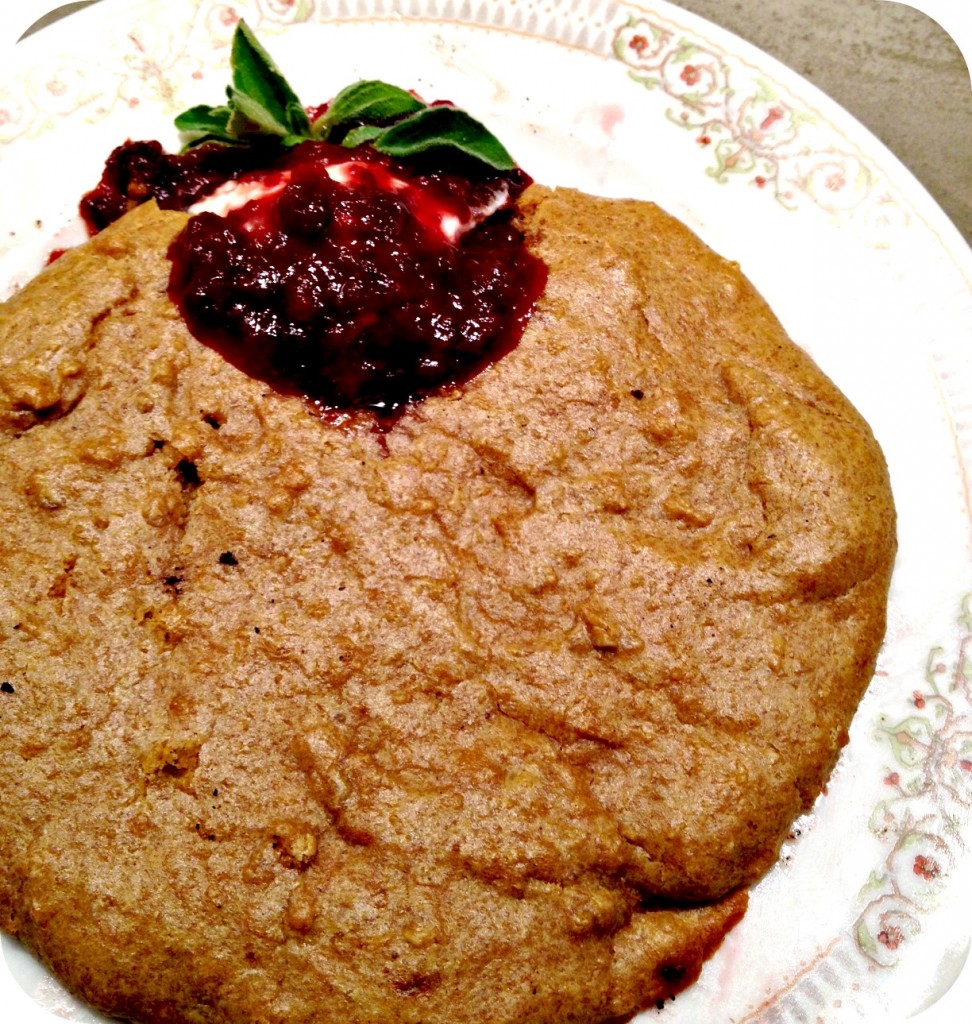 Ingredients
1 cup of butternut squash1/2 cup of almond butter or sunflower seed butter
2 tablespoons of almond flour
2 eggs
Coconut oil for frying
How to
Mix ingredients in a bowl and pour into a frying pan coated with coconut oil. But frying was my least favorite method of making these and I ended up with a mess with the first pancake I made because I flipped it too soon.
So I experimented with baking them and also baking then frying for a crispy outside. I shaped the dough into pancakes with my hands and baked at 350 for 30 minutes.
The baked version was the best and the easiest and least messy. Don't you love it when that happens?
I served the pancake with blended frozen cherries.
Butternut squash scrambled eggs
This was surprisingly delicious, the squash gives scrambled eggs a sweet taste. The perfect breakfast for those who crave something sweet in the morning. It also starts the day with a healthy dose of fiber and antioxidants! Another reason why veggies are sexy. They make you look and feel good too.
Ingredients
1/2 cup of butternut squash4 eggs
Chopped onion to taste
Bacon or sausage
How to
Cook onions in oil for a few minutes. Add bacon. Throw in 1/2 cup of mashed butternut squash and 4 eggs. Scramble. That's it.
What's your favorite way to enjoy butternut squash?
DISCLOSURE OF MATERIAL CONNECTION: Some of the links in my blog are "affiliate links." This means if you click on the link and purchase the item, I will receive an affiliate commission. Regardless, I only recommend products or services I use personally and believe will add value to my readers. I am disclosing this in accordance with the Federal Trade Commission's 16 CFR, Part 255: "Guides Concerning the Use of Endorsements and Testimonials in Advertising." PAID ENDORSEMENT DISCLOSURE: In order for me to support my blogging activities, I may receive monetary compensation or other types of remuneration for my endorsement, recommendation, testimonial and/or link to any products or services from this blog. I only endorse products that align with the ideals of Healy Eats Real and that I believe would be of value to my readers. FDA DISCLOSURE: Information and statements regarding health claims on this blog have not been evaluated by the Food and Drug Administration and are not intended to diagnose, treat, cure, or prevent any disease.
Tags:
butternut squash
,
butternut squash shepherd's pie
,
Paleo veggie