Veggie innovation
I have a confession. I'm not a fan of chopping veggies. Some people  it meditative, but for me it feels like grunt work.
It's ideal to buy whole veggies and chop them yourself, but since we don't live in an ideal world, I buy shredded cabbage and broccoli slaw pre cut.
If  you have time, patience and energy you make your own broccoli slaw or pick up a pack of organic stuff at most markets. Broccoli slaw seems to be growing in popularity and it's how our family consumes broccoli these days. I find it incredibly versatile.
*Note: As wonderful as broccoli is, it's not always tolerated by people following a FODMAPs diet for digestive issues such as IBS or SIBO.
Here are 12 ways to enjoy broccoli slaw.
1) As a pasta substitute.
I substituted broccoli slaw for noodles in my Pad Thai recipe. Get the recipe here.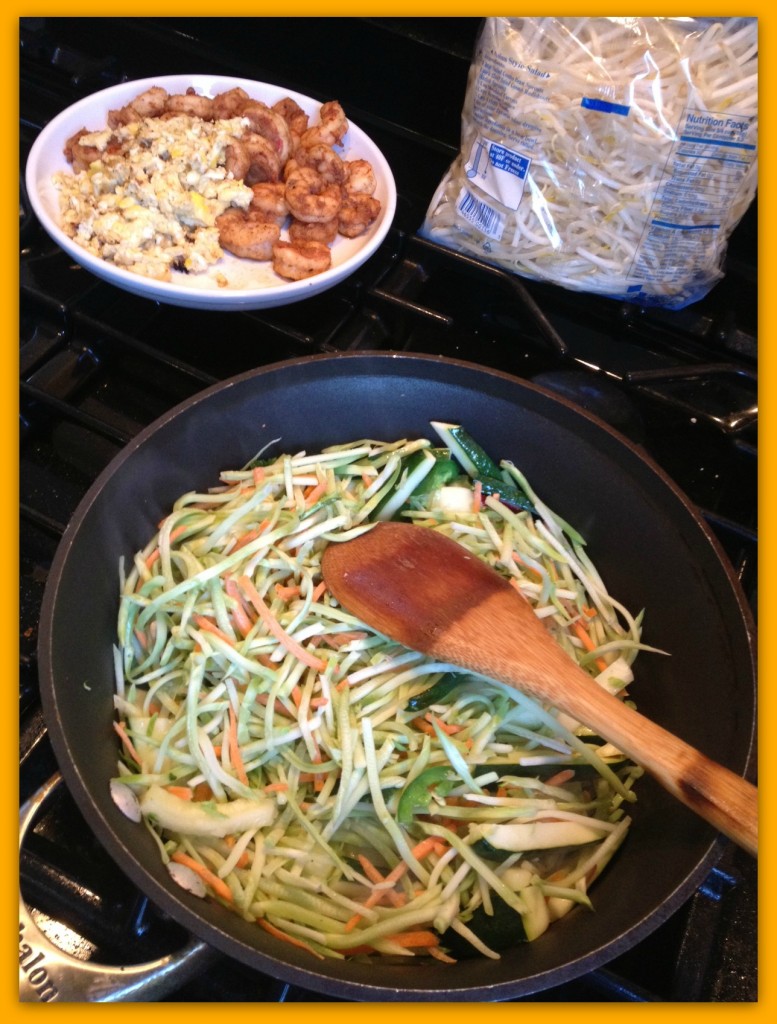 I also used it a the 'macaroni" in butternnut squash mac n cheese. Get the recipe here.
2) Tired of cauliflower rice?
With a little bit of chopping you can turn these broccoli shoe strings into rice. Just cut finely and stir fry in oil to soften them. Serve your favorite curry dish over broccoli "rice". Or make broccoli fried rice.
3) Stir fry heaven
You don't have to chop broccoli slaw to enjoy it in stir fry dishes. I love to make Asian-style broccoli slaw by adding in a egg, chopped meat, fish sauce and green peas.
I was out of peas the last time I made it but the stir fry turned out delicious. I sauteed the slaw in olive oil on medium heat with a base of red onion, 2 types of chopped sausage, one egg and sliced baby carrots. Yum.
4)  Coleslaw salad
Yes, of course you can make cole slaw out of broccoli's slaw. Or add it to your cabbage coleslaw instead of carrots. Combine with homemade mayo, and add any of the following ingredients for extra flavor: a touch of sriracha, chopped apples, caramelized onions, sliced sausage, baked & chopped potatoes, cashews or cranberries.
4. Gaspacho
Gaspacho is a chilled soup you can make in the blender. Simply add tomatoes, cucumbers, onion, garlic, olive oil, bell peppers and broccoli slaw. Leave out the raw garlic and onion if you have weak digestion as these can irritate. A refreshing way to drink you veggies.
5. Green smoothie
Green smoothies made with kale are all the rage. Substitute broccoli slaw for kale in your smoothie along with coconut water, bananas and frozen fruit.
6. Dehydrated broccoli sticks
If you have a dehydrator you can make crispy broccoli sticks for snacking on or crumbling over soup or salad. If you don't have a dehydrator, you can toss the slaw in a little bit of olive oil or butter and cook on low heat (200 degrees) for 3 hours, checking the slaw to make sure it doesn't burn.
8. Add to crock pot and regular stews
Cuisinart CSB-75BC Smart Stick 2-Speed Immersion Hand Blender, Brushed Chrome
A great way to add more nutrition to stews. The slaw will soften in the stew and blend well with the meaty flavors.
9. Make broccoli soup
Saute half a chopped onion in butter in a stock pot. Once the onions turn translucent, add a bag of broccoli slaw and 2 cups of bone broth. Boil on medium heat until it softens. Add water if the bone broth evaporates too fast. This will typically take 15 to 20 minutes. Transfer to blender or use an immersion blender to make soup. Add salt and serve with smoked paprika sprinkled on top and a dollop of Greek yogurt.
10. Sweet broccoli salad
Combine 1/2 cup of broccoli slaw with 1/2 cup of shredded carrots, 1/2 cup of grated apple and 1 tablespoon of lemon juice for a sweet but healthy treat.
11. Bake sweet bread
Just substitute broccoli slaw for zucchini in your favorite grain-free zucchini bread recipe.
12. Probiotic broccoli slaw
You can ferment it by submerging it in water and adding salt and letting it sit out for a few days. Learn how here.
Do you have another way to prepare broccoli slaw? Tell me in the comments below.
DISCLOSURE OF MATERIAL CONNECTION: Some of the links in my blog are "affiliate links." This means if you click on the link and purchase the item, I will receive an affiliate commission. Regardless, I only recommend products or services I use personally and believe will add value to my readers. I am disclosing this in accordance with the Federal Trade Commission's 16 CFR, Part 255: "Guides Concerning the Use of Endorsements and Testimonials in Advertising." PAID ENDORSEMENT DISCLOSURE: In order for me to support my blogging activities, I may receive monetary compensation or other types of remuneration for my endorsement, recommendation, testimonial and/or link to any products or services from this blog. I only endorse products that align with the ideals of Healy Eats Real and that I believe would be of value to my readers. FDA DISCLOSURE: Information and statements regarding health claims on this blog have not been evaluated by the Food and Drug Administration and are not intended to diagnose, treat, cure, or prevent any disease.
Tags:
12 uses for broccoli slaw
,
broccoli slaw
,
broccoli slaw pasta
,
how to use broccoli slaw