Eggs are one of my favorite health foods.
But as a digestive health coach I know some people are allergic to them. Using higher quality eggs that are not fed soy might solve the issue for some, but others may need to avoid them all together.
You can test if you have a problems with eggs by not eating them for 7 days and eating them a couple of times on day 8 and noticing your body's reaction.
If you don't have a problem with eggs, hallelujah….they are nutritional powerhouses! All that stuff you've heard about eggs raising your cholesterol is just plain wrong. You need cholesterol for healthy brain function, so eat those yolks without remorse.
I only use pastured eggs from happy chickens that run around in the sun and eat bugs. They are much more expensive but have loads more nutrition. And I like supporting farms that raise happy-go-lucky, free chickens instead of chicken prisoners!
I don't want to eat the eggs of miserable captives, do you?
What's a fritata?
Fritatas are egg and veggie casseroles that are easy to throw together. Because I love to experiment with different veggies, I used green beans in this one.
My flavor enhancing secret is to boil the green beans in a little bit of chicken bone broth and filtered water. They are soft, juicy and bursting with meaty flavor and gut-healing collagen from the broth. If you want to know more about how to make your own bone broth, check out this blog post on my other website.
I put 3 strips of turkey bacon to garnish the fritata with more flavor, and a few slices of baked sweet potato, which I topped with grass fed herb butter. A sprinkle of salt and we're done.  Here are the results.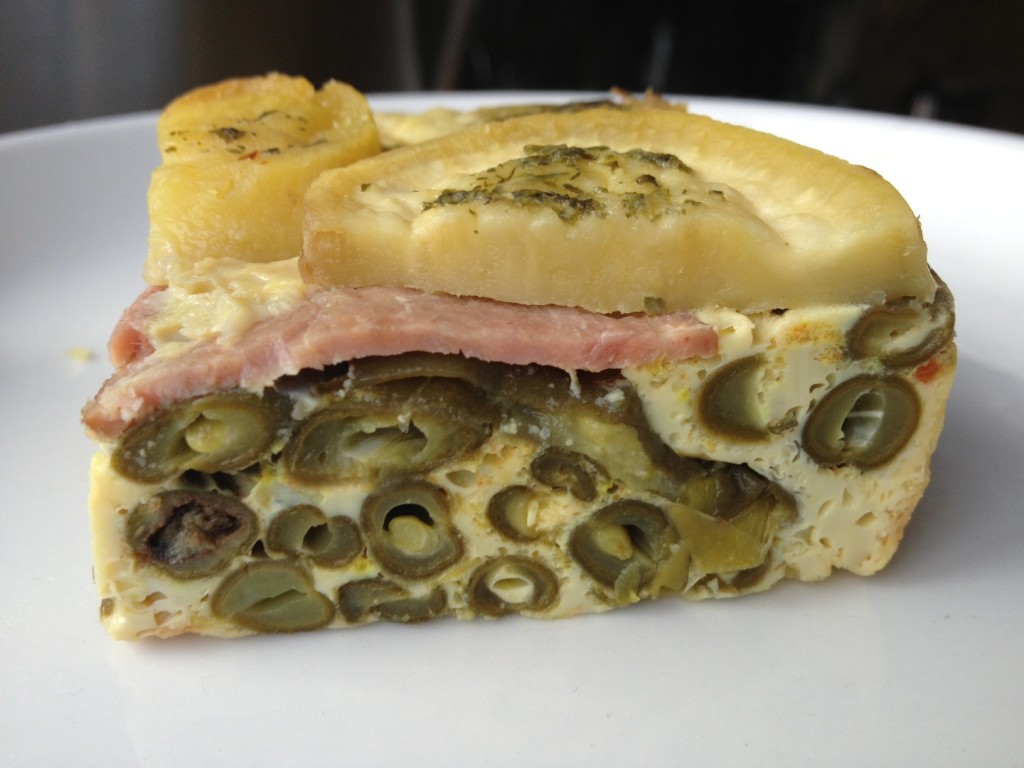 I served this dish with sweet potato "toast".  I call it toast because these sliced and baked in coconut oil and have a solid, texture that's perfect for spread your favorite dip, tapenade or pesto on it.
I love lots of flavor so I spread my favorite pumpkin seed and cilantro pesto on them and some feta cheese, and doused them with hot sauce.
But they are delicious with a sprinkle of salt and have a faint coconut flavor.
A slightly fancy but super easy breakfast or brunch.
Breakfast is the hardest Paleo meal of the day because people are so used to eating grains. But you can impress your friends with this grain-free goodness.
Ingredients

$7.00 (4 Servings)
Pastured eggs

organic eggs work too

4 units

Turkey bacon

Regular bacon is also quite good

3 units

Sweet potato

baked, sliced in rounds and into strips and baked

1 unit

Butter or coconut butter

For flavoring the sweet potatoes

0 units

Salt, cumin, paprika

You can also use curry spices if you like the taste

0 units

Organic green beans

trimmed and cut in half

1 lb

Chicken of beef bone broth

add water to just cover the beans

1 cup
How to
Simmer the beans in broth till soft and broth mostly boils off. Scramble and spice the eggs. Mix green beans and eggs, top with turkey bacon and potatoes. Bake at 350 for half an hour.
DISCLOSURE OF MATERIAL CONNECTION: Some of the links in my blog are "affiliate links." This means if you click on the link and purchase the item, I will receive an affiliate commission. Regardless, I only recommend products or services I use personally and believe will add value to my readers. I am disclosing this in accordance with the Federal Trade Commission's 16 CFR, Part 255: "Guides Concerning the Use of Endorsements and Testimonials in Advertising." PAID ENDORSEMENT DISCLOSURE: In order for me to support my blogging activities, I may receive monetary compensation or other types of remuneration for my endorsement, recommendation, testimonial and/or link to any products or services from this blog. I only endorse products that align with the ideals of Healy Eats Real and that I believe would be of value to my readers. FDA DISCLOSURE: Information and statements regarding health claims on this blog have not been evaluated by the Food and Drug Administration and are not intended to diagnose, treat, cure, or prevent any disease.