A very filling treat that's sure to satisfy.
Coconut oil is a healthy, celebrated saturated fat among vegans and Paleo folks alike. For one thing, eating fat helps keep sugar cravings at bay.
I created these coconut trail mix treats because I thought they would be mega tasty, but in retrospect, these are awesome treats to eat if you have a weakness for over indulging in desserts.
Because of their fat content, you simply can't eat too much. You get a hit of sugar from the chocolate chips and dried fruit but the coconut oil will stop you from overdoing it. It is that satisfying.
I ate these one bite at a time and found so much flavor and satisfaction in just one bite.
You should play with the proportions to see how much coconut oil to "trail mix" you like. The proportions below were perfect for my tastebuds, but I tend to eat lots of fat and can handle the coconut oil without getting overwhelmed.
If you're not sure, start out with proportions of less oil and more trail mix than I've listed below.
These treats were inspired by my love of trail mix, which is a great Paleo travel food. But the addition of coconut oil makes it less travel worthy (it will make a mess if it melts) and more of a novelty dessert. I've never seen these anywhere before!
I invite you to use your own favorite mix of nuts and dried fruit. I think cranberries would be delicious in this, but I used a mix of more antioxidant-rich mulberries and goldenberries (also called gooseberries).
I used coconut butter in this treat to cut the fattiness of the coconut oil. Coconut butter is to a coconut, what almond butter is to an almond.
The coconut butter is solidly packed into the jar and needs to be broken up with a spoon or fork. You can easily pulverize it by hand or throw chunks into a food processor and let it do all the work.
When you're done the consistency of the coconut butter should be like snow (see the photo below).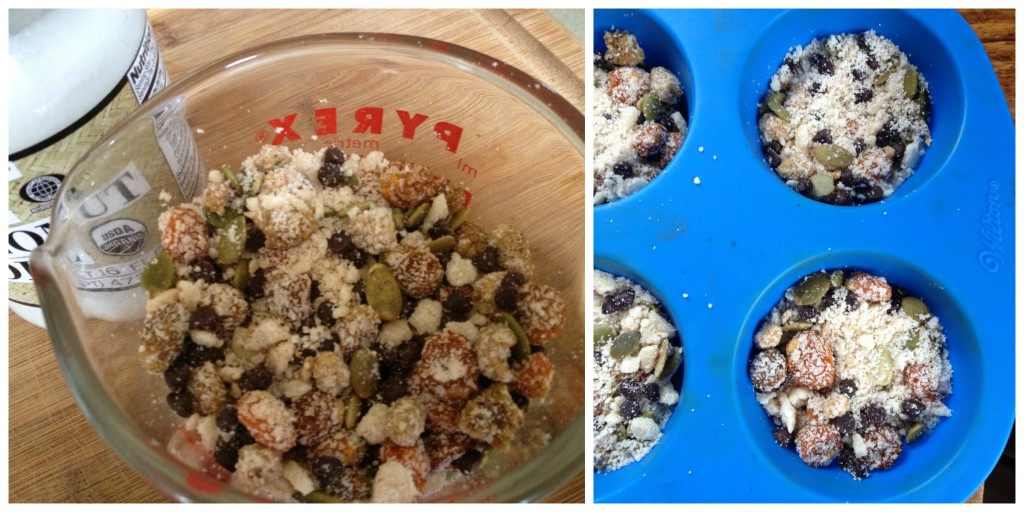 Ingredients
3 tablespoons of chocolate chips (I used the enjoy life brand)
1/2 a cup of coconut butter, finely pulverized like snow.
1/2 cup of melted oil
1 cup of your favorite dried fruit and nut mix: I used mulberries, golden berries and pumpkin seeds
1/4 teaspoon of vanilla extract
1/4 teaspoon of pumpkin spice
optional: if you want this to be pretty sweet add a tablespoon of raw honey or maple syrup. I used some lightly sweetened, Chocolate Hazelnut coconut butter that I ordered from Nikki's coconut butter, which I packed on top for extra sweetness.
How to
Melt the coconut oil and add the vanilla extract to it.
Mix together chocolate chips, fruit and nuts mix in a bowl.
Throw in the pumpkin pie spice and pulverized coconut butter.
Spoon the mixture into a regular muffin tin, lined with paper muffin cups, or use a silicon muffin tray.
Fill each muffin mold half way, then pour the coconut oil on top to cover it.
Use a spoon to mix the dry ingredients with the oil inside the muffin molds. Spoon more of the dry ingredients on top and pack down. I put some pulverized chocolate coconut butter on top of my trail mix treats.
I even made another version of this where I added sunflower seed butter to the cups. This recipe definitely invites improvisation.
Put the muffin tin in the fridge for an hour for the trail mix treats to set.
I hope you enjoy these fun and easy treats as much as we did.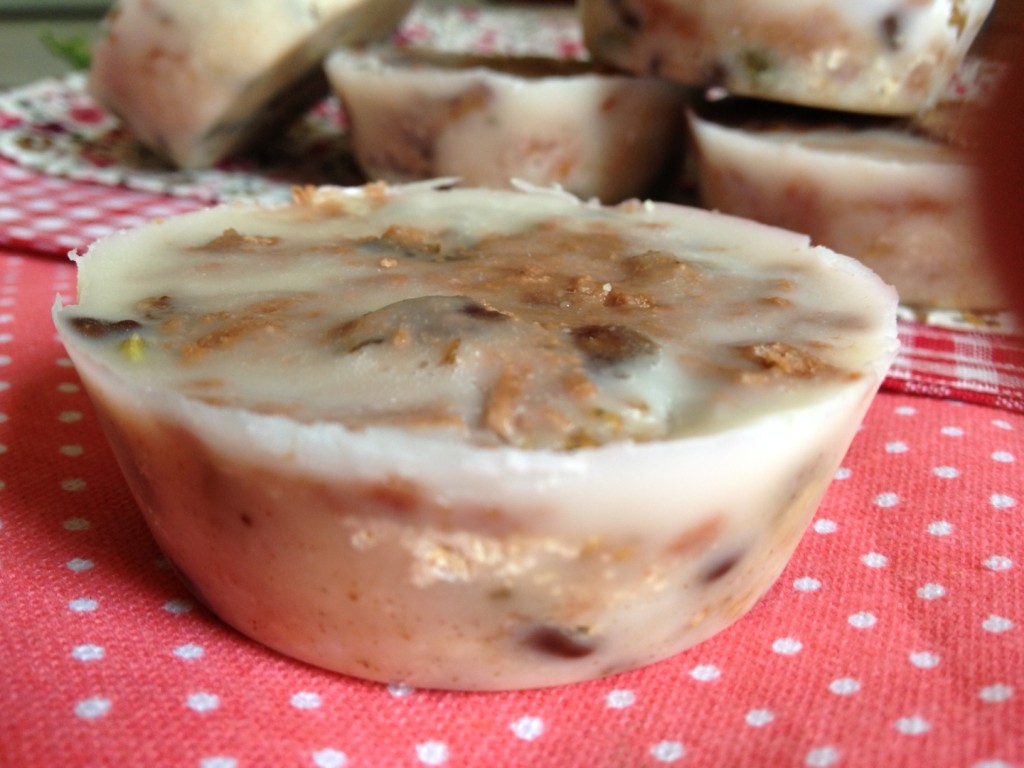 DISCLOSURE OF MATERIAL CONNECTION: Some of the links in my blog are "affiliate links." This means if you click on the link and purchase the item, I will receive an affiliate commission. Regardless, I only recommend products or services I use personally and believe will add value to my readers. I am disclosing this in accordance with the Federal Trade Commission's 16 CFR, Part 255: "Guides Concerning the Use of Endorsements and Testimonials in Advertising." PAID ENDORSEMENT DISCLOSURE: In order for me to support my blogging activities, I may receive monetary compensation or other types of remuneration for my endorsement, recommendation, testimonial and/or link to any products or services from this blog. I only endorse products that align with the ideals of Healy Eats Real and that I believe would be of value to my readers. FDA DISCLOSURE: Information and statements regarding health claims on this blog have not been evaluated by the Food and Drug Administration and are not intended to diagnose, treat, cure, or prevent any disease.