This recipe was adapted from the Paleo comfort foods website.
You can find the original recipe for Paleo sloppy joe here.
I always make my own tweaks to any recipe. My tweaks were adding less honey, leaving out the  liquid smoke (never heard of such a thing), and using cayenne pepper and chopped fresh jalapeno instead of chilli powder. I added fish sauce and a squeeze of organic sriracha.
And since I was out of bone broth, I used bone broth fat that I had skimmed off the top and saved as cooking fat. It gave it the same meaty flavor but added a bit to the greasiness of the dish.
I also put a poached egg on top to cut the strong taste of this dish. It also added some creaminess without needing cheese.
Though I usually don't have the best of luck following other people's recipes, this one came out perfectly.
I was obsessed with this dish when I was a kid. And would even make it myself using Heinz chili sauce, (a souped up version of ketchup with lots of preservatives and artificial ingredients).
I made this version completely from scratch and it was the best sloppy joe I've ever taste. And I've had a lot.  It was also the healthiest since I skipped the bun.
So how did I eat sloppy joe without the bun?
I served it over oven baked sweet potato "fries".
Sort of like a sloppy joe version of chili fries.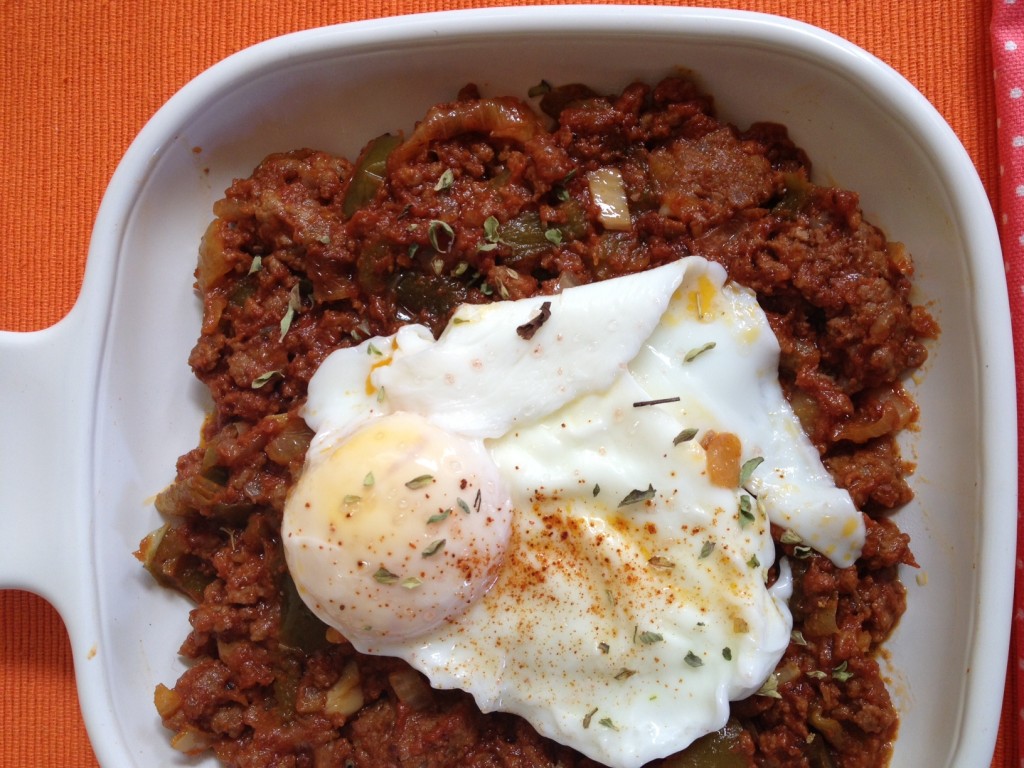 INGREDIENTS
1 tablespoon coconut oil or other cooking fat
1 small onion, diced
squirt of sriracha (optional)
bell pepper
honey 1/2 teaspoon
1 pound ground beef
1 can tomato paste (6 oz.)
1/2 cup beef broth or beef broth fat
3 garlic cloves
1 tablespoon brown or yellow (prepared) mustard
1 tablespoon apple cider vinegar
1 teaspoon chili powder (cayenne)
1/4 chopped jalapeno
1/2 teaspoon of salt
1/2 teaspoon of fish sauce (optional)
How to
I sauteed the onion in cooking oil for a few minutes and then threw in the diced green bell pepper, jalapeno and chopped garlic.
Then I threw in the ground beef and sauteed for a few minutes.
Then I put in the tomato paste, beef broth/fat, honey, sriracha, honey, mustard, vinegar, salt, fish sauce and cayenne.
I stirred as the wet ingredients into the meat with my spatula, watching it form a savory, tangy sauce. I sauteed the dish, mixing it with my spatula the whole time until the meat was done and the sauce had reduced a bit. About 8 minutes or so on a high medium heat.
I poached an egg by throwing it in boiling water for 2.5 minutes and then fished in out with a slotted spoon and put in on a plate until I was ready to use it.
I plated the sloppy joe, put the egg on top and served it with sweet potato "fries".
DISCLOSURE OF MATERIAL CONNECTION: Some of the links in my blog are "affiliate links." This means if you click on the link and purchase the item, I will receive an affiliate commission. Regardless, I only recommend products or services I use personally and believe will add value to my readers. I am disclosing this in accordance with the Federal Trade Commission's 16 CFR, Part 255: "Guides Concerning the Use of Endorsements and Testimonials in Advertising." PAID ENDORSEMENT DISCLOSURE: In order for me to support my blogging activities, I may receive monetary compensation or other types of remuneration for my endorsement, recommendation, testimonial and/or link to any products or services from this blog. I only endorse products that align with the ideals of Healy Eats Real and that I believe would be of value to my readers. FDA DISCLOSURE: Information and statements regarding health claims on this blog have not been evaluated by the Food and Drug Administration and are not intended to diagnose, treat, cure, or prevent any disease.
Tags:
Paleo sloppy joe
,
sloppy joe from scratch