If I had known years ago how easy it was to make pulled pork it would have become a meal staple at our house.
This was seriously the easiest meat dish I've ever made. While you can make it more complicated if you want to, all you need to make pulled pork is a slow cooker (or dutch oven) and a pork roast (the cut is called a pork shoulder or pork butt).
And if you don't own a slow cooker I highly suggest you buy one because it will make your kitchen life so much easier. It's kind of like having the world's cheapest personal chef.
You don't need anything fancy. I got mine at a garage sale many years ago. It's old school but works great.
For $50 you can get a high quality digital Crock-Pot Slow Cooker that you can program to turn off when you're at work or out of the house.
Below is a photo of my first home-cooked pulled pork. My slow cooker is in the background. It only has three settings:  off, high and low.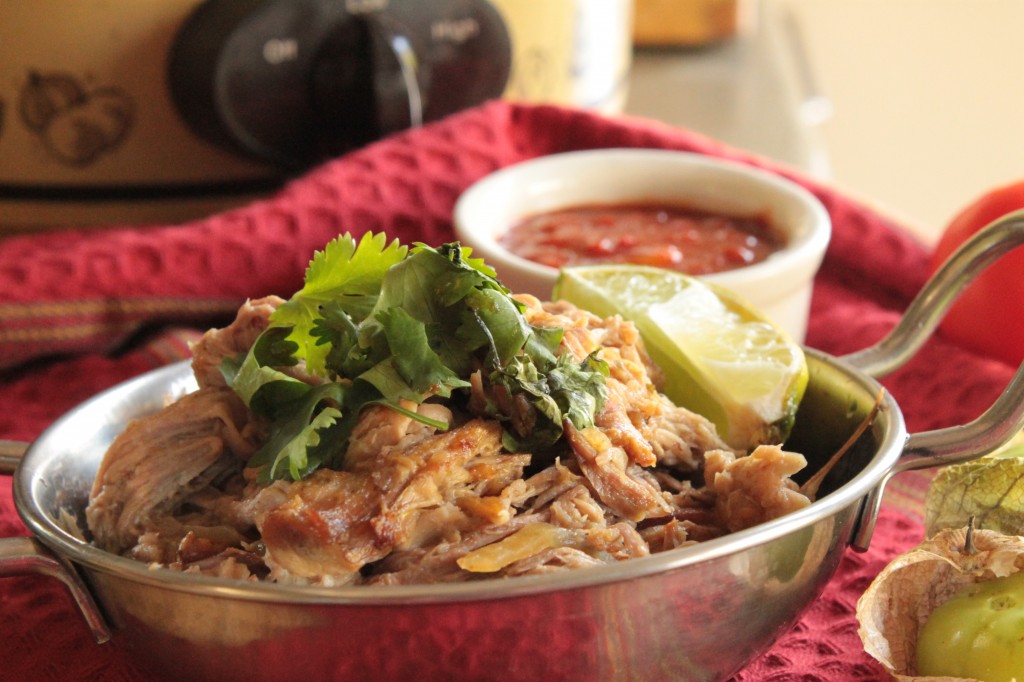 Pulled pork is perfect for bulk cooking and meal planning because there's usually a ton of left overs and these are the most versatile leftovers ever.
The simplest pulled pork recipe
As with everything on the Internet, there's a lot of discrepancy on how to make pulled pork. This can be confusing and intimidating.
But here's the deal, all the extra instructions are just bells and whistles. Searing the meat, seasoning and marinating it and submerging it in bone broth might be nice but not necessary.
If you cut all those steps out you will still end up with delicious pulled pork.
All you need to do is wash your roast, salt it, and put it in a slow cooker with a tablespoon of oil or fat at the bottom. Then slow cooking it for 7 to 10 hours on low (depending on the size of the roast) or 4 to 6 hour on high if you want to eat it faster.
That's all.
Do you need cooking liquid? No. The cooking process extracts the pork's natural fats and juices to stew in. You can always spice the meat later or add a sauce.
If you have extra time and energy you can poke holes in the roast with a knife and stuff whole garlic cloves in the slits. You can marinate it first by rubbing the roast with spices, wrapping it in plastic wrap or parchment paper and refrigerating it for a few hours before cooking.
You can also brown the roast in  a pan on all sides for a few minutes before throwing it in the slow cooker. And if you like sweet and savory combos you can throw in a chopped apple and lay sliced raw onion rings on the bottom of the slow cooker as a bed for the pork roast.  The onions will melt and caramelize to add incredible flavor.
If  you are low on time or energy skip the extra steps. It will come out juicy, succulent and flavorful regardless.
Note** If your roast is one the bigger side (around 5 pounds) cut it in half so it cooks faster.
My roast was 2.5 pounds and I had a ton of leftovers.  That's why I give you leftover pulled pork ideas below.
Crockpot chicken
Did you also know you can cook a whole chicken in a slow cooker? It's the juiciest chicken ever. Just salt the chicken and throw it in with a tablespoon of fat on the bottom. Cook on low for 8 hours.
After it's done, you can cut the meat off the bones, throw the carcass back into the crock pot, add two tablespoons of apple cider vinegar and fill it with water to make chicken broth!
Cook the bones on love for 24 hours.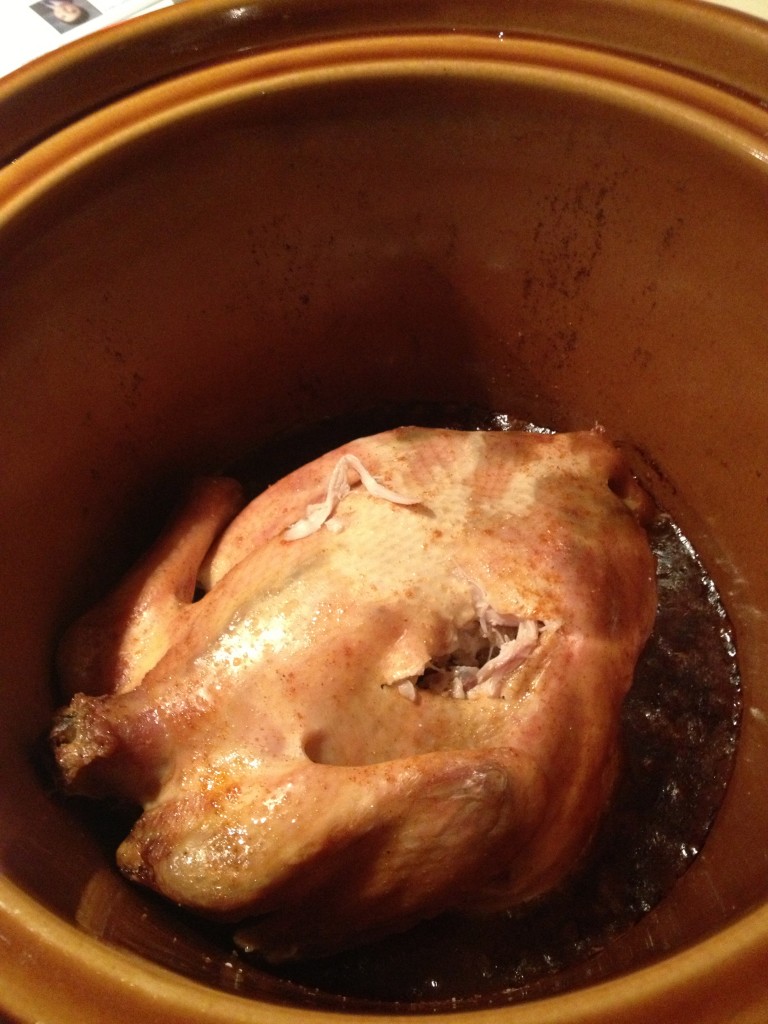 Leftover pulled pork ideas
Here are just some of the ways you can use the leftovers. If you can't use all your pork, don't worry, it freezer well and reheats like a dream.
1) Throw the pork into a soup broth with some veggies like potatoes and zucchini and add a tablespoon of tomato paste, lime and cilantro for a comforting Mexican soup.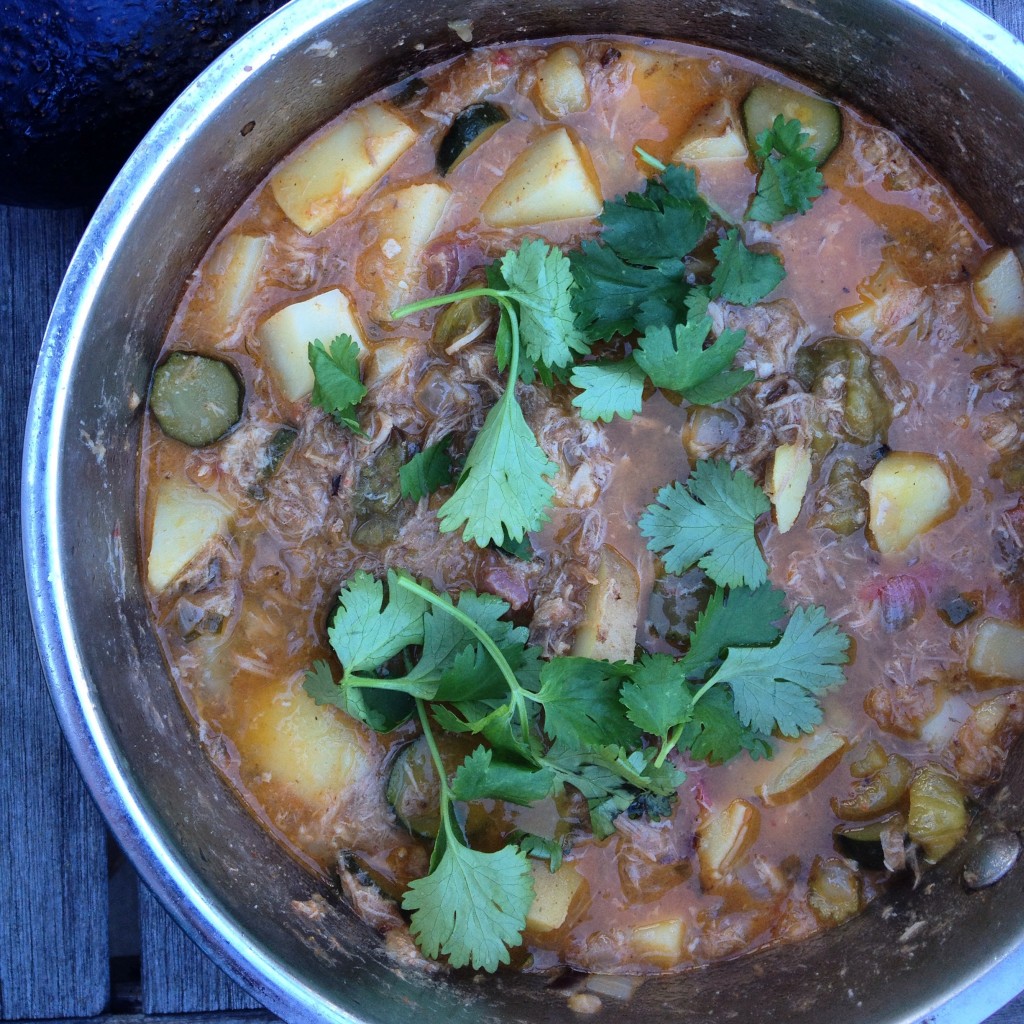 2) Make breakfast hash with pork, fried sweet potatoes, onions and apples.
3) Pulled pork sloppy Joe: Just substitute pulled pork for ground beef.  Add in tomato paste, fish sauce, garlic powder, vinegar, honey and 1/4 cup of bone broth or water.
4) Add to salads, for example a pulled pork Cobb salad.
6) Pulled pork empanadas
7) Pulled pork and waffles (top waffles with pulled pork instead of fried chicken)
8) Pulled pork stuffed peppers
9) Top a baked potato with pulled pork for extra protein
10) Pulled pork omlette, pork and scrambled eggs with fried plantains or these cute pork and egg muffins
11) Pulled pork tacos or nachos. Use taro or plantain chips instead of corn chips.
12) Use as a protein rich pizza topping.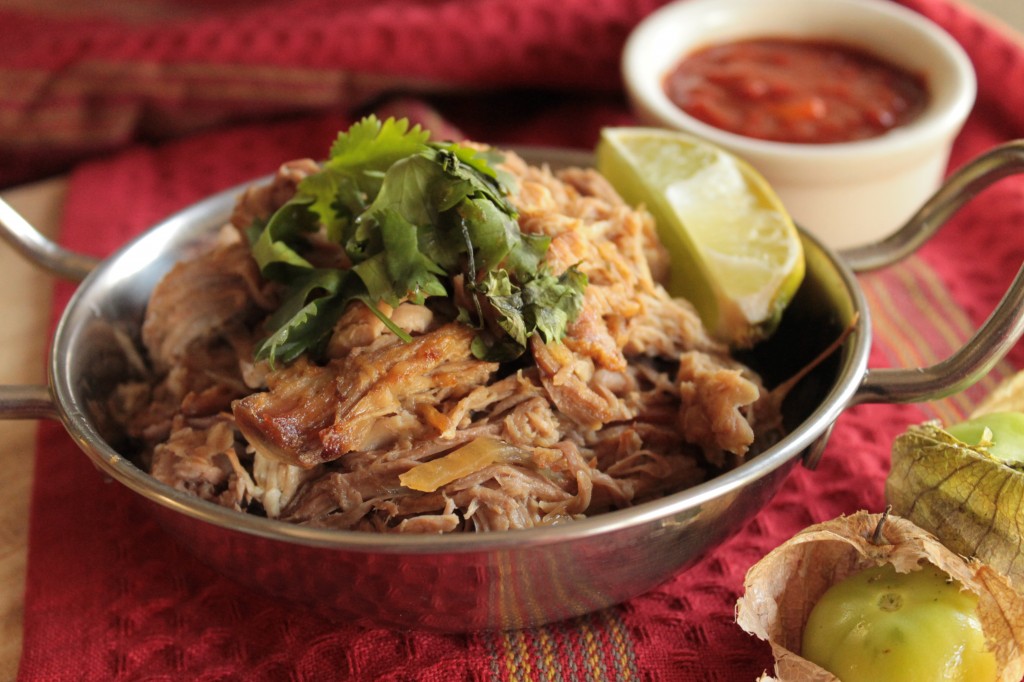 DISCLOSURE OF MATERIAL CONNECTION: Some of the links in my blog are "affiliate links." This means if you click on the link and purchase the item, I will receive an affiliate commission. Regardless, I only recommend products or services I use personally and believe will add value to my readers. I am disclosing this in accordance with the Federal Trade Commission's 16 CFR, Part 255: "Guides Concerning the Use of Endorsements and Testimonials in Advertising." PAID ENDORSEMENT DISCLOSURE: In order for me to support my blogging activities, I may receive monetary compensation or other types of remuneration for my endorsement, recommendation, testimonial and/or link to any products or services from this blog. I only endorse products that align with the ideals of Healy Eats Real and that I believe would be of value to my readers. FDA DISCLOSURE: Information and statements regarding health claims on this blog have not been evaluated by the Food and Drug Administration and are not intended to diagnose, treat, cure, or prevent any disease.
Tags:
how to use leftover pulled pork
,
pulled pork