The cover of Mediterrenean Paleo Cooking is as blue as the Mediterranean waters and shows a succulent chicken tajine dish in a clay pot, like something you'd eat at an exotic Algerian restaurant while traveling.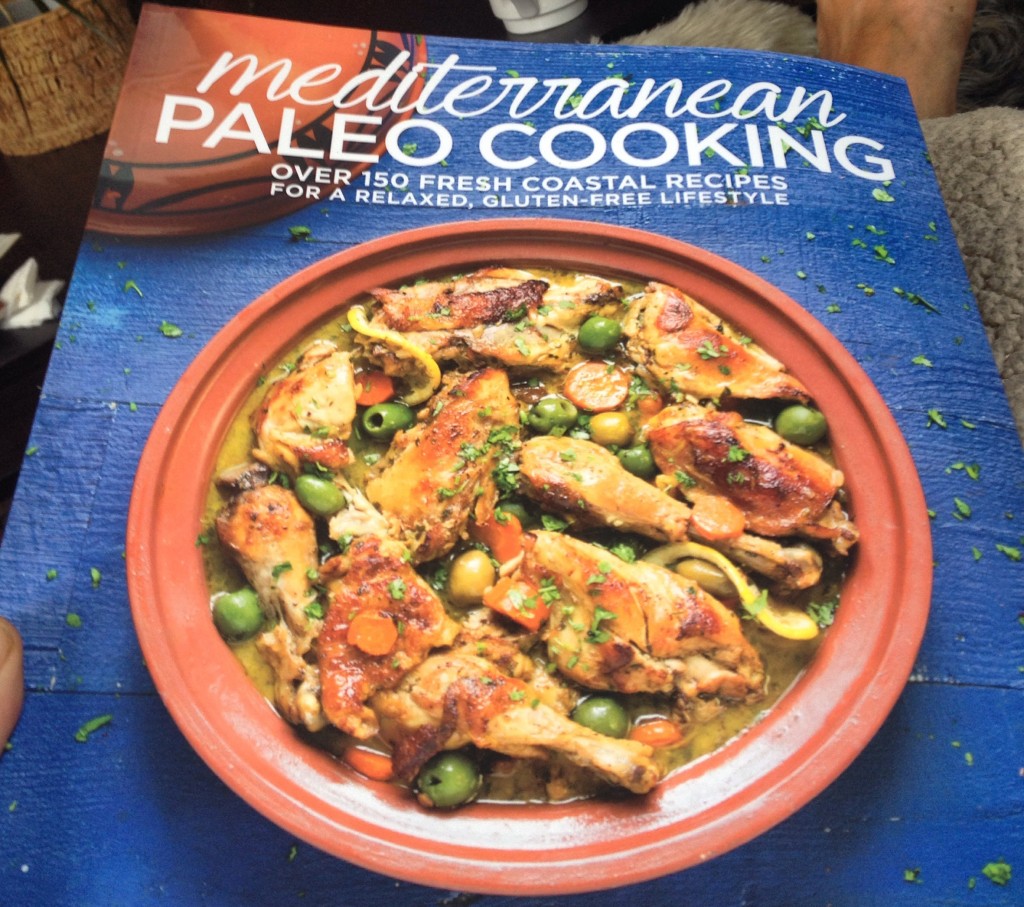 Some of these dishes come directly from the upbringing of Algerian chef Nabil Boumrar, who includes family recipes in these cookbook pages.
The Mediterranean diet is touted as one of the healthiest in the world and now it meets the grain free benefits of Paleo. For this reason, it may be the world's healthiest cookbook.
After all, it includes lots of heart-healthy veggies and seafood as well as stews simmering in gut healing bone broth. It also has a section on organ meats with yummy recipes for beef heart chili, grilled liver kebabs, beef tongue tajine and oxtail soup.
Don't worry, there's also plenty of familiar comfort foods like grain-free pizza, pita bread and even pasta.
And it has modifications for those following special diets like low FODMAP and the Autoimmune Paleo protocol.
It also offers a generous selection of healthy desserts inspired by Mediterranean flavors like sesame, tahini, almond and pistachio.
I've already tried their pistachio tapioca pudding and their moussaka, which uses a brilliant technique to thicken the dairy-free bechamel sauce.
I decided to review their crab cakes because they are so simple to make and so tasty. And crab happens to be in season right now.
Next on my list is their sardine cakes, and I'm excited for those because nothing I've made so far has disappointed.
This cookbook is a collaboration between Chef Boumrar, his nutritionist wife Caitlin Weeks (also known as the Grass fed girl) and Paleo powerhouse Diane Sanfilippo, who's responsible for the beautiful photography in the book. It's the perfect combination of skills to produce a cookbook that is healthy, authentic and beautiful.
In the past I've complicated my crab cake making by adding sweet potato and tuna and baking them instead of frying.
Here's my past recipe.  It was hearty but hard to taste the crab. The recipe from the Mediterranean cookbook has minimal ingredients so the crab flavor shines through.
They are perfect served on a bed of arugula with a homemade aioli.
I am not a huge fan of frying but these were easy to fry. I used palm oil as my frying fat.  Enjoy the light simplicity of this recipe, with it's Mediterranean spice mix and crispy crust.
And pick up a copy of Mediterranean Paleo Cooking here.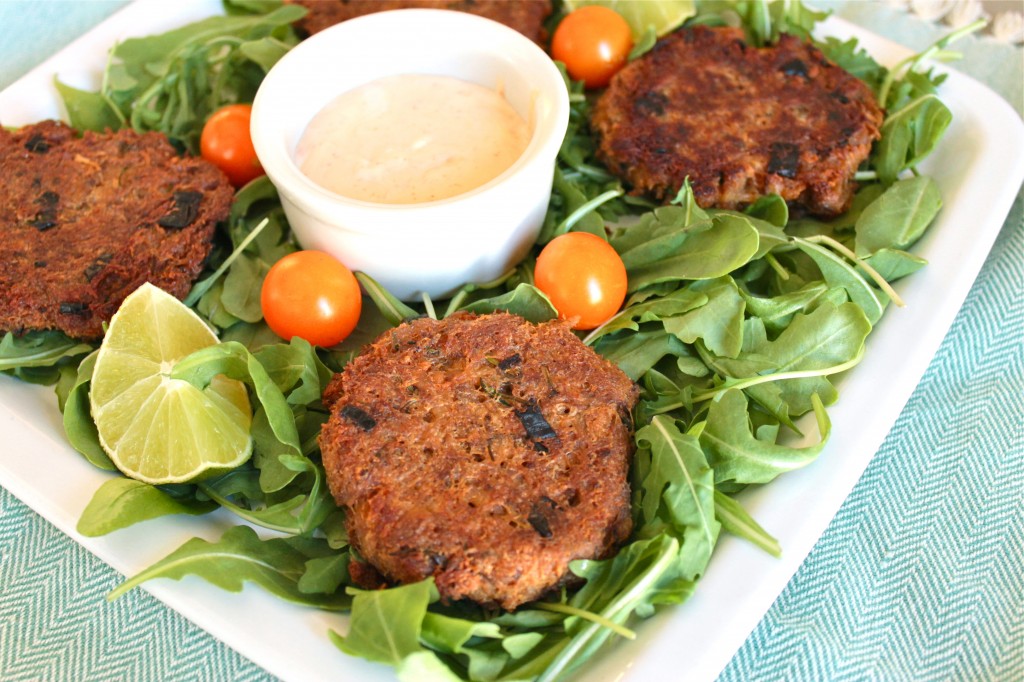 Ingredients
Serves 4. Cook time 6 to 10 minutes. Prep time 10 minutes.
1 pound of cooked crabmeat
2 tablespoons coconut flour
2 large eggs, beaten
1/4 cup chopped scallions
2 teaspoons of garlic powder
1 teaspoon of cayenne pepper
1 teaspoon of paprika
fine sea salt and ground black pepper
1/4 cup of coconut oil or sustainable palm shortening
1 cup of arugala
2 lemons cut into wedges for serving
Aioli
(serve half a cup with this recipe)
1 tablespoon of lemon juice
1 tablespoon of minced garlic
5 large egg yolks
1/2 teaspoon of fine sea salt
1/4 teaspoon of ground white pepper
up to 2 cups of extra virgin olive oil
How to
Crab cakes
In a large bowl, combine the crabmeat, coconut flour, eggs, scallions, garlic powder, cayenne, paprika, and a pinch of salt and pepper. Use a fork to thoroughly mix the ingredients together.
Heat the oil in a large skillet over medium-high heat. While the oil is heating up, form the crab mixture into 3-inch patties and place them on a plate.
To check the temperature of the oil, insert the end of a wooden spoon handle into the oil. If bubbles form around the handle, it is ready to use.
Carefully place the crab cakes into the pan with a slotted spatula. Don't overcrowd them. Cook the crab cakes for about 3 minutes on the first side, or until golden brown. Flip and cook the other side until slightly browned, about 3 minutes.
Remove the cakes from the pan and put them on a serving plate. Cover the cakes with a towel to keep them warm. Repeat until all the crab cakes are cooked.
Drizzle the crab cakes with aioli and plant on a small bed of arugual, if using. Serve with lemon wedges.
Aioli
Put the lemon juice, garlic, egg yolks, salt and white pepper in a food processor. Pulse the ingredients for about 10 seconds.
With the food processor running, very slowly add the olive oil in a thin, continuous stream.
When the aioli thickens, stop adding the oil. You may have some oil leftover. If the mixture becomes to thick, add a few teaspoons of water and pulse until it reaches desired consistency.
Keep the aioli in the refrigerator for up to a week.
DISCLOSURE OF MATERIAL CONNECTION: Some of the links in my blog are "affiliate links." This means if you click on the link and purchase the item, I will receive an affiliate commission. Regardless, I only recommend products or services I use personally and believe will add value to my readers. I am disclosing this in accordance with the Federal Trade Commission's 16 CFR, Part 255: "Guides Concerning the Use of Endorsements and Testimonials in Advertising." PAID ENDORSEMENT DISCLOSURE: In order for me to support my blogging activities, I may receive monetary compensation or other types of remuneration for my endorsement, recommendation, testimonial and/or link to any products or services from this blog. I only endorse products that align with the ideals of Healy Eats Real and that I believe would be of value to my readers. FDA DISCLOSURE: Information and statements regarding health claims on this blog have not been evaluated by the Food and Drug Administration and are not intended to diagnose, treat, cure, or prevent any disease.
Tags:
crab cakes
,
grain free crab cakes
,
Mediterranean Paleo Cooking
,
Paleo crab cakes