Pick your pepper stuffing
I like to give people many options for preparing the same type of foods. My intention is to break the trance of following the rules exactly in cooking.
Yes, in baking you have to be exact, but when you're cooking you have a lot of liberties to experiment. That's why this blog is called Paleo Kitchen LAB, because every time I cook, I experiment.
That's how I've taught myself to cook and that's why I love doing it. It turns cooking from a chore into an adventure.
Bell pepper make great self contained meal. I'll show you how to make a Paleo version of a traditional (beef and rice) stuffed pepper, a brunch-style pepper with egg and a lighter pepper stuffed with fish and sweet potato.
Beef and cauliflower stuffed pepper

Ingredients
1 pound of ground beef
1/2 head of cauliflower grated by hand with a cheese grater or grated in a food processor
2 ounces of chopped cilantro
1/2 teaspoon each of dried oregano, smoked paprika, tumeric, cayenne, salt, cumin, and black pepper.
1 tablespoon of organic tomato paste
optional: 1 tablespoon of coconut aminos (a soy sauce substitute)
2 large cloves of garlic, finely chopped
How to
Mix spices, paste, coconut aminos and garlic with ground beef in a bowl. I use my hands to mix it.
Slice the tops off of the pepper and scoop out the insides and seeds. I used one red, one yellow, one green and 4 slightly spicy and small Pasilla peppers.
Scoop the meat stuffing into the pepper.
Bake them in the oven at 360 for 35 minutes. (Throw the pepper tops in there too.)
Serve with a side of mashed sweet potatoes or Greek salad!
Omelet stuffed peppers (Pepper quiches)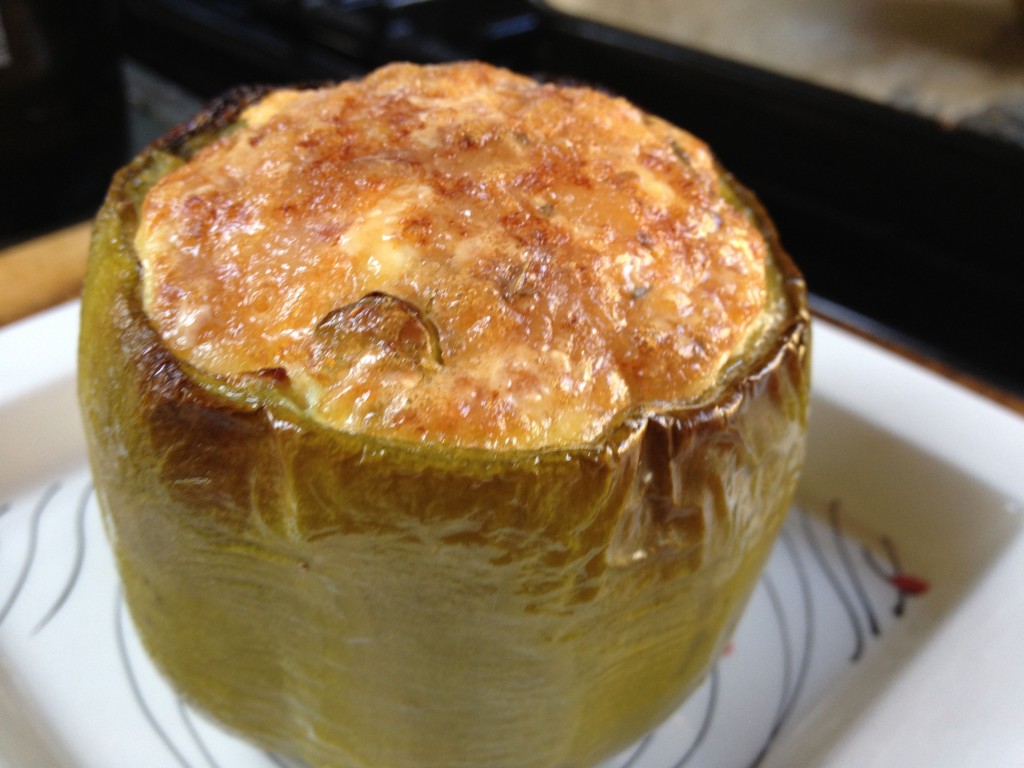 Ingredients
One bell pepper makes one serving. Make as many as you like and double the egg measurements accordingly
2 eggs scrambled
Spices: Cumin, salt, curry powder
Meat of choice: 2 ounces of chopped sausage, 1 or 2 bacon slices, or chopped ham (cooked or raw)
How to
Combine eggs with spices and meat in a bowl.
Cut the top of pepper and hollow out.
Pour in egg mixture and stand peppers on parchment paper lined baking sheet. When you buy the peppers make sure they can stand up on their own.
Bake at 350 for 35 minutes
Enjoy your pepper quiche!!
Fish and sweet potato stuffed peppers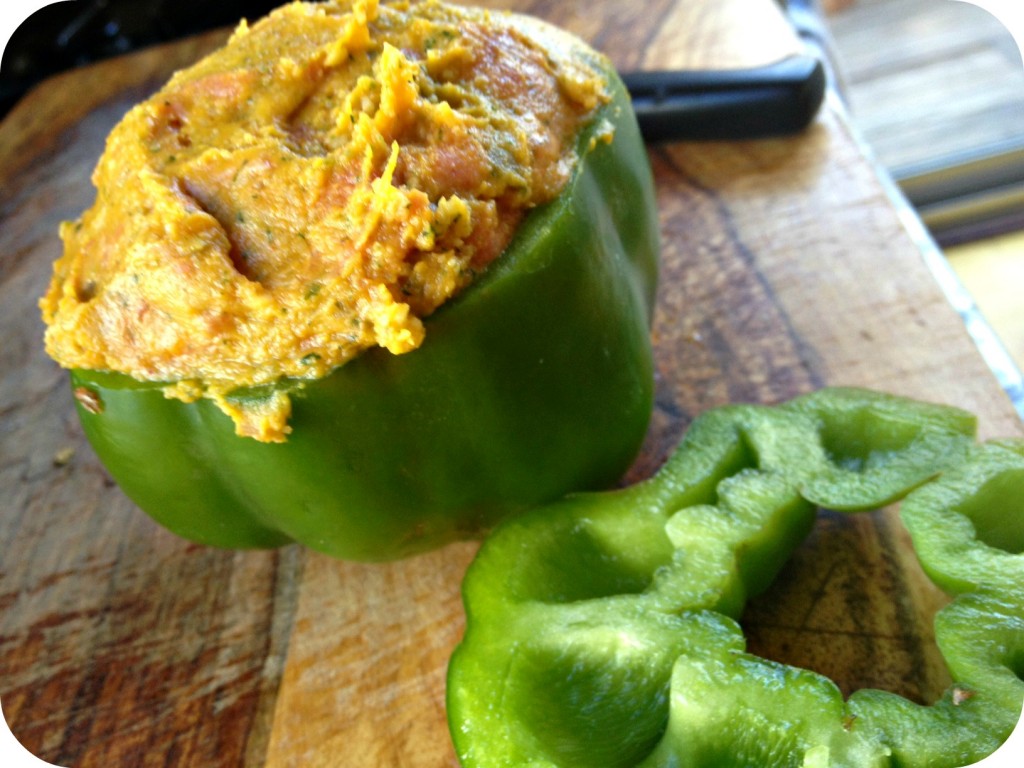 For a lighter stuffed pepper experience you can bake them with a mixture of sweet potato (or butternut squash) and a white fish of choice.
If you tolerate dairy, I suggest adding crumbed feta cheese to the stuffing for a sharp and salty flavor as the fish and sweet potato can be quite mild.
Ingredients
Peppers of any color
1 baked sweet potato mashed with butter or coconut oil
1/2 pound of fish of choice (I used salmon) marinated in cumin, paprika, oregano, cayenne, chopped garlic, coconut aminos, fish sauce, apple cider vinegar and a touch of honey, cut into bite sized pieces
Optional: 2 to 3 tablespoons of crumbled feta
Optional: 1 tablespoon of chopped Serrano or other hot pepper if you like it spicy
How to
Slice and hollow out the pepper
Mix mashed veggies with bite sized pieces of raw fish
Mix in feta cheese and or hot peppers
Stuff the peppers with the mixture and bake at 360 for 35 minutes
Yummmmmmmmmm.
One more idea to blow your mind: sloppy joe stuffed peppers!
If you want the recipe, just holler in the comments and I'll post it!
DISCLOSURE OF MATERIAL CONNECTION: Some of the links in my blog are "affiliate links." This means if you click on the link and purchase the item, I will receive an affiliate commission. Regardless, I only recommend products or services I use personally and believe will add value to my readers. I am disclosing this in accordance with the Federal Trade Commission's 16 CFR, Part 255: "Guides Concerning the Use of Endorsements and Testimonials in Advertising." PAID ENDORSEMENT DISCLOSURE: In order for me to support my blogging activities, I may receive monetary compensation or other types of remuneration for my endorsement, recommendation, testimonial and/or link to any products or services from this blog. I only endorse products that align with the ideals of Healy Eats Real and that I believe would be of value to my readers. FDA DISCLOSURE: Information and statements regarding health claims on this blog have not been evaluated by the Food and Drug Administration and are not intended to diagnose, treat, cure, or prevent any disease.