A banana sweetened treat for breakfast, tea time or dessert
I meet people all the time who don't cook. I get it. I used to be one of them.  I though cooking wasn't worth my time and was slightly rebelliousness about it. This wasn't the 50s.
And there was a world of take out, restaurants and prepared foods out there. Why bother?
But being diagnosed with Irritable Bowel I learned otherwise. Food prepared by restaurants and corporations was not that good for me. They used cheap, unhealthy ingredients and additives my body didn't appreciate. I could do better preparing it myself.
So I had to learn.
And after passing through the overwhelm of not knowing what I was doing I began to enjoy it.
And it became a creative outlet that also sharpened my intuition.
Here's the big secret. Cooking doesn't have to be hard or complicated. The kitchen is a great place to let go of perfectionistic tendencies. Because all that is at stake is one meal, out of the many we will have in life.
My pumpkin tea cakes was born out of my curiosity and imagination. I didn't follow a recipe, and was in the mood to improvise. And I wanted it to be easy. And it was. And they came out great.
The consistency was pudding-like without being too soft. They were sweetened with bananas, perfect for my sugar-free palate ( but if you are used to very sweets treats you might want to add a tablespoon or two or honey or maple syrup) to my recipe.
What I love about these tea cakes is that they are half as tall as regular muffins, which not only makes them cute and dainty but also perfect for sandwiching. You can slather nut butter, berries and Greek yogurt in between two of them for a very decadent treat.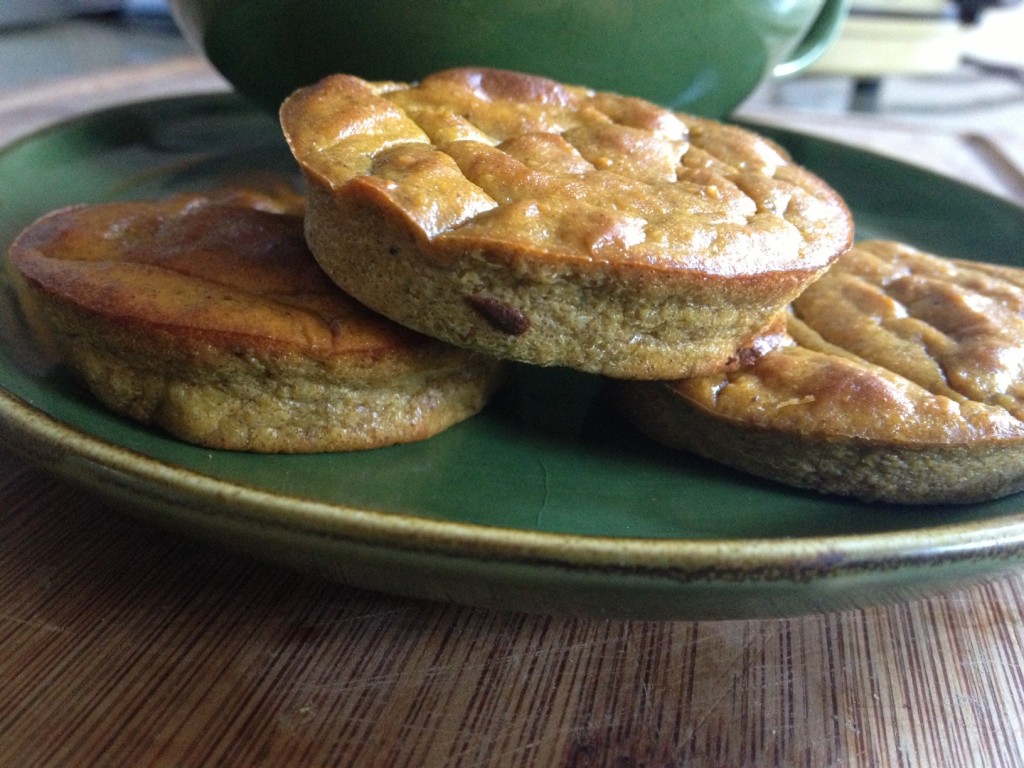 Ingredients
Yield: 12 tea cakes 10 ounces of pumpkin puree. I use this
BPA-free brand.
. 3 pastured eggs (these eggs were pretty small) 1 1/2 bananas 1 teaspoon of pumpkin pie spice (a mix of cinnamon, ginger, lemon peel, nutmeg, cloves & cardamom) 3 tablespoons of almond flour 3 tablespoons of grass fed butter, melted A handful of pumpkin seeds 1/4 teaspoon of salt (add one or two tablespoons of maple syrup or honey if you want these to be very sweet)
How to
I mixed everything in my food processor. You can also do it by hand, but the pumpkin seeds will be whole instead of being pulverized by the food processor.
Put all the ingredients in food processor or bowl and mix together. Make sure the butter is melted. You can put it in a measuring cup and put the cup in a shallow bowl of hot water. Like this: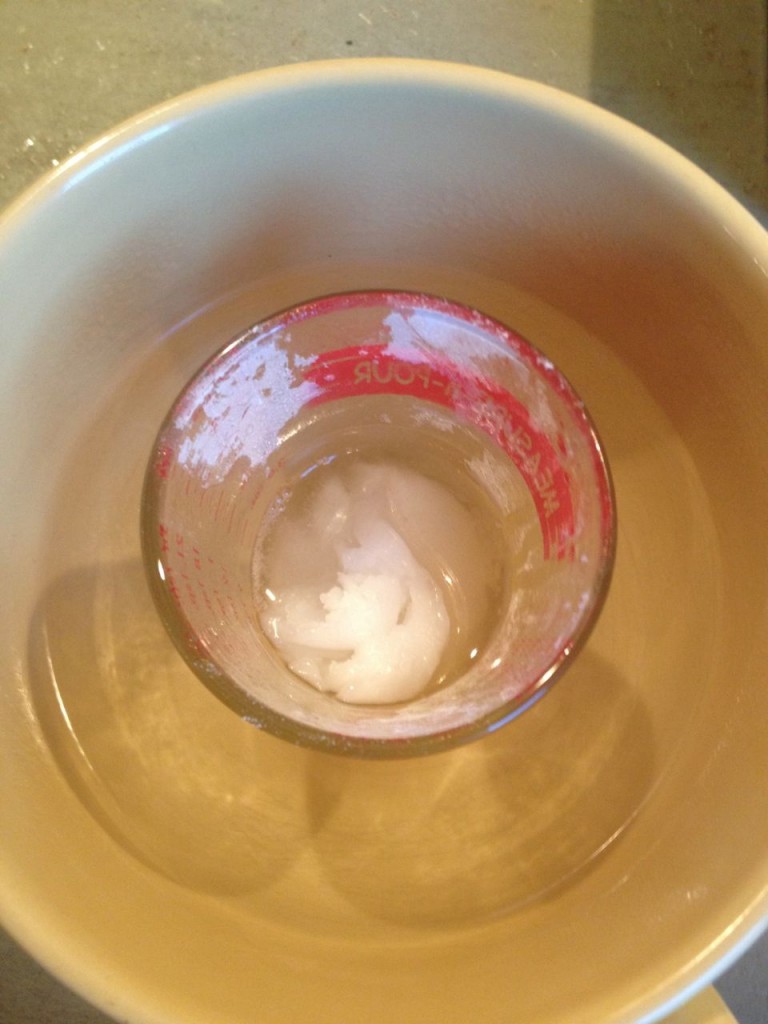 The most important part is to fill the muffin pan half way with batter before baking. If you fill it too high the middle will likely be too mushy.
Bake at 350 for half an hour. I made two batches because I only have one silicon muffin pan. I love this silicon muffin pan because I didn't have to grease the pan and the tea cakes came out perfect without sticking.  I also use it to make savory muffins.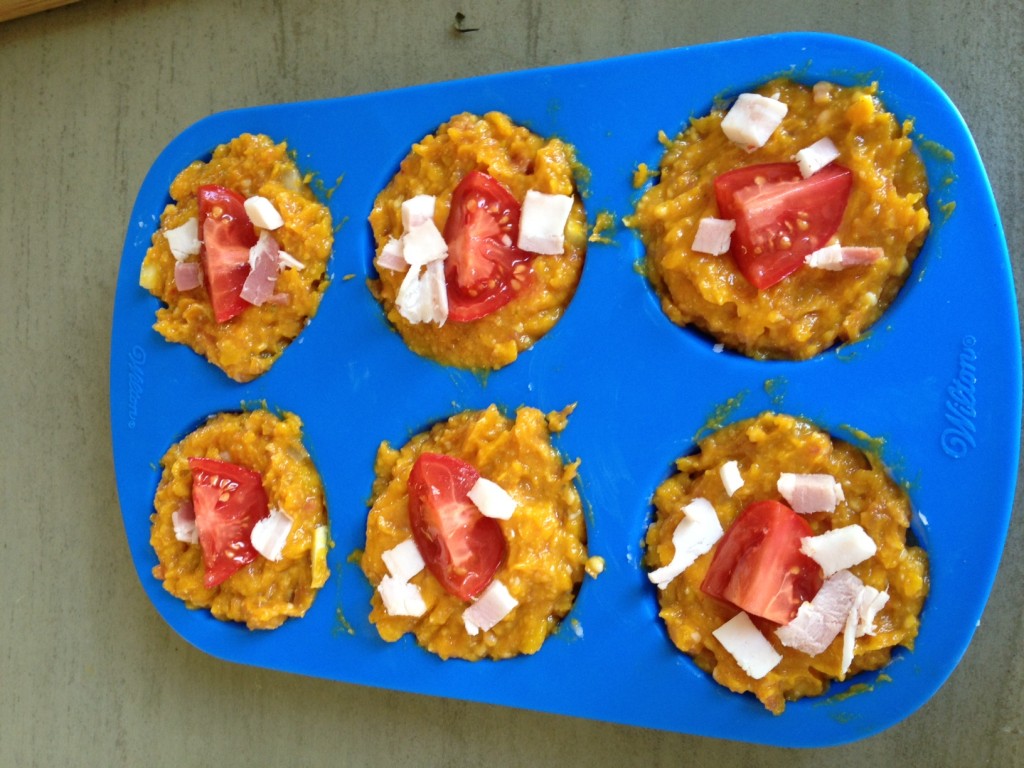 The process of making AND eating these tea cakes was quite relaxing.
And the next morning I was so excited to wake up and have these treats with my tea. I don't eat a ton of Paleo baked goods these days but what I love about these are that they are heavy on the veggies and protein (pumpkin and eggs) and light on the nut flour.
If you are allergic to nuts, you can substitute coconut flour instead.
Enjoy tea time!
DISCLOSURE OF MATERIAL CONNECTION: Some of the links in my blog are "affiliate links." This means if you click on the link and purchase the item, I will receive an affiliate commission. Regardless, I only recommend products or services I use personally and believe will add value to my readers. I am disclosing this in accordance with the Federal Trade Commission's 16 CFR, Part 255: "Guides Concerning the Use of Endorsements and Testimonials in Advertising." PAID ENDORSEMENT DISCLOSURE: In order for me to support my blogging activities, I may receive monetary compensation or other types of remuneration for my endorsement, recommendation, testimonial and/or link to any products or services from this blog. I only endorse products that align with the ideals of Healy Eats Real and that I believe would be of value to my readers. FDA DISCLOSURE: Information and statements regarding health claims on this blog have not been evaluated by the Food and Drug Administration and are not intended to diagnose, treat, cure, or prevent any disease.
Tags:
grain free muffins
,
paleo tea cakes
,
Pumpkin muffins