A Tummy healthy main dish with a Funny name.
It's traditionally called Aspic, but don't let that or the jelly-like consistency deter you from trying it.
I've reinvented an old boring classic by pumping up it's healing powers and adding the salty, sweet and sour flavor of Asian cuisine.
In Ukraine, where I was born, Aspic was a fancy dish, served at parties. I found the cold  beef and veggies suspended in jello unappealing.
Then as an adult (and as a digestive health coach!) I learned about the healing superpowers of gelatin and bone broth. And I fed lots of broth and gelatin to my husband to heal his leaky gut, so I know it works from experience.
That's why I decided to bring aspic back, but to reinvent it by giving it a modern spin.
I was inspired by the flavors of Asian soup and this avocado and shrimp dish.  And I was up for the challenge of making this disgusting childhood dish, yummy.
My main additions were coconut cream and bone broth to add rich meaty flavor balanced by coconut's sweetness.
I used concentrated beef bone broth, which I boiled down from 2 cups to 1. This bumped up the healing benefits of this dish because broth and gelatin both contain collagen, which plugs up holes in the gut and revitalizes skin.
I added grass fed gelatin to the broth to double the collagen content and get the aspic to gel. I bought my grass fed gelatin here.
I also decided to make aspic "muffins" for a cuter presentation and a faster gelling time.  I was so impressed with how it came out that I had to share it.
The fish sauce, lime, cilantro, coconut, avocado, shrimp and touch of habanero pepper gave these muffins a refreshing, spicy and tangy flavor and a pretty pastel color.  But if there's any ingredient you don't like, just leave it out. Customize this creation to your tastes.
Here are some photos of the aspic mixture in the pan and poured in the silicon muffin pan I used.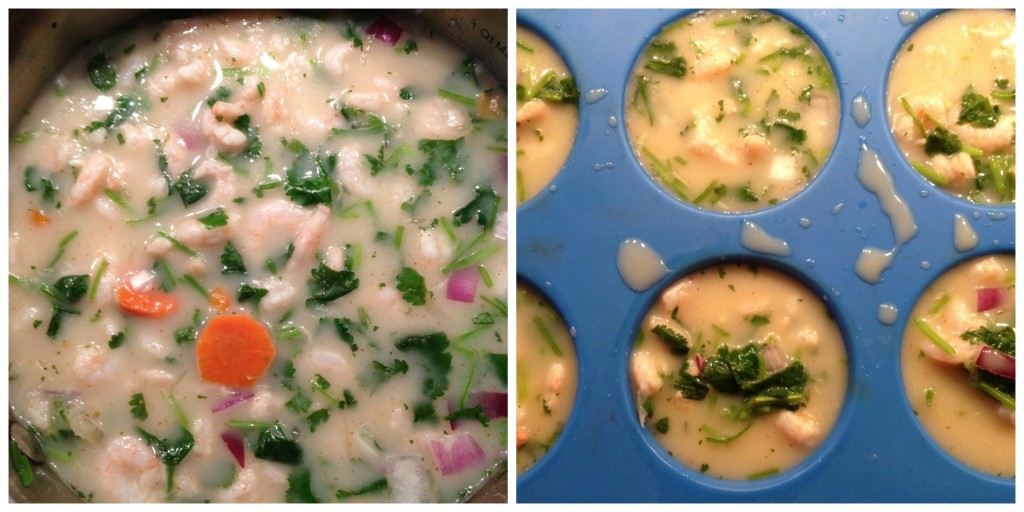 Ingredients
1 lb of cooked shrimp (I used small shrimp meat but any type of shrimp will do)
1 tablespoon of chopped, raw red onion
2 chopped garlic cloves
1 tablespoon of coconut cream
2 cups of broth, boiled down into 1 cup
1/2 tablespoon of gelatin
Juice from 3 small limes
1/2 teaspoon of fish sauce (if you don't have fish sauce you can add a teaspoon of salt)
1/2 teaspoon of paprika
1/2 stalk of chopped, raw cilantro
Half an avocado sliced
optional: 1/2 teaspoon of finely chopped hot pepper (I used habanero but jalepeno or serrano works well too)
optional: 1 tablespoon of fermented carrots to give this dish extra tummy healing benefits
How to
Boil the bone broth until it reduces to half the volume. Don't worry if you overboil, you can always add in water to reconstitute back to 8 ounces.
Once the broth has been boiled down to 1 cup you can reduce to low heat and add in the powdered gelatin a little bit at a time, stirring to prevent clumping as you slowly add more and more.
Add in lime juice and coconut cream and stir in.
Add in salt or fish sauce and paprika and stir in.
Add in chopped cilantro, hot pepper (the probiotic carrots are optional but add in extra health benefit)
Last add in cooked shrimp, onions and garlic and stir to mix evenly.
Your aspic is almost done. If you want to make muffins then you simply spoon the mixture into muffins tins and pour the liquid over to fill each cup. (I let the mixture cool a tiny bit before putting it in the muffin tins and putting the avocado chunks on top.)
I also like to use silicon muffin pans because it is so much easier to remove.
If you don't want muffins, you can pour the mixture into an 8 x 8 baking dish and put in the fridge.
It takes jello at least 4 hours in the fridge to gel. I was a bit impatient and took it out early after 2 hours and it was a bit soft but still tasted amazing.
BEHOLD THE ASPIC MUFFIN!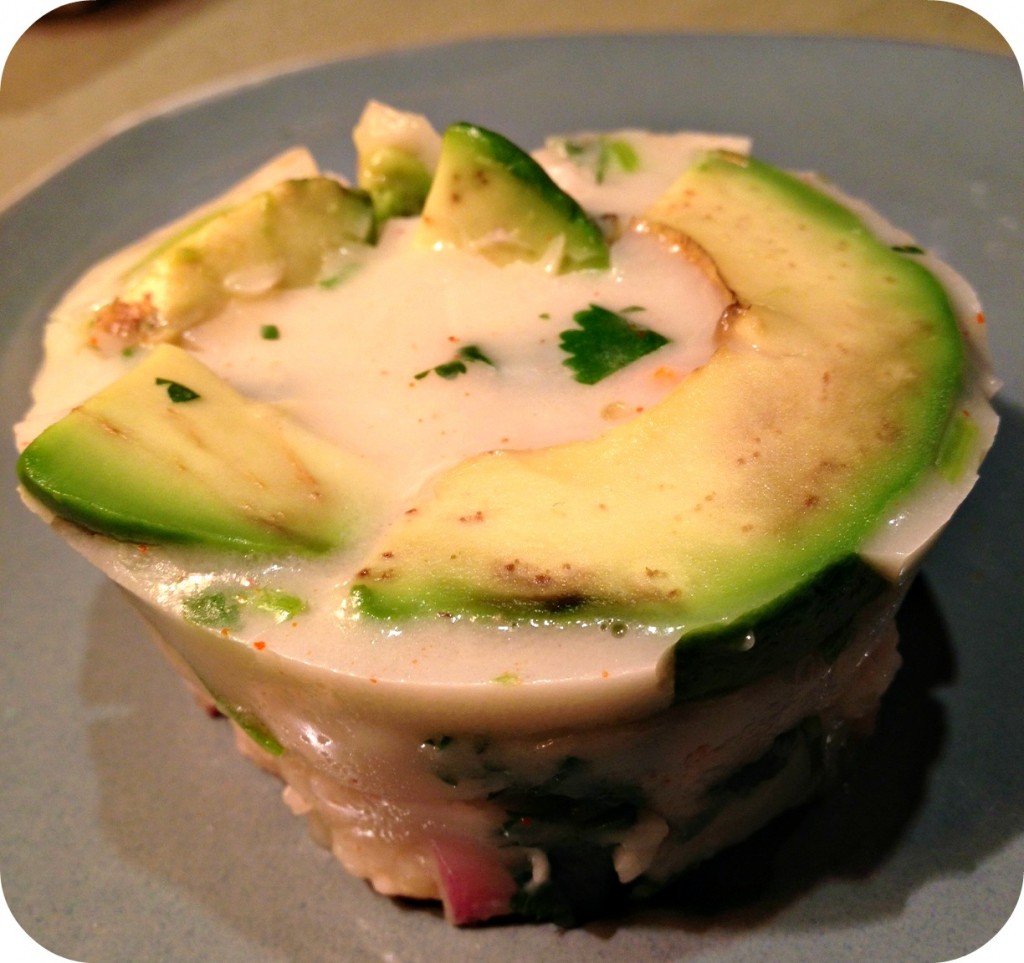 If you prefer to eat skip the long cooling process this dish can be eaten as a soup! You might want to try it both way.
I took one of these muffins with me on a plane ride (in some tupperware) and  it traveled well.
But no matter how you eat it, this dish is bursting with flavor and gut healing benefits. It's also easy to make and exotic.
DISCLOSURE OF MATERIAL CONNECTION: Some of the links in my blog are "affiliate links." This means if you click on the link and purchase the item, I will receive an affiliate commission. Regardless, I only recommend products or services I use personally and believe will add value to my readers. I am disclosing this in accordance with the Federal Trade Commission's 16 CFR, Part 255: "Guides Concerning the Use of Endorsements and Testimonials in Advertising." PAID ENDORSEMENT DISCLOSURE: In order for me to support my blogging activities, I may receive monetary compensation or other types of remuneration for my endorsement, recommendation, testimonial and/or link to any products or services from this blog. I only endorse products that align with the ideals of Healy Eats Real and that I believe would be of value to my readers. FDA DISCLOSURE: Information and statements regarding health claims on this blog have not been evaluated by the Food and Drug Administration and are not intended to diagnose, treat, cure, or prevent any disease.
Tags:
aspic
,
coconut shrimp aspic
,
coconut shrimp jelly