Coconut butter pie crust
I've been wanting to make Paleo pie lately but been imagining the difficulty of working with and rolling out grain-free crust. Then I had the idea for two unusual and super easy solutions. Coconut butter and coconut crepe wraps! This is the coconut butter version below.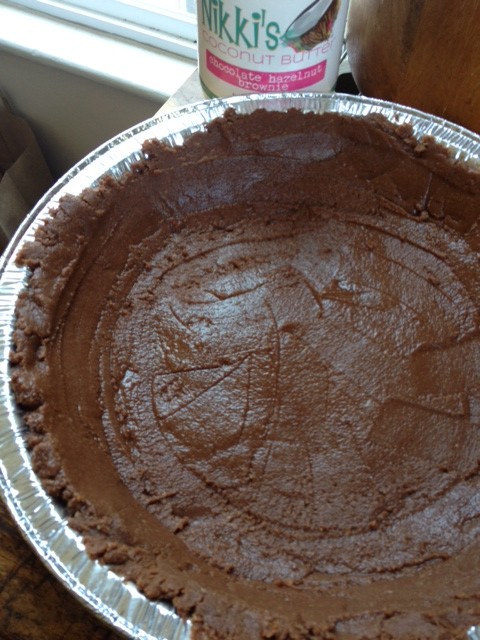 One of my favorite Paleo products is Nikkis coconut butter. I decided to experiment with using the chocolate hazelnut brownie flavor as my pie crust. But you can also use plain coconut butter, just mix in a tablespoon of coconut oil as you heat it so it holds together better when it's cold.
What is coconut butter? It is to coconut products as almond butter is to almond products. Apparently you can make your own. But that defeats the purpose of being lazy and making this low effort pie.
The trick to making coconut butter into crust is heating it up. You can do that in a microwave (but since I'm suspicious of microwaves, I submerged the whole jar in boiling water and let it sit for 20 minutes until it softened).
Then scoop out the mushy coconut butter and mold it into pie crust like play doh.
Obviously this is not the type of pie crust you can bake, but perfect for cold pie fillings like coconut cream. I will give some suggestions for pie filling below.
The crust needs to be refrigerated to harden up again.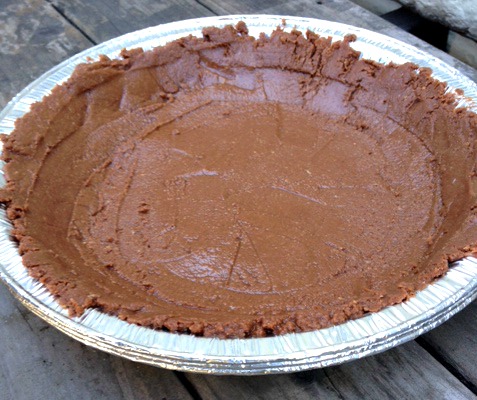 Pie crust filling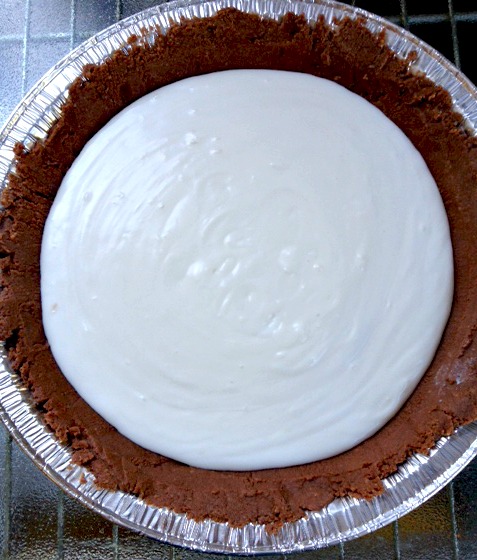 This might be the world's easiest, laziest pie to make. I could also call it pie in a jar because the crust and filling come for a jar.
Coconut cream is just what it sounds like, super thickened coconut milk (like the texture of Greek yogurt). This is the one I use. 
To turn coconut cream into pie filling add your favorite fruit, spices and sweetener like honey or maple syrup. I used peaches in this one since they are in season and also threw in sliced dried plums cuz I love them.
You can put your own favorite fresh and dried fruit in your pie filling. I suggest sweetening the cream in a separate bowl. Just add sweetener and taste until you get it to your liking. Make it a little less sweet than usual because the fruit will add extra sweetness.
You can spice it with cardamom, cinnamon, pumpkin pie spice mix or even cocoa or carob powder. If you add cocoa you'll need to extra sweetener to balance the bitterness.
Also, bananas go amazingly well in coconut cream. I made a second pie with bananas, a squeeze of fresh lime juice, dried cranberries, a touch of maple syrup, crumbled coconut butter and crushed pumpkin seeds on top.
It rocked.
The photo of that half eaten pie is at the bottom of the page. It was so good we couldn't wait to photograph it before we tried it.
The big reveal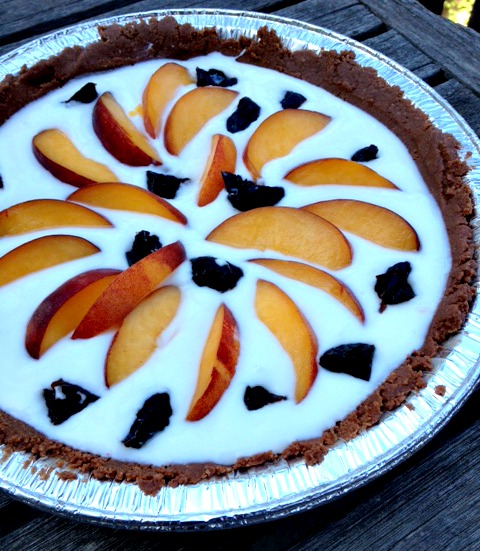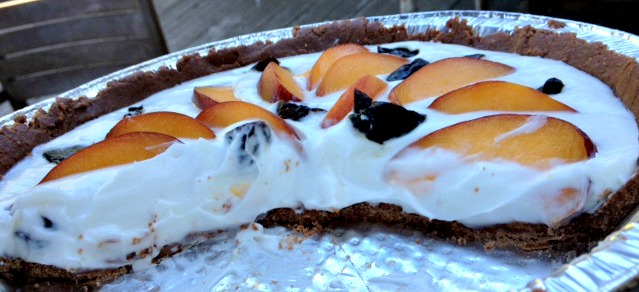 OH YEAH….So Good and So easy.
Just refrigerate before you serve.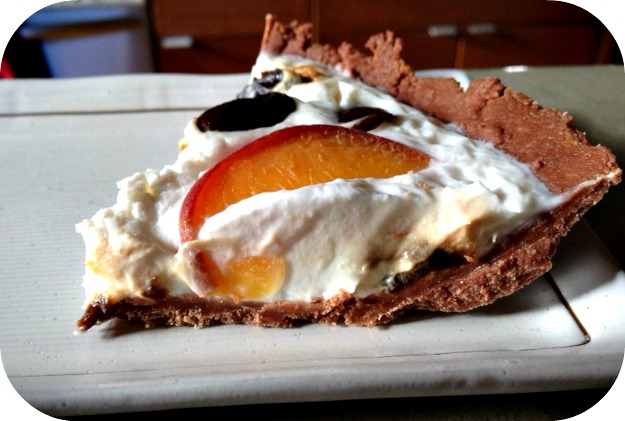 Coconut Paleo wrap pie crust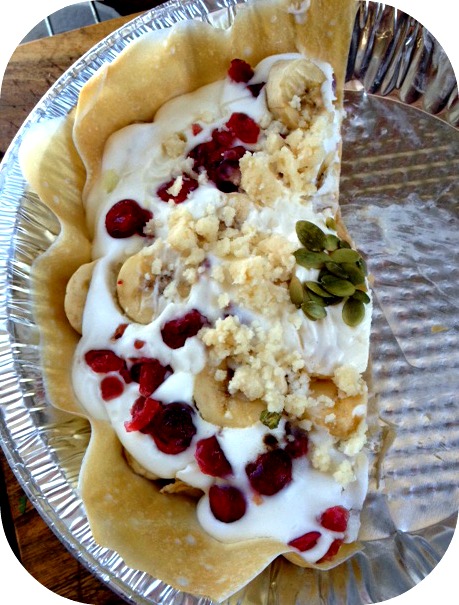 Here's another no fuss, no bake idea for pie "crust" that's even easier. Again, it can only be used for cold pies.
I made the crust with Paleo wraps, which are an extremely thin but sturdy cross between crepes and rice paper. They're made out of coconut water and coconut pulp. I buy my Paleo wraps here.
Talk about a one minute pie crust… I used two wraps to make the pie above.
It was an epic banana coconut cream pie! And I do not exaggerate.
I'm still planning on making pie crust for hot pies. I've dipped my toes in by making these apple pie tartlets, but pie crust is the next challenge on my list.
But enjoy these little pie hacks for now. And tell me in the comments if you've ever made Paleo pie crust and how did it go?
DISCLOSURE OF MATERIAL CONNECTION: Some of the links in my blog are "affiliate links." This means if you click on the link and purchase the item, I will receive an affiliate commission. Regardless, I only recommend products or services I use personally and believe will add value to my readers. I am disclosing this in accordance with the Federal Trade Commission's 16 CFR, Part 255: "Guides Concerning the Use of Endorsements and Testimonials in Advertising." PAID ENDORSEMENT DISCLOSURE: In order for me to support my blogging activities, I may receive monetary compensation or other types of remuneration for my endorsement, recommendation, testimonial and/or link to any products or services from this blog. I only endorse products that align with the ideals of Healy Eats Real and that I believe would be of value to my readers. FDA DISCLOSURE: Information and statements regarding health claims on this blog have not been evaluated by the Food and Drug Administration and are not intended to diagnose, treat, cure, or prevent any disease.